The most awaited time of the year, the New Years' Eve is almost here. People are eager to party and ring in the next year with great enthusiasm and fervour. People worldwide are excited to celebrate the beginning of the New Years' Eve. The celebrations and traditions may differ, but one thing remains common is people exchange new year wishes to greet their near and dear ones for the new year. If you want to be the first one to wish your loved ones Happy New year 2019, then we give you some wonderful images and messages. We have curated messages, wishes, GIF images, stickers and greetings that you can send across to your friends and near and dear ones on WhatsApp, Facebook or as SMS. Wish your friends and family a bout of good luck and happiness as we enter the New Year 2019. Hindu Calendar 2019 Free Download in PDF: Know List of Festivals, Holidays, Fasts According to Drik Panchang, Kalnirnay, Lala Ramswaroop Hindi Calendars Online.
December is synonymous with holiday season. People plan their holidays in advance as the world is immersed in the celebrations of Christmas on December 25 which is followed by New Years. People eagerly wait to make New Year plans so that they can spend the eve of New Years with their loved ones around them. At midnight on December 31, on the count of 10 people wish each other Happy New Year and hope for a prosperous New Year. To kick start the New Year in advance we have compiled a list of advance New Year wishes that you can start sharing with your closed ones.
Advance New Year 2019 Wishes to Send to Your Friends & Family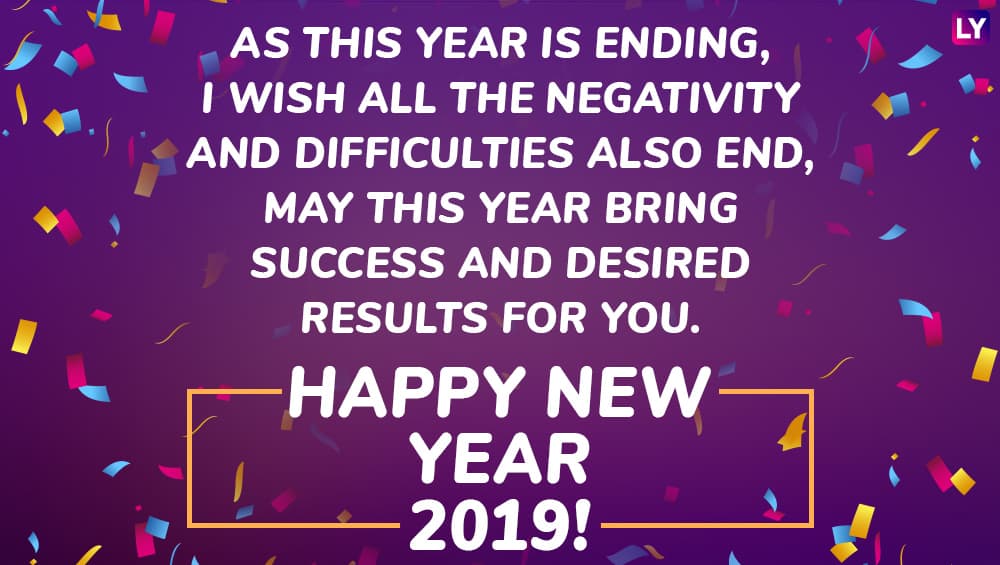 WhatsApp Message Reads: As This Year is Ending, I Wish all the Negativity and Difficulties Also End, May This Year Bring Success and Desired Results for You. Happy New Year 2019!
Happy New Year 2019!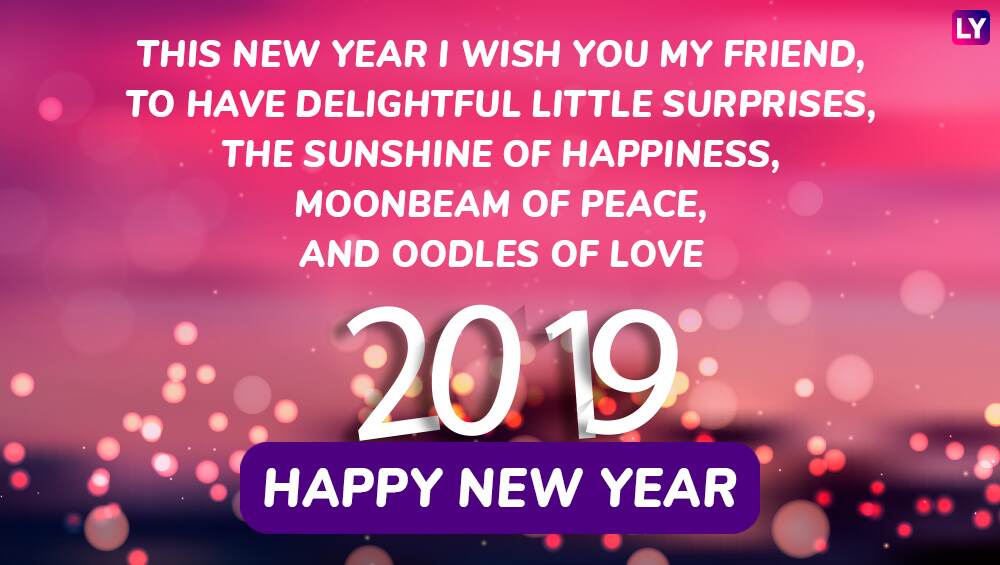 WhatsApp Message Reads: This New Year I Wish You My Friend, To Have Delightful Little Surprises, The Sunshine of Happiness, Moonbeam of Peace, And Oodles of Love. Happy New Year!
Wishing You Happy New Year 2019 in Advance!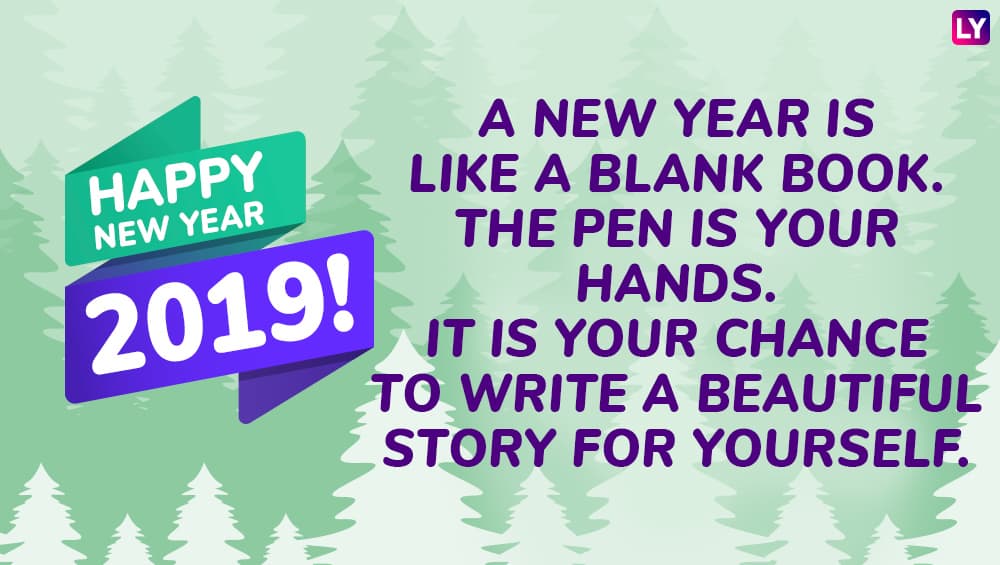 WhatsApp Message Reads: A New Year is Like a Blank Book. The Pen is Your Hands. It is Your Chance to Write a Beautiful Story for Yourself. Happy New Year 2019!
Happy & Prosperous Happy New Year!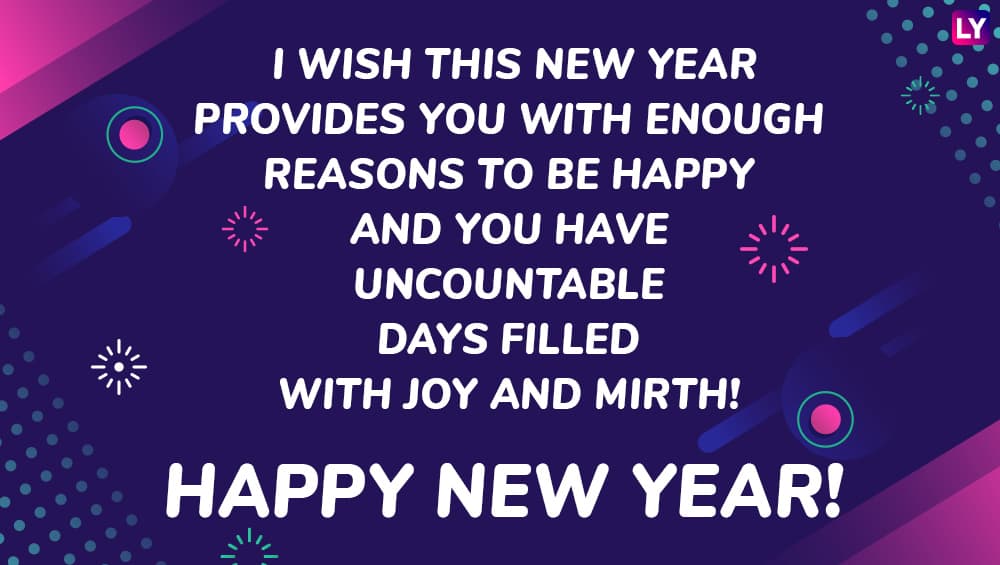 WhatsApp Message Reads: I Wish This New Year Provides You with Enough Reasons To Be Happy and You Have Uncountable Days Filled with Joy and Mirth! Happy New Year!
Happy New Year 2019 to You & Your Family!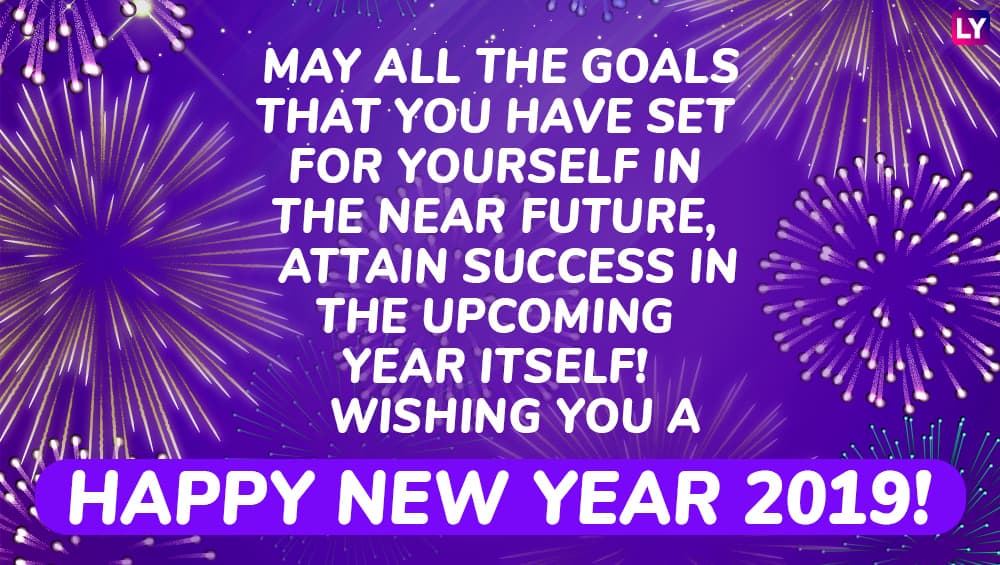 WhatsApp Message Reads: May All the Goals That You Have Set for Yourself in the Near Future, Attain Success in the Upcoming Year Itself! Wishing You a Happy New Year 2019!
GIF Images
While many go out and party all night with their friends, others prefer to stay at home with their families or spouses and have a quiet celebration. A popular ritual that is practiced across the world by many is the infamous New Years resolutions. As we enter the new beginning with a New Year, on the first day people make a list of their goals that they want to accomplish the following year. New Years is also the time where you can reflect on the past year and hope to have a better New Year. From us to you, we wish everyone a Happy New Year 2019.