Those familiar with Hindu customs and mythology, will know that snakes are worshipped by many devotees across the country. One such festival observed by Hindus is Nag Panchami. This year Nag Panchami coincides with Independence Day and will be celebrated on August 15. Nag or Naga means snake and Panchami means fifth day. Hence, the festival is celebrated on the fifth day in the Hindu month of Shravan. On this day, devotees observe fast, bathe snake idols made of silver or stone with milk or pour milk over Shiva Linga. It is believed by many that praying and worshipping to snake god will fulfil all their desires and protect their families. We have curated Nag Panchami wishes in Hindi to share with your friends and family.
Praying to snakes on Nag Panchami protects a person from unnecessary fears in life and brings about good health, wealth, peace and prosperity in life. Hindu scriptures talk about Nagas being demi gods. They are the residents of the subterranean world, known as Nag Lok. They are the guardians of the treasures hidden in the Earth and can assume a human form at will. To mark this auspicious day, we bring to you wishes and greetings to send to your friends and family members. Nag Panchami 2018 Date: Puja Muharat, Tithi, Fasting, Rituals, History & Significance of The Festival of Snakes.
Nag Panchami 2018 Wishes & Greetings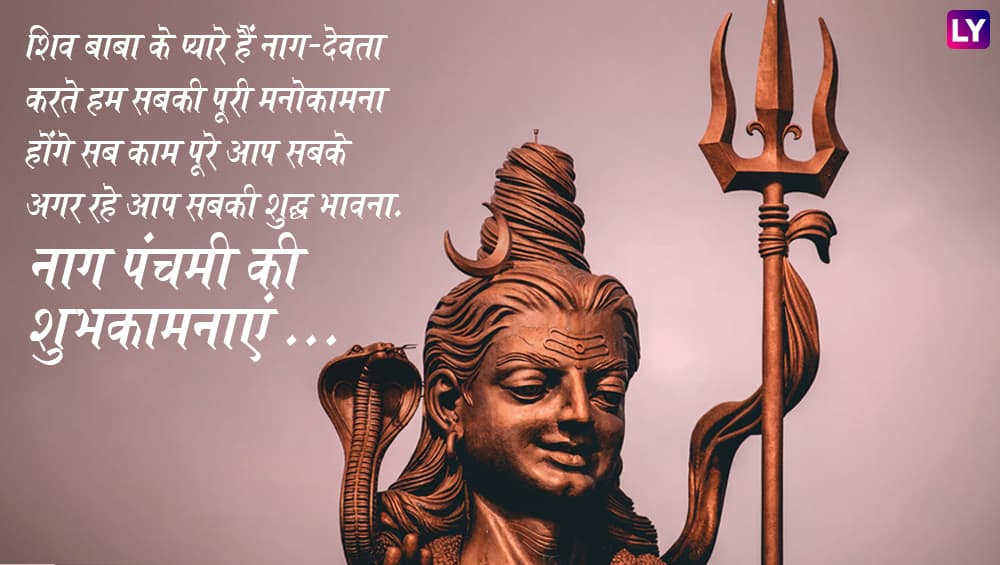 Message Reads: शिव बाबा के प्यारे हैं नाग-देवता, करते हम सबकी पूरी मनोकामना, होंगे सब काम पूरे आप सबके, अगर रहे आप सबकी शुद्ध भावना. नाग पंचमी की मुबारक हो …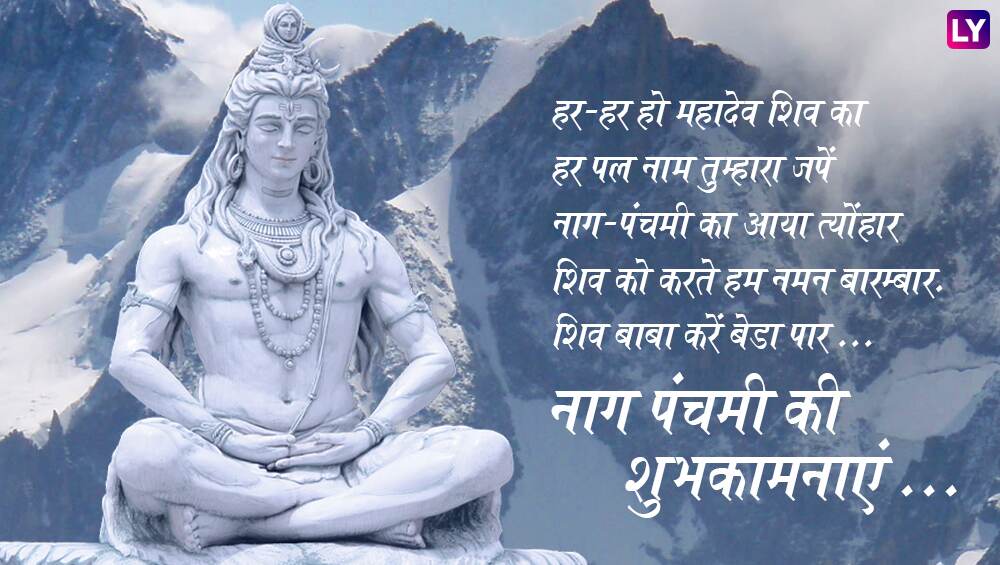 Message Reads: हर-हर हो महादेव शिव का, हर पल नाम तुम्हारा जपें, नाग-पंचमी का आया त्योंहार, शिव को करते हम नमन बारम्बार. शिव बाबा करें बेडा पार ….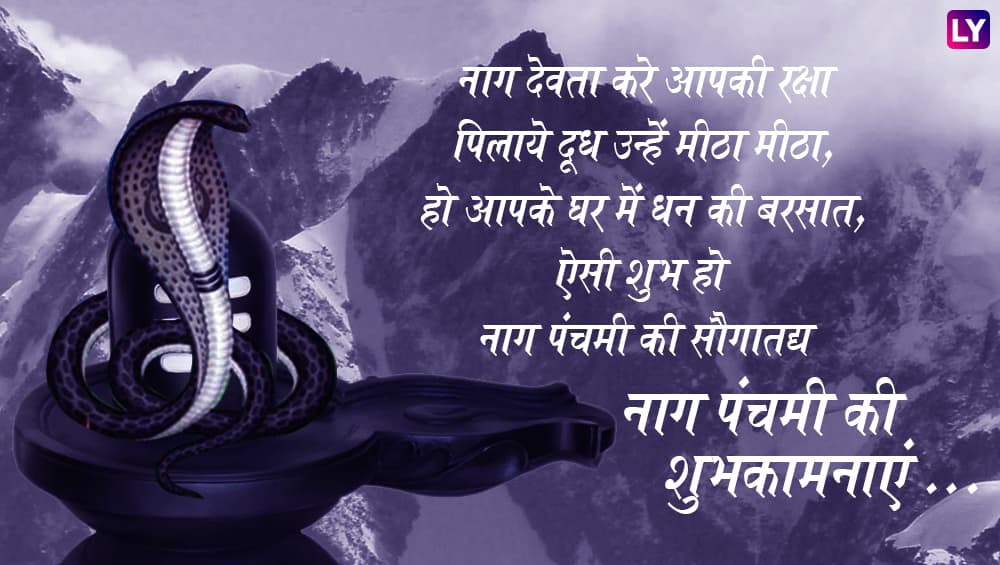 Message Reads: नाग देवता करे आपकी रक्षा, पिलाये दूध उन्हें मीठा मीठा, हो आपके घर में धन की बरसात, ऐसी शुभ हो नाग पंचमी की सौगात|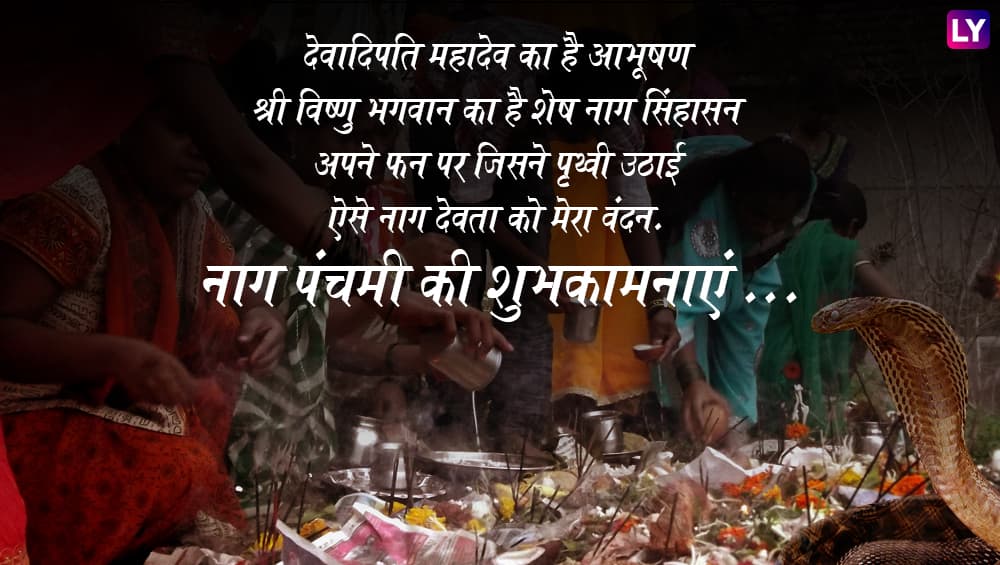 Message Reads: देवादिपति महादेव का है आभूषण, श्री विष्णु भगवान का है शेष नाग सिंहासन अपने फन पर जिसने पृथ्वी उठाई, ऐसे नाग देवता को मेरा वंदन. नाग पंचमी की शुभकामनाये|
Message Reads: Gale me shiv baba ke viraje nag, Apne fann par rakhe hai prithivi ko, Aise hai shaktishali devta hamare nag, Inke charnon me hamara koti-koti pranaam.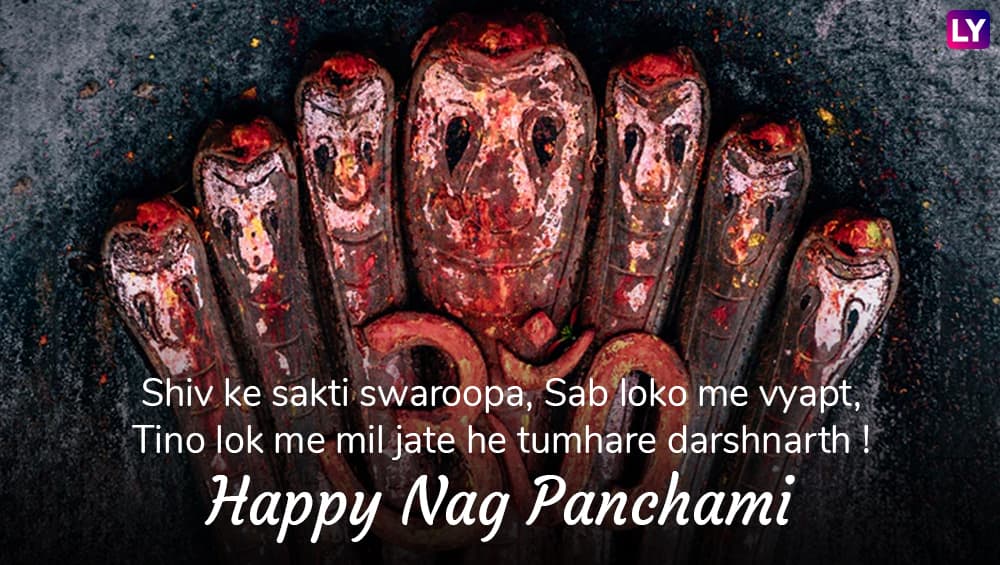 Message Reads: Shiv ke sakti swaroopa, Sab loko me vyapt, Tino lok me mil jate he tumhare darshnarth! Happy Nag Panchami!
Gif Image to Wish Nag Panchami
Kalsarp Dosh can wreak havoc in one's life. One can pacify the Kalsarp Dosh on Nag Panchami with puja as it is the most auspicious day to appease the snake god. Since Shiva is known for taking away miseries from life, by worshipping snakes one is seeking protection from him to expiate their problems. Therefore, anyone who has been suffering from this dosha does special prayers to the snake god and to the Shiv lingam. On the day of Nag Panchami, ploughing of field or digging the Earth is avoided. Because, habitat of snakes is beneath the Earth and digging of land can hurt the snake god.
(The above story first appeared on LatestLY on Aug 14, 2018 05:19 PM IST. For more news and updates on politics, world, sports, entertainment and lifestyle, log on to our website latestly.com).