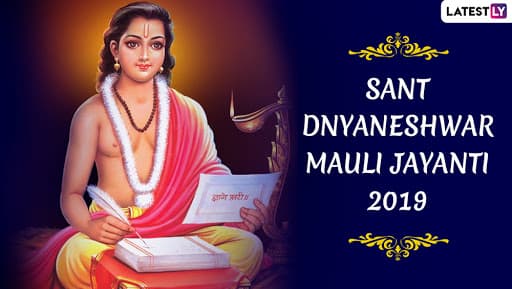 Sant Dnyaneshwar Jayanti is celebrated on August 23 to commemorate the birth anniversary of Jnaneshwar Maharaj, who revolutionised the Bhakti cult in Maharashtra. Sant Dnyaneshwar was a popular 13th-century Marathi poet, saint, philosopher and yogi of the Nath Vaishnava tradition. On the occasion of Sant Dnyaneshwar Mauli Jayanti 2019, let's a look at the life of Dnyaneshwar and the rich heritage of literature he has left behind.
Sant Dnyaneshwar was among the first to use the local language of Marathi to spread and demystify the message of the Hindu scriptures like Bhagavad Gita. In his short life of just 21 years, he popularised the teachings of Sanatana Dharma and spread among the common man.  He authored Dnyaneshwari (a commentary on the Bhagavad Gita) and Amrutanubhav. These are considered milestones in Marathi literature.
After composing Amritanubhava, Dnyaneshwar went to on a pilgrimage with other saints. After completing their visits to the holy places, Dnyaneshwar felt that the mission of his life was over. He, therefore, expressed his intention to take live Samadhi.
Date
Sant Dnyaneshwar Jayanti is celebrated on August 23 to mark the birth anniversary of the great saint and poet Sant Dnyaneshwar. Dnyaneshwar entered into Sanjeevan Samadhi, a yogic path to salvation at the age of 21 at Alandi on the banks of River Indrayani. After Dnyaneshwar took the Samadhi, his siblings also decided to end their existence in this world and within a year's time, they too reached the ends of their lives.
Significance of Sant Dnyaneshwar Jayanti
Sant Dnyaneshwar 's Jnaneswari, or Dnyaneshwari, the most widely read Marathi Bhagavad Gita adaptation, was written with the entire intention of reaching out to those people, who were not able to read and understand the original Sanskrit version. He simplified the language, so that common man could take lessons from Gita.
The original Bhagavad Gita contains 700 verses but Sant Jnaneshwar's Jnaneswari contains 9000 verses. He went deep into explaining the philosophies and teachings of Gita and uses similes and examples from daily life to make the common man understand the message of Gita.
Several religious programmes are observed on this day throughout Maharashtra to pay their tribute to the great man.