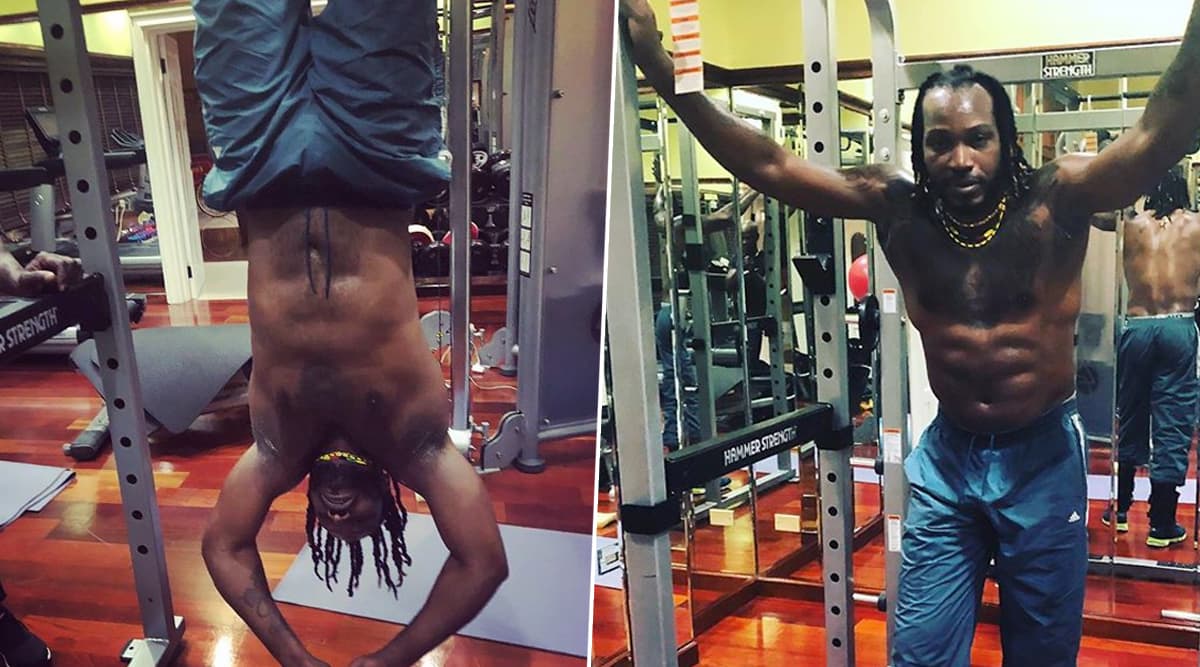 West Indies cricketing legend Chris Gayle, who is famously known as Universe Boss, is a renowned cricketer and one of the best batsman in history. Chris Gayle has an impressive physique with huge body frame. Gayle possesses immense strength, the result of which can be seen on the field where he hits towering sixes. Chris Gayle is highly muscular and he doesn't shy from getting shirtless at any time. Inspite of spending two decades in cricket, Chris Gayle is still regarded as one of the fittest cricketers. Now let us explore the workout and diet of Windies batsman Chris Gayle, that makes him one of the most feared batsmen in the world. Chris Gayle's 'Cry' Makes Everyone Laugh in Mzansi Super League 2019 (Watch Video)
Chris Gayle was born on Sept 21, 1979, at Kingston, Jamaica. He made his ODI debut in the year 1999 against India and Test debut against Zimbabwe in the year 2000. Gayle has made 10,480 and 7,214 runs in ODI and Test respectively. Chris Gayle is amongst the four batsmen to have scored two triple-century in Test. He also has the record of hitting the very first ball of his Test career for a six. Chris Gayle has also scored the quickest century in Indian Premier League which just came in 30 balls. Now let us speak about Chris Gayle training that helps him to perform well for his team and franchise.
Workout of Chris Gayle
Chris Gayle mainly works on explosive strength and core that enables him to become one of the most dangerous hard-hitter batsmen in cricket. For endurance training, Chris Gayle put on his music and dance which is one of his main cardio workouts. We can see the biceps bulging out of Gayle's jersey whenever he comes out to play in the field. This is due to the hard work he puts in his arm training, where he majorly concentrates on tricep muscles. Needless to say that Chris Gayle also works on strengthening his leg muscles, where he performs exercises like squats, leg press, etc.
Chris Gayle Pull-Ups To Develop His Back Muscles
Gayle Training His Core 
View this post on Instagram
Chris Gayle Bicep Curl 
View this post on Instagram
Chris Gayle Doing Heavy Leg Press to Develop His Quadriceps
View this post on Instagram
Chris Gayle Doing Barbell Curl 
View this post on Instagram
Chris Gayle Doing Cycling on the Cardio Machine 
View this post on Instagram
Diet of Chris Gayle
Chris Gayle starts off his day with a highly nutritious breakfast and it is one of his important meal. The Universe Boss eat lots of fruits and vegetables and try to stay away from spicy foods. Gayle keeps himself hydrated throughout the day and for that, he keeps drinking water throughout the day. For pre-workout, he takes a protein shake. Gayle's favourite food is pasta and he eats it on his cheat day.
Chris Gayle played his last ODI match against India on Aug 14, 2019. The Universe Boss is expected to be seen in IPL 2020 playing for Kings XI Punjab franchise. Gayle is currently playing in Mzansi Super League 2019 for Jozi Stars.