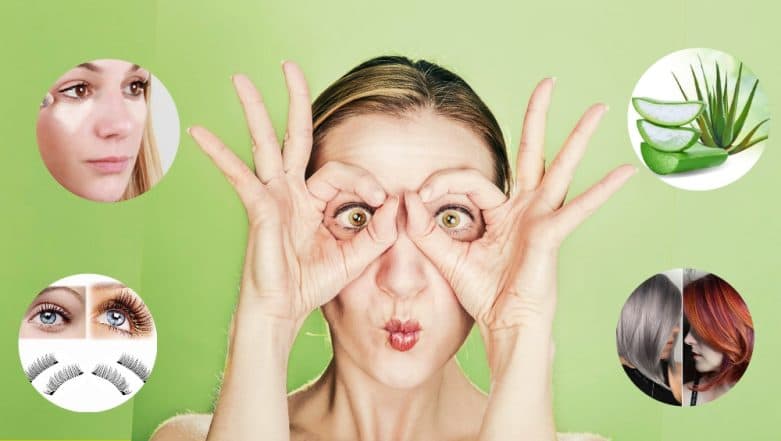 Call it flashback 2018 or recap time, but this is the most exciting time of the year. We get to see everything that we did in the past 12 months at a go. And right now, we will be checking the very exciting 'Most Googled Beauty Questions 2018.' Kind of self-explanatory, isn't it? The list comprises trending beauty topics searched by people throughout the year. And a look at the list, you will know 'lashes' are the most buzzworthy beauty trends of 2018. Top three questions are pertaining to eyelashes as the beauty world continues to be obsessed with the quest to longer, fuller eyelashes. The most searched beauty question on Google in 2018 is - How to apply magnetic lashes? New Year 2019 Jewellery Trends: Step Up Your Style Game with Modern Accessories.
Magnetic lashes are gaining attention and how. Messy and glue-based falsies are seen as an option of the past with beauty gurus and brands shifting their focus on magnetic lashes. Basically, eyelash extensions are secured by tiny magnets placed on the outer corners of the eye. These lashes are reusable, low-maintenance and importantly, do not require you to rip-off your natural lashes. Apart from magnetic lashes, beauty lovers have also been keen on knowing about 'lash lift' and 'how to remove individual eyelashes.'
Apart from the new-found craze for getting lashes on fleek, there have been few evergreen beauty topics. They range from getting perfect cat eye/ winged eyeliner to how to take off makeup without makeup wipes. Beginners, we tell you! Check the complete list of most-searched beauty topics questioned and answered below.
1. How to apply magnetic lashes
2. What is a lash lift
3. How to remove individual eyelashes
4. What hair colour looks best on me
5. How to do cat eye
6. How to take off makeup without makeup wipes
7. How to apply aloe vera
8. How to glue down eyebrows
9. How to fix cakey makeup
10. What concealer to use
So, that was your list of trending beauty topics of 2018 on Google. We hope the videos below each topic was helpful. It is interesting to see people's obsession with skin and hair have lessened. Yes, there are a couple of questions like "how to apply aloe vera" and "What hair colour looks best on me." But there were not many related to skin or hair care. Eyelashes literally took over the beauty and makeup universe. For more on beauty and fashion, keep following LatestLY.