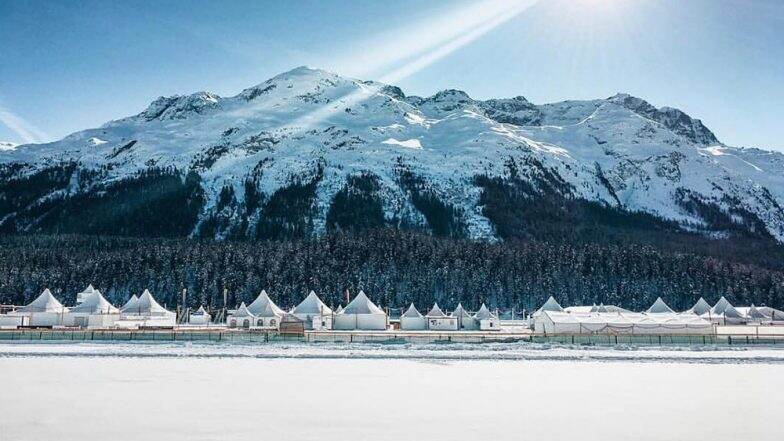 If you thought the wedding season is just about to end then there's one big fat wedding ceremony coming up. Mukesh Ambani's son Akash Ambani is all set to tie the knot with Shloka Mehta on March 9, 2019. The wedding festivities have already begun with a pre-wedding party ongoing at St Moritz in Switzerland. It is a holiday resort town and called the original birthplace of Alpine winter tourism. So if you want to know or rather experience the best of a winter wonderland, than St Moritz is the best place to visit. A modern Alpine lifestyle and spectacular scenery, St Moritz attracts the cosmopolitan and affluent crowd. Akash Ambani-Shloka Mehta Wedding Celebrations Dates & Venues: Mukesh Ambani's Son to Get Married on March 9, Bachelors Bash in Switzerland From Feb 23–25.
At an elevation of 1,800 meters above the sea level, St Moritz lies on the southern slopes of the Albula Alps. It overlooks the Upper Engadine valley and Lake St Moritz. A resort town way ahead of its time, St Moritz hosted the first golf tournament in the Alps and twice been a venue for the Winter Olympics (1928 and 1948). Diverse in its topography, the place has a lot of activities for all its tourists, be it summers or winters.
St Moritz is a place that weather-wise has a good balance of the sun and snow days. Its location is such that there is enough sunshine and transforms into a winter wonderland too well. There's an extensive snow area which is perfect for skiing, snowboarding, racing and other winter sports. Khajjiar, The 'Mini Switzerland of India', Know All About Exploring This Little Hill Station in Himachal Pradesh.
View this post on Instagram
Things to Do in St Moritz
St Moritz is a mountain resort which intertwines glamour and nature's beauty. If you are an adventure junkie, St Moritz will be your playground. Depending upon the weather your choice of activities will differ.
Stroll or Ski on Lake of St Moritz: During winters, the lake is frozen which makes it an arena for polo, skiing and even horse racing. In the summers, it is a peaceful place to stroll around. Watching the sunshine gleam on the pure waters will be indeed a peaceful experience.
Ice Skating on Black Ice: The frozen lake is a good spot for ice skating but one should always be careful about the snow. Necessary permissions need to acquired before venturing on the frozen lake for ice skating.
View this post on Instagram
Visit the Museums: Any place has its share of history, art and culture to it. You can experience a bit of St Moritz history by visiting the museums here. There are two museums- Engadiner Museum and Segantini Museum both of which have significant things to observe and know about its culture. While the Engadiner Museum is known for its architecture, the Segantini Museum honours the painter Giovanni Segantini and has many of his beautiful landscape paintings.
Get Aboard the Bernina Express: St Moritz is a mide point on the train from Chur down to Tirano. It is one of the most scenic routes in the world. So hop on to the train and enjoy scenic landscapes. The train journey gives a wonderful view of Piz Bernina, the highest summit in the Eastern Alps.
Bobsleigh: One of the major activities to enjoy in St Moritz is the Olympic sport of bobsleighing. It has the world's oldest track to carry out the activity which was built in the year 1904. The track is just 1.7 kilometers long but the sport is high for your adrenaline rush. You might want to check with the bookings of the sport well in advance.
Tourist Attractions in St Moritz
View this post on Instagram
Lake St Moritz: It is the most iconic spot of this lovely town. Although it is quite small in size, it is a site around which most of the sports activities take place.
Piz Nair: A spot for hiking, Piz Nair will not leave you disappointed with the views surrounding it. If you are not comfortable hiking, you could reach here with a cable car form the town and enjoy the brilliant scenery as you go upwards.
Leaning Tower: The Leaning Tower of St Moritz dates back to the 12th century. It is the only part that is left of the demolished St Mauritius Church. Its inclination is more than the Leaning Tower of Pisa.
Piz Corvatsch: This is a heaven for those who want to go skiing. Situated at 3,300 meters high it is the highest points in the area. Another important highlight of this place is the ice cave in the mountain which provides gorgeous views of the Alpine glaciers.
View this post on Instagram
Heidi Hut: If you have enjoyed watching Heidi series of cartoons then you can definitely pay a visit to the place where it was filmed. Heidi hut is located in Engadin and can be enjoyed free of cost.
A chic, elegant and scenic spot, St Moritz has much more to offer. Surrounded by Alps peaks, there is no doubt about the spectacular views that you can experience irrespective of the weather. You can indulge in the beauty of nature, go across adventuring or just relax by the lake or stroll by their art and culture. St Moritz ventured into tourism about 140 years ago, but has managed to retain its affluent charm.