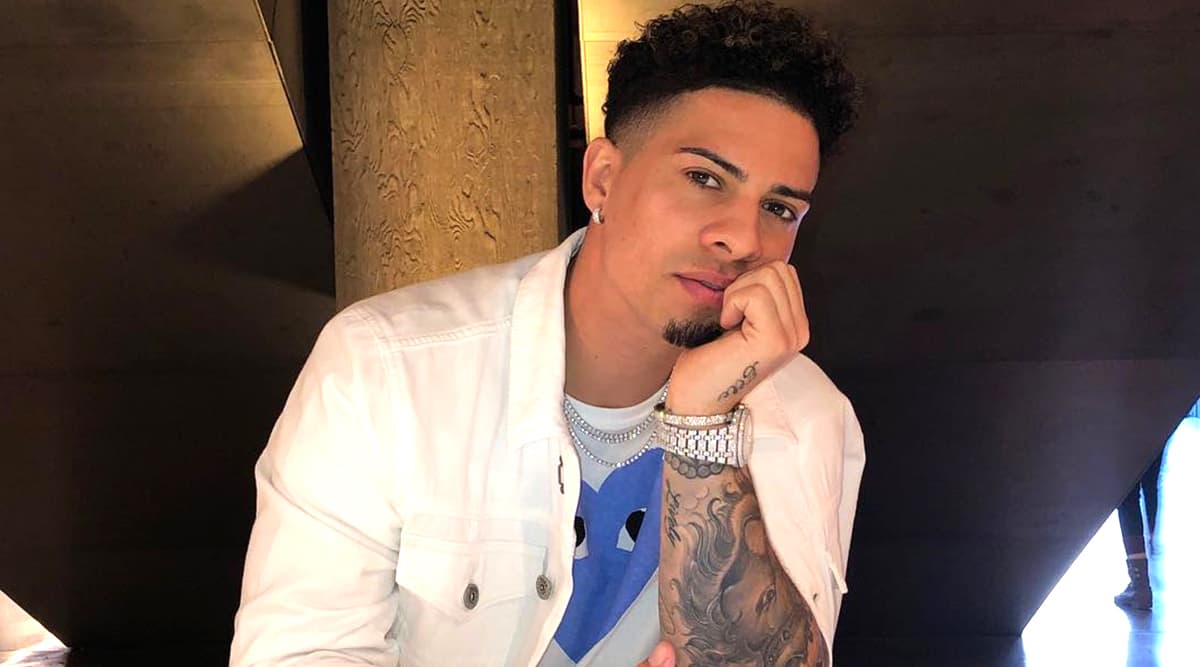 The Ace Family has been exposed time and again. This time, it's getting serious. Austin McBroom from the family is getting accused of raping a girl and getting a girl pregnant. Cole Carrigan, a former Team 10 member, has come forward to speak up on this situation after the girls were made to stay silent about this situation. Cole also exposed Keemstar, who allegedly accepted $500,000 to not make a video about this situation. Keemstar was ready to talk about this on his YouTube channel "DramaAlert" when he recieved the money and decided to discard the idea. Twitter is in shock over this entire issue, and people are demanding some serious action against Austin McBroom. Ace Family YouTube Creator Austin McBroom and Father Exposed for Molestation and Rape by Cole Carrigan in a Shocking Video.
Catherine Paiz, the wife and baby mama of Austin McBroom, is being trolled on Twitter for acting like she has no idea about this situation. Apparently, this has been going on for a long, long time now and Catherine is still with Austin. From demanding the cancellation of the Ace family, to trolling Catherine, here is what Twitter has to say about this situation. Ace Family Gets CANCELLED After They Cause Mudslide in Their Neighbour's Property.
Clown Face
Everybody who follows the Ace family pic.twitter.com/qWe11t0lxc

— Anthony Watson (@watant0071) October 15, 2019
Disappointed!
Y'all been should've cancelled the Ace Family particular Austin McBroom. Multiple girls coming out with cheating allegations w nothing to gain. Y'all should've known better. Cancel Twitter I hope y'all can follow through this time. pic.twitter.com/8K5BY2uWz3

— Super Hater (ILYG ❤️) (@SooJuhkai) October 15, 2019
wE'Re JeaLOuS
Catherine is either not going to speak on this and pretend like nothing happened as always or she's going to make a comeback but only to say why no one wants the "aCe fAmILy tO sUcCeEd".☕️ pic.twitter.com/0tTscYIWSc

— DAPEASANT (@lustdreaams) October 15, 2019
Hide the Kids!
my lil sister is a big ace family fan and the fact that austin mcbroom got exposed as a rapist is so nerve racking and unsettling to me that i don't feel comfortable with my sister watching his videos now that that's come to the light. pic.twitter.com/bkB6tZoKkp

— ZAE 🌷🎀 (@youngzaelaurent) October 15, 2019
"Joke"
that dude austin and the ace family in general should have been canceled a long time ago, austin really gave a CHILD a dick lollipop as a "joke"

— ##cyn (@lacyntae) October 15, 2019
UNSTAN!
Cole Carrigan just exposed Austin Mcbroom for cheating, and raping a girl. He showed proof, texts, literally pics of blood (from the rape victim) pls watch his video of you can! It's really sad these things are happening. I hope the ace family especially Austin are canceled soon.

— Yari-nutssss (@yarinette1975) October 15, 2019
Trash Forever
austin mcbroom has BEEN trash since we were in school together. i've never seen any good come from him or his actions. i'm disgusted hearing about this r*pe situation but i'm not shocked because it's who he is as a person. the whole ace family has BEEN trash.

— matt (@BigPoppaMatthew) October 15, 2019
Cancel the Entire Family
"Y'all were QUICK to cancel James Charles and destroy his platform and reputation for WEEKS..but Austin Mcbroom is literally a serial RAPIST and no ones saying ANYTHING. Disgustang."

If you support the ACE family unfollow me

— Funny tweets (@FunnyPollPosts) October 15, 2019
The Expose Video is Truly Disturbing
i usually don't tweet about celeb drama but i just watched a video about austin mcbroom and his dad raping women,wtf is that shit

as someone who used to watch the ACE family i'm extremely disturbed and it's upsetting that people with power can do such things and get away with it

— wendy loza (@wendyvloza) October 15, 2019
Can't Unfollow if Never Followed
When you stopped following the ACE family after Austin Mcbroom brought a 5 year old to a sex shop for views......Please unfollow me if you support them. pic.twitter.com/jeWHlfzUWA

— Guy (@guyntoti1) October 15, 2019
UNSUBSCRIBE TO ACE FAMILY
UNSUBSCRIBE TO ACE FAMILY

UNSUBSCRIBE TO ACE FAMILY

UNSUBSCRIBE TO ACE FAMILY

UNSUBSCRIBE TO ACE FAMILY

UNSUBSCRIBE TO ACE FAMILY

UNSUBSCRIBE TO ACE FAMILY

UNSUBSCRIBE TO ACE FAMILY

UNSUBSCRIBE TO ACE FAMILY

UNSUBSCRIBE TO ACE FAMILY

UNSUBSCRIBE TO ACE FAMILY

— isis 🌱 (@sweetenerkiid) October 15, 2019
An Entire Circus!
ACE FAMILY STANS AND CATHERINE: pic.twitter.com/DuKD1dZihT

— layton (@babythotg) October 15, 2019
A MUST READ
EXPOSING THE ACE FAMILY: A THREAD

— sue // ifb all🥺 (@haileybicbers) October 15, 2019
What Austin did deserves more than getting cancelled on the internet. People have to take legal actions against him and stop them from doing what they've been doing. Twitter, do ya thing and get them off YouTube!