In a case of daylight bigotry, causing huge embarrassment to Airtel, an Airtel direct to home (DTH) user named Pooja Singh, made a strange and deplorable declaration on Twitter after realizing that the customer care executive she was interacting with on Twitter, was a Muslim. Pooja, who has over 10 thousand 'followers' on Twitter, had a complaint regarding reinstallation of her DTH service. After he got a reply from Bharti Airtel India verified Twitter handle, which mentioned the name Shoaib at the end thanking her, he replied back saying that, "Dear Shohaib, as you're a Muslim and I have no faith in your working ethics because Kuran may have different version for customer service, thus requesting you to assign a Hindu representative for my request. Thanks. (sic)"
Soon, the comment came under severe criticism from other netizens and Twitterati. But what irked customers the most was that Airtel, instead of calling out on the girl's bigotry, played to her demands and soon another message was posted by the Bharti Airtel India verified Twitter handle, this time with a different name. Here is the screenshot of the exchange: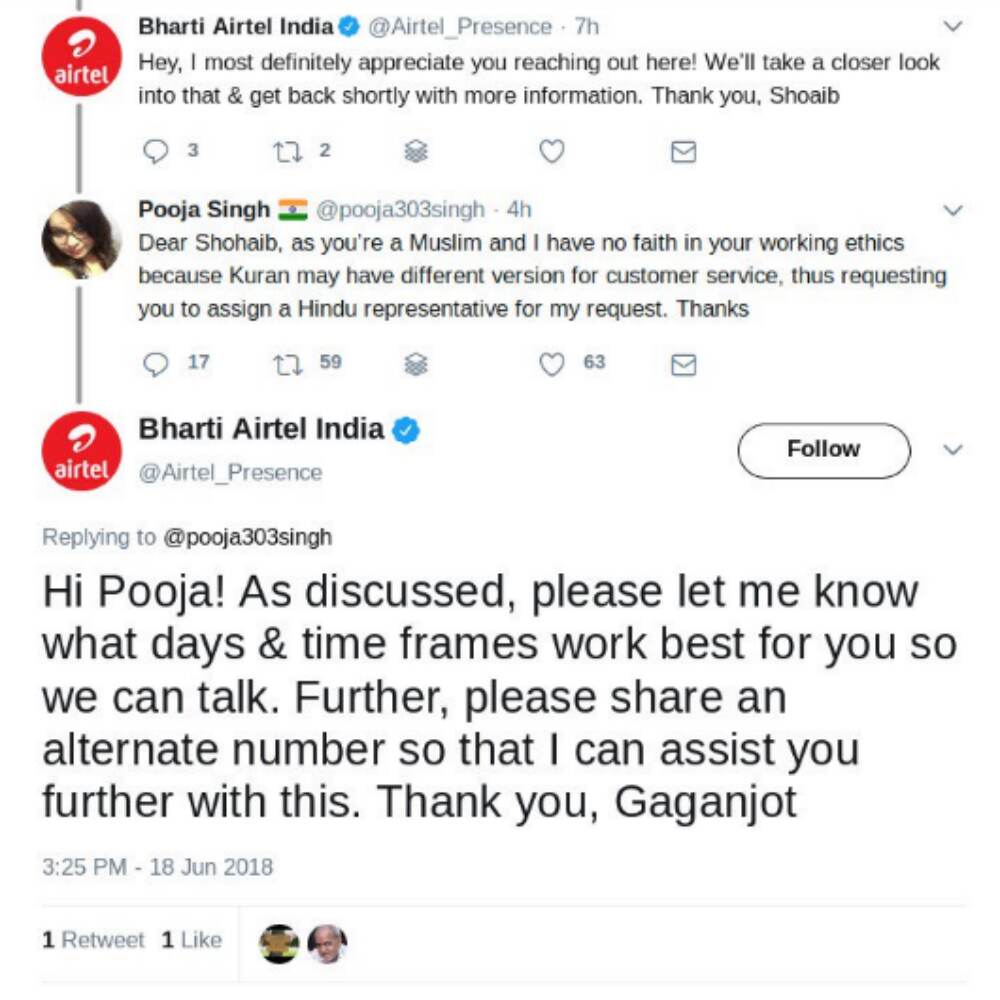 Twitter users expressed their regret over the fact and it was only after facing huge criticism for giving in to "hate demands", that Airtel issued a notification saying, "at Airtel, we absolutely do not differentiate between customers, employees and partners on the basis of caste or religion...". Even prominent historian S Irfan Habib expressed his shock and disappointment over the message that differentiated in call for respect on the basis of religion. Only last to last month, an Ola customer had declined to take a cab saying that the drive was Muslim and a Delhi journalist was dropped mid-way after the Ola driver refused to take him to his destination saying that it is a "Muslim Colony."