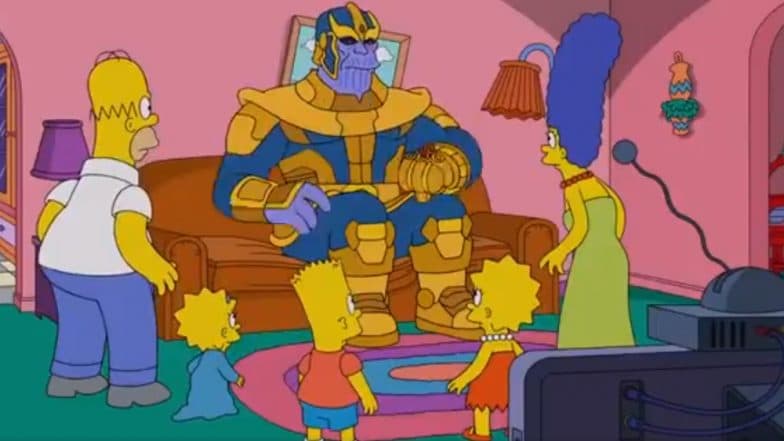 Avengers: Endgame is one of the most awaited films of 2019 - not just in Hollywood but also in Bollywood. It's the time when Earth's mightiest superheroes will beat the Mad Titan, Thanos and make this world a better place to live. While Infinity War was a grand success in 2018, Endgame is expected to go a notch higher and break all the existing box office records. And until you get to witness the wrath of this supervillain on the big screen, it's time you divert your attention to this cute artwork shared by director duo - Russo brothers. Avengers Endgame: New Theory Hints About Captain America Recruiting New Marvel Superhero and He Is Not Black Knight!
In a video shared by Endgame directors, Thanos is a part of the Simpsons' world but he's not restricted or unwilling to snap his fingers even there. You can see how the mighty villain puts on the last infinity stone in his gauntlet and Simpsons disintegrate like half the population in the Marvel film. It's a perfect depiction of the superhero movie, and the only difference is in the caricature being a bit cuter. Avengers EndGame: Don't Expect Trailers To Show More Than First 15 Minutes of the Movie, Warns MCU Chief Kevin Feige.
Check out Thanos' artwork in the world of Simpsons below
— Russo Brothers (@Russo_Brothers) January 15, 2019
Earlier, an artist named Stefano Monda recreated Priyanka Chopra and Nick Jonas' wedding in the Simpsons' world and that was too adorable to describe in few words.
Avengers: Endgame is all set to release in India on April 26, 2019, and this short wait seems too long suddenly. The movie is a sequel to last year's Infinity War that killed half of our beloved superheroes. Will they come back to life in this sequel? And will we bid adieu to the original Avengers? These are some of the many questions that we want answers for but we'll wait for time to answer them.