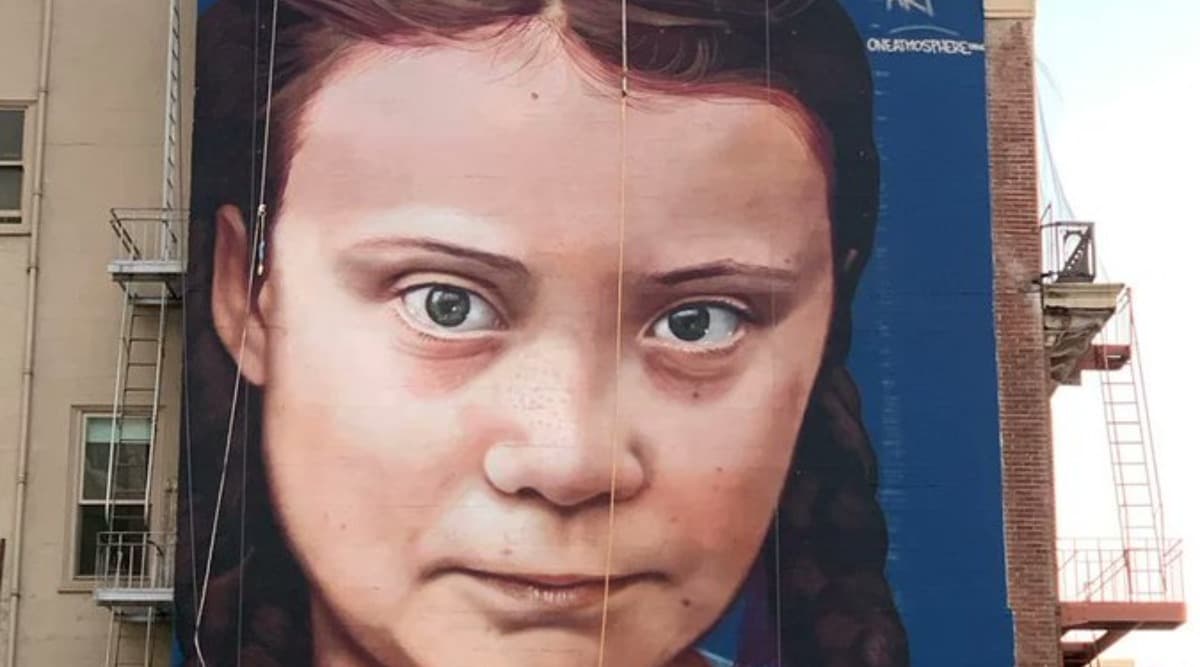 A four-storey-high mural of climate change activist Greta Thunberg has been was unveiled in San Francisco on Tuesday. The curtain of the painting was raised after the young climate change activist announced that she would be leaving the United States on Wednesday by boat. She is heading for the climate change conference at the United Nations in December. Greta Thunberg Quotes That Will Make You Take a Hard Look At Climate Change and The State of Planet Earth!
The 60-foot by 30-foot artwork was created by Argentine street artist Andres Petreselli, who signs his work Cobre. The 32-year-old artist said that he generally does not address politics, sports or religion, but this one is a bit unusual. He was quoted as saying, "But, this one is ... I feel connected with the politics behind (it) because I think it is real and if I have to compare it with the rest of my murals, this is the most political one that I ever made." Greta Thunberg's 'How Dare You' Speech at UN Wins Twitterati's Hearts, Activist's Quotes on Climate Change Goes Viral.
Watch The Video Below:
The project was funded by the non-profit group OneAtmosphere.org, and executive director Paul Scott. Talking about the criticisms received for the portrait, he said, "They're struck by the image and want to learn more. If they take the time to learn more about what she's trying to share, that I think has an impact on most people. Makes them want to help."
Greta Thunberg garnered headlines when she began skipping her school on Friday to sit outside the Swedish parliament and protest against climate change. Her move inspired and schools across countries to conduct similar protests demanding answers from the government about steps taken to contain climate change . Thereafter, she received international fame at the 2019 United Nations Climate Action Summit for glaring at the United States President Donald Trump who doesn't believe in the climate change crisis. Today, she has spoken at various platforms on climate change demanding answers from policymakers.