Several identical posts about Ranu Mondal, who shot to fame after singing "Ek Pyar Ka Nagma Hai" song at the Ranaghat railway station in West Bengal, are going viral on various social media platforms. The viral posts claimed that Ranu Mondal has sought for land at the disputed site in Ayodhya after the Supreme Court's verdict in the Babri Masjid-Ram Jamnabhoomi title dispute. Ranu Mandal sought for land to construct a church, the posts further claimed. Ayodhya Verdict: Full Text of Supreme Court Judgment in Babri Masjid-Ram Janmabhoomi Title Dispute.
Such posts are indeed fake. The source of this misinformation about Ranu Mondal is Fauxy, a right-leaning satirical website which publishes fictional content. However, many fell prey to this fake news about Mondol and believed that she sought land for a church at the disputed site in Ayodhya. "Breaking news, Ranu Mondal has asked for a plot in Ayodhya church. Wasn't she better off in the station?" read a tweet. Ranu Mondal's 'Diva Behaviour' Appals the Internet, Singer Scolds Fan Who Touched Her While Asking for Selfie (Read Tweets).
Many right-wing netizens accused Mondal of being an opportunist and demanding land for the Catholic faith. Anuj Bajpai, an active member of the Bharatiya Janata Party (BJP), also tweeted the false claim. Academician Madhu Purnima Kishwar went on to criticise missionaries while believing the fake news about Mondal. "How come missionaries did not discover her while she was living on railway platform? she tweeted.
Tweets And Facebook Post Spreading Fake News About Ranu Mondal:
Breaking News..😡😡

रानू मंडल ने #अयोध्या मे चर्च के लिए जगह मांगी..🙄 आपको नहीं लगता ये स्टेशन पर ही ठीक थी..?? ये तो सिर पर बैठ गई....!https://t.co/k5m9mIrMoC

— डा.सीमा (@seematri6) November 11, 2019
रानू मंडल ने अयोध्या मे चर्च के लिए जगह मांगी..🙄

आपको नहीं लगता ये स्टेशन पर भीख मांगती ही ठीक थी..?? ये तो सिर पर बैठ गई....!

— ANUJ BAJPAI (@Real_Anuj) November 12, 2019
Really disappointing. How come missionaries did not discover her while ahe was living on railway platform? https://t.co/YhsfBs1xsE

— MadhuPurnima Kishwar (@madhukishwar) November 12, 2019
The false information about Mondal on social media is being spread after Fauxy's satirical article. "Supreme Court of India gave a historic judgement on Ayodhya dispute. Of both the parties – Hindus and Muslims – some welcomed the verdict and some are not satisfied. While all this, another major community of India i.e. Christians, felt left out," the write-up stated.
"Therefore, some Christian organisations came together and requested the new prominent figure among Christians, Ranu Mondal, to speak on their behalf. Ranu Mondal decided to file a claim demanding some land in Ayodhya to be dedicated for Christians as well so that they can build a grand Church. She said that this will be a display of true secularism of India if Supreme Court allots some land to Christians," it added.
It is a piece of fake news. Ranu Mondal has not made any such demand. Mandal, a singer who used to sing songs of Lata Mangeshkar sitting on the platform of Ranaghat station, became an internet sensation overnight thanks to social media. A lot of credit goes to Atindra Chakraborty, who shot Mondal's video singing Lata Mangeshkar's soulful number "Ek Pyaar Ka Nagma Hai", and Tapan Das from Amra Sabai Shaitan club, who shared the video on social media.
The video went viral in no time and turned Mondal into a singing sensation on the internet. It also paved way for her phenomenal rise from a street singer to her debut as a playback singer in Bollywood. The 59-year-old singer has already recorded the song "Teri Meri Kahaani" for Himesh Reshammiya's upcoming movie "Happy Hardy And Heer".
Fact check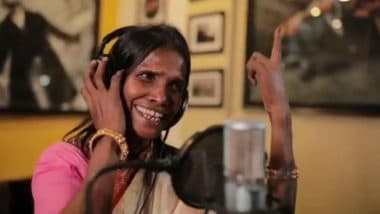 Claim :
Ranu Mondal has sought land for a church at the disputed site in Ayodhya.
Conclusion :
It is fake news. Ranu Mondal has not made any such demand.
(The above story first appeared on LatestLY on Nov 12, 2019 10:47 PM IST. For more news and updates on politics, world, sports, entertainment and lifestyle, log on to our website latestly.com).