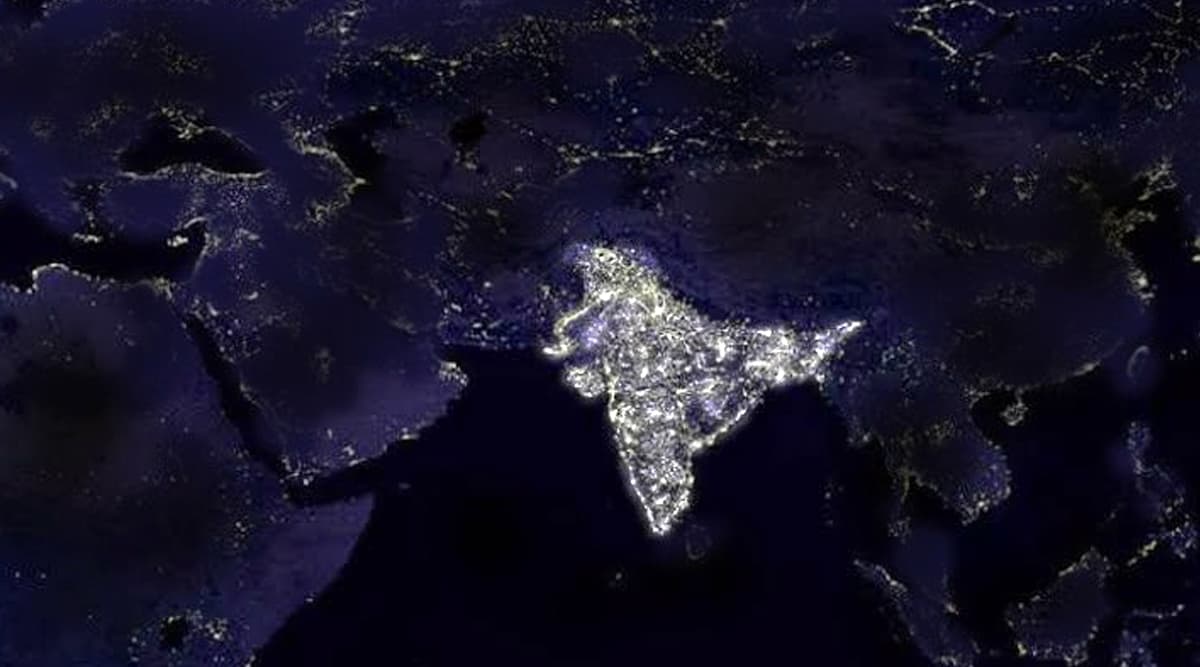 Everyone is celebrating the festival of Diwali and it is one of the most-awaited festivals marked in India. And one thing that has become a yearly mark is NASA's releasing of the picture. The satellite image of India during Diwali released by NASA a few years ago is quite famous. Once again during Diwali 2019, a fake satellite image of India is still going viral where people are claiming it's a picture from the National Aeronautics and Space Administration (NASA) on a Diwali night. The funny bit is that people circulate the same pictures every year and still believe it's real. Some of them are just India on a regular day and some pictures are from a survey on India's population over the years. Happy Gujarati New Year 2019 Wishes: WhatsApp Stickers, Naya Saal Greetings, Hike GIF Images, Quotes, SMS And Messages to Send a Day After Diwali.
Diwali lights up almost every house. But NASA does not post a picture of the festival every year. In 2012 NASA posted a picture of Diwali night and ever since, people have been passing fake pictures around, claiming it's taken from a satellite for the celebration of the festival. We all know how Whatsapp is one of the reasons why fake news goes around so easily. People genuinely believe everything news they receive on the messaging app and this one is no different. Not only do people believe the fake snap, but they are also asking for a picture of this year's Diwali. Easy Rangoli Designs for Colorful Diwali 2019: Quick and Simple Rangoli Patterns With Colours and New Pookalam Designs With Marigold Flowers for Deepawali (Watch DIY Videos).
Here Are Some of the Tweets Demanding This Year's Picture
What hasn't NASA released India's Diwali satellite pic yet?🤔

— Dinku (@Dinku_cfc) October 27, 2019
Who's Going to Tell Them?
Diwali done. Now, its time to share NASA image. 🎇

— charudatt prabhu (@charu_prabhu) October 28, 2019
Anybody?
Where is NASA pic this Diwali?#HappyDeepavali

— Deepak Nikam (@_Deepak_nikam) October 27, 2019
Nobody?
NASA ki diwali pic aayi kya?

— Professor (@piyush_speaks) October 27, 2019
Still Waiting
Waiting for #NASA to release #Diwali wallpaper. #HappyDiwali2019

— Haider Ali Khan, حیرد علی خان (@khanhaider) October 27, 2019
Answers Please?
When is @NASA releasing Diwali picture

— Sojan™ (@sojanjs) October 27, 2019
Ummm...
Thank you @NASA. Proud to be an Indian. pic.twitter.com/Z9VlQcldtj

— Bibin (@basikally) October 27, 2019
Nahi
#NASA ne #Diwali ki photo li ya nahin?

— Dynamo (@SensingSenses) October 27, 2019
Diwali Essential: Fake Picture
NASA vala pic aa gaya, ab Diwali successful hogi#HappyDeepavali #HappyDiwali pic.twitter.com/oG8dmJ7bYA

— Yash (@BhookLagiHain) October 27, 2019
Circulate Fake News
Guys kisike paas NASA ne li Diwali ki picture hai toh send kardo.

— Tushar (@_tushar_rajput_) October 27, 2019
While some are busy demanding a customary picture for this year, some people realise it's all fake and have been trolling the former group. Good to see the pictures have been busted by some.
Twitter Trolling the Fake Picture
Nasa ka space-station Diwali pe India wale chalate hai.

— Viппц (@vickysmackdown) October 27, 2019
Check Your Whatsapp Family Group for It
Where's that customary fake #NASA photo of #India from space on a #Diwali night? 😀

— 🎸𝓖𝓾𝓲𝓽𝓪𝓻 𝓑𝓸𝓵𝓵𝔂𝔀𝓸𝓸𝓭 (@GuitarBollywood) October 27, 2019
WE MISS IT TOO
WHERES THE DIWALI PICTURE OF INDIA I MISS THE FAKE NEWS

— Khushal Nandekar (@NandekarKhushal) October 27, 2019
Unfollowed. Blocked. Reported!
If any of you post that stupid picture of "India on Diwali - photo taken by NASA" or even RT it, I swear I will unfollow your ass. 🙅‍♀️

— moira's crackerjack vocabulary 🏳️‍🌈 (@ArshiWithOneA) October 27, 2019
The picture posted in 2012 has been long forgotten. All that's left are fake photos, pictures of the population growth and photoshopped pictures. Netizens would love a picture but more than that, they would like this to stop. This Diwali, don't forward the fake news!