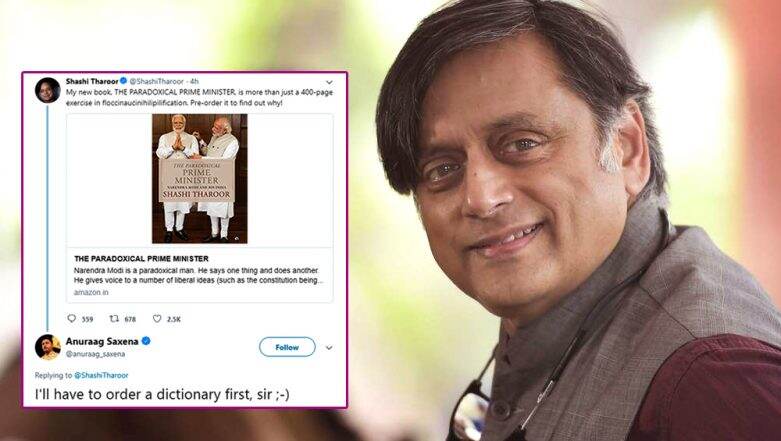 Everyone's favourite English teacher on Twitter is back with a new word and people are already flipping! Congress MP Shashi Tharoor made an announcement about his new book on Twitter today. Introducing his book The Paradoxical Prime Minister, he also gave a very difficult never-ending seeming word to the people- floccinaucinihilipilification. Although the subject of the book being PM Narendra Modi is equally interesting, Twitterati is busy deconstructing the meaning of Tharoor's new word. Although sometimes Tharoor gives definitions of his words, today he left them bewildered. Lalochezia is the New Word From Shashi Tharoor's Dictionary: Its Meaning is a Common Condition Among Many Netizens. 
Tharoor has got himself the tag of an online dictionary. He gives the world these complex, never-heard-before words and his dire followers are known to keep a tab of them. Now the latest word floccinaucinihilipilification has resulted in confusion over its pronunciation and more jokes as well. But what this word even mean? According to the Oxford Dictionary, it means 'the action or habit of estimating something as worthless.' It is pronounced as floc-cina-uci-nihili-pili-fication.
Check Shashi Tharoor's latest tweet announcing his new book The Paradoxical Prime Minister
My new book, THE PARADOXICAL PRIME MINISTER, is more than just a 400-page exercise in floccinaucinihilipilification. Pre-order it to find out why!https://t.co/yHuCh2GZDM

— Shashi Tharoor (@ShashiTharoor) October 10, 2018
Tharoor has engaged netizens constantly with his choice of words and this time too, there were some jokes made on it. Check how people on Twitter reacted to Tharoor's newest word.
Challenging Tharoor, longest word at a time
Thanks sir, will try to read. Hope the book doesn't give me pneumonoultramicroscopicsilicovolcanoconiosis ! Now your turn to google...

— The-Lying-Lama (@KyaUkhaadLega) October 10, 2018
Tharoor's Siri suggestions
I am wondering what Shashi Tharoor's Siri is like. Does she ask Shashi the meanings of words instead of it being the other way round?

— Alok Badri (@alok_TTID) October 10, 2018
People will need a dictionary before buying the book
I'll have to order a dictionary first, sir ;-)

— Anuraag Saxena (@anuraag_saxena) October 10, 2018
You should sell it with a dictionary attached

— Jerry Raju (@jerraju) October 10, 2018
How the word appears!
— Original Copy🐱 (@Angie_Tribecca) October 10, 2018
The description of the book reads, "Shashi Tharoor has stitched together a compelling portrait of this paradoxical figure. Never before has there been such a superbly written and devastatingly accurate account of the most controversial prime minister India has ever had." Wonder how people will dare to buy and read the book, given Tharoor's tough choice of words at all times. The book is currently for pre-order on Amazon.