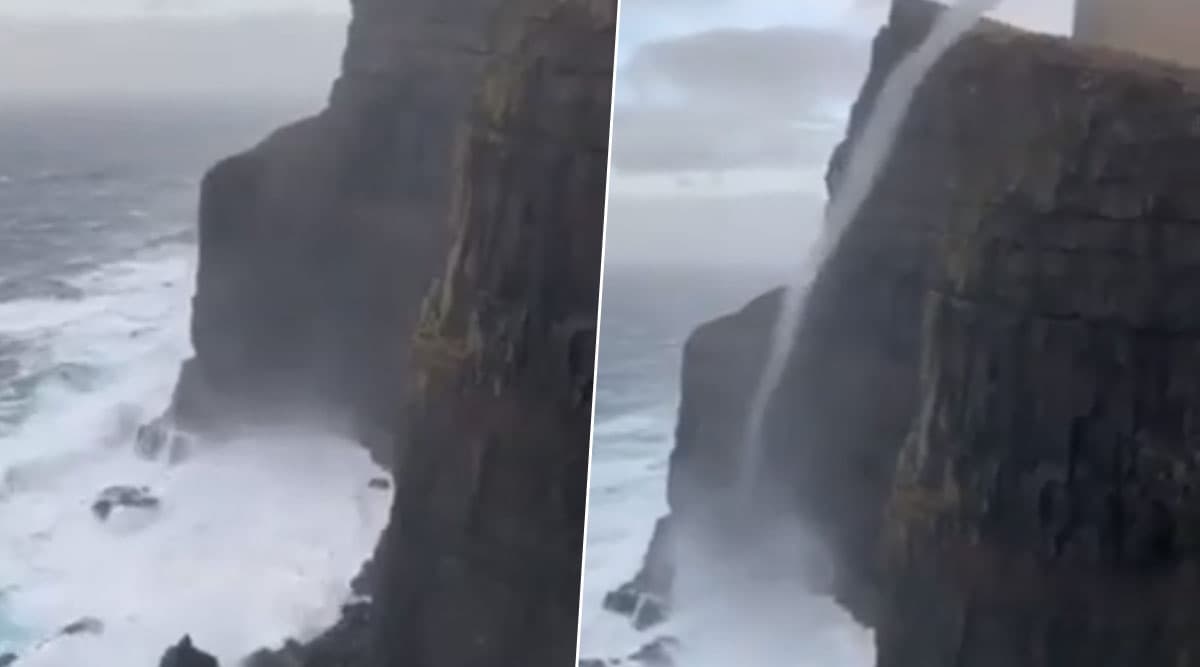 Nature has its wonders and some of them are really mind-boggling! While most of us have seen the sea waves come forth and back, a rare phenomenon of the waves going upwards has been captured on camera. Samy Jacobsen was walking along the cliffs off Suouroy in the Faroe Island when he saw a wonderful spectacle of the water flowing upwards, in the direction of the cliff. It was observed at the highest sea cliff which is almost 470 m high. The video has been shared on Twitter and has amazed everyone. Upward Lightning on Guatemala Mountain Caught on Camera, See Viral Pics and Video of This Unbelievable Natural Phenomenon!
This occurrence is also called a water spout, caused by the difference in temperature of the water/air. In this case, the cliff also helps to spin the wind around which makes the circular water pattern. Waterspouts are observed more in tropics and subtropical areas. As per reported in Yahoo UK, Mr Jacobsen said, "I saw something being blown up into the air from that area before but I have never investigated it. In the vicinity there are many small rivers that defy gravity in stormy conditions and an awful lot of sea water is blown up and travels pretty far up land." He added that it was really beautiful. A video of the same is now going viral on different social media platforms.
Watch the Viral Video of Upward Flowing Water Here:
At one glance, the water moving upwards looks like a faint tornado. This phenomenon is called as the sea vortex. This is alike a whirlpool of rotating water which is usually produced by opposing currents. Many a time, tides cause whirlpools with the fast-flowing water. Weather experts also added that this was a spout- caused by spiralling air over water. Back in April 2019, a huge water spout was spotted at Penang Island near Malaysia. Seen for almost five minutes, this spout kept moving and crashed on the shores later on. It was accompanied with strong winds in the island.