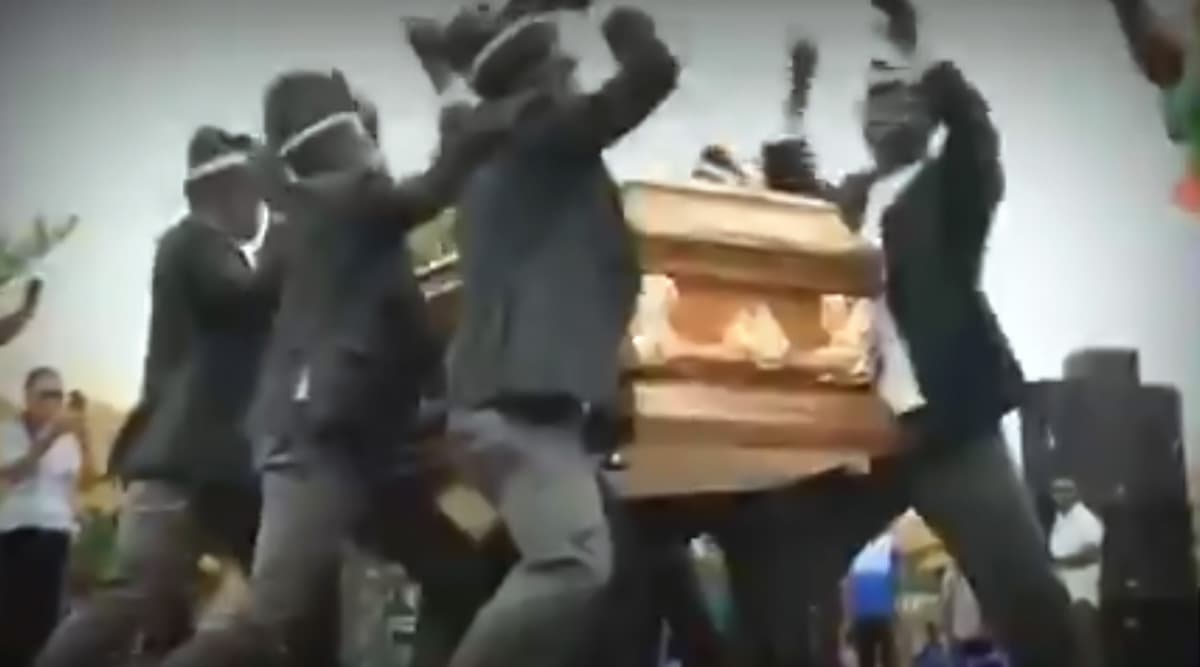 Pallbearers are known for bringing fun and laughter during African funeral services. They carry coffins dressed uniformly and dance together like it were some fun event. During this quarantine period, netizens have dug out these funeral coffin dance videos and are sharing it with funny captions. Hilarious funeral coffin dance videos have become Twitterati's favourite video meme during quarantine time. As it goes viral, people are relating it to the current quarantine period and raising awareness on staying at home during coronavirus lockdown. Funny memes saying 'Stay at home or we will dance at your funeral' is being widely shared. Home Quarantine Trend! Netizens Dig Up Embarrassing Old Facebook Photos of Their Friends With Hilarious Shayari in Comments, People React With Funny Memes and Jokes.
Many people attend these funeral services just to see these pallbearers. According to BBC Africa, the event is to bring joy to the otherwise sad event. Dancing pallbearers lift the casket and dance around in synchronised steps. They parade the casket on the backs, spin around and even pretend to drop the casket. People Are Solving Puzzles to Beat Home Quarantine Blues and COVID-19 Anxiety! Check Tweets.
Coffin Dance at Funeral:
If this isn't the dance at my funeral then I am not gonna die. pic.twitter.com/8m0aaYfN7h

— aftermoon____009 (@aftermoonn____) March 30, 2020
Check Out Funeral Dance Tweets:
#stay_at_home or those guys gonna dance on your funeral 🤣🤣🤦🏻‍♂️ pic.twitter.com/E7XKA1YC55

— ☢️Mos3b☢️ (@mosababdallah16) March 29, 2020
Funny Tweet on Funeral Dance:
View this post on Instagram
However, these dancers do not groove to music according to their wish, they are hired by family members of the deceased. A new-found tradition in Ghana and neighbouring regions, the idea is to send their loved ones off in style. It started around at least seven years ago and it is increasingly becoming popular in Africa. Benjamin Aidoo, who leads the dancing pallbearer troupe was quoted as saying, "I decided to add choreography to it so if the client comes to us, we just ask them. 'Do you want it solemn or do you want a bit more of a display? Or maybe you want some choreography on it?'"
Watch The Video Below:
View this post on Instagram
In 2015, American blogger Follow My Braids wrote that the troupe had performed at her mother-in-law's funeral. He writes, "This beautiful "home-going" was every bit of three long days and well worth it for a queen-mother that graced this earth for 96 years. '(The dancing pallbearers) was a mind-blowing experience. I'm so glad I was able to witness this performance in person. I actually enjoyed the awesome talent and strength of these young men. 'And they never missed a beat!"