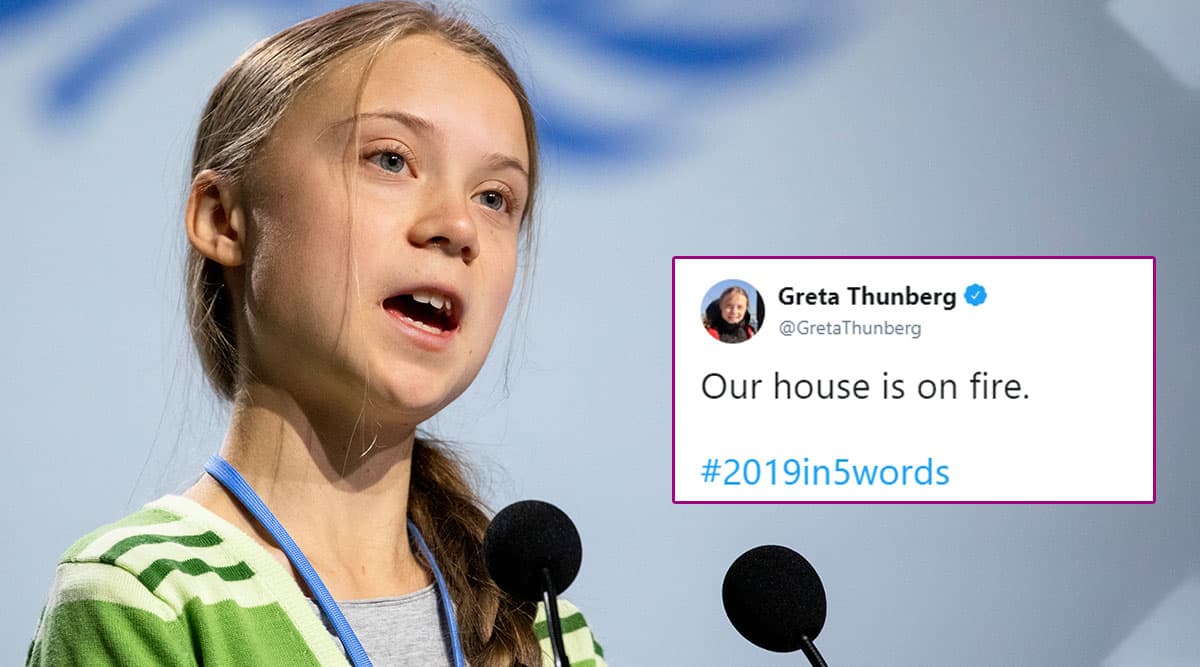 The New Year 2020 arrives in three days and are you pondering upon how the year went by? Well, that is what everyone around the world is currently doing, and a popular trend of describing the year of 2019 using five words has emerged online. #2019in5Words is among the top trends on Twitter and one response that everyone has to take notice of is, Greta Thunberg! The young climate activist has summed up the effect of climate change in 5 words. She writes, "Our house is on fire," and that is chilling way to once again bring everyone's attention to the issue. Greta Thunberg is a Time Traveller, Say Netizens, After a 120-Year-Old Picture of Climate Activist's Lookalike Goes Viral (Check Tweets).
Every year end, people look back at the year gone by reminiscing about their favorite events, lessons and moments. The hashtag #2019in5Words has been trending since a few days. A lot of netizens joined in, some giving funny reactions, others describing the their best moments. But child activist Greta Thunberg's tweet serves as a warning to one and all. She has once again expressed the crisis that looms over our entire planet.
Check Greta Thunberg's Tweet on #2019in5Words:
Our house is on fire.#2019in5words

— Greta Thunberg (@GretaThunberg) December 28, 2019
Greta Thunberg who has been campaigning the fight against climate change since 2018 has served an inspiration to many. She was awarded the Time's Magazine's Person of the Year for 2019 earlier this month. The 16-year-old has become the youngest choice to grace on the cover of this globally renowned magazine. She has begun a movement worldwide voicing about the biggest crisis our planet faces. And while most of us are planning on ways to celebrate and ring in the New Year's Eve, Thunberg has once again summed up the bigger worry which surrounds us.