Social media was caught by surprise on Monday with a section of Twitter users and Facebook pages claiming that the Bharatiya Janata Party (BJP) has sacked one of its most renowned spokesperson, Sambit Patra. The rumoured move was being attributed to the party's dismal performance in the recently contested assembly elections.
Has Sambit Patra Been Removed as BJP Spokesperson?
No, the rumours being spread on social media are untrue. The BJP website, which lists its 10 national spokespersons, continues to name Patra. His name, however, has been shifted from the sixth to the seventh spot -- due to the inclusion of senior party leader and former union minister Rajiv Pratap Rudy at the second spot. Why Congress Had Registered an FIR Against Sambit Patra?
The hoax of Patra being fired gained momentum on Facebook, after a page named 'Viral in India', with lakhs of followers, shared it on their timeline. "Sambit Patra ko BJP ke prabakta pad se hataya gaya. Ab mandir kaun banayega? Afshos" (Sambit Patra has been removed from the post of spokesperson of the BJP. Now, who will build the temple? Sad.)
Here is how the Twitterati reacted to the hoax: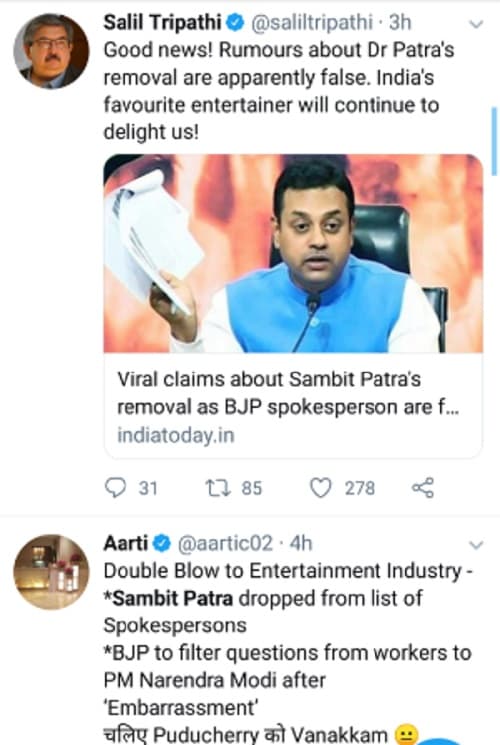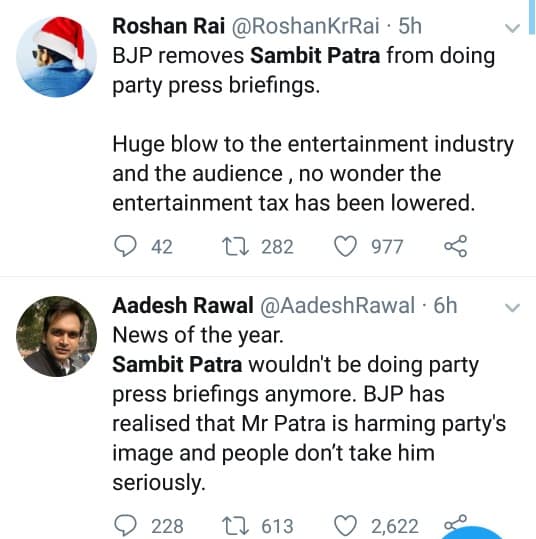 Patra is one of the most prominent faces on news channels, defending the BJP on a range of national political issues. He had recently drawn the Opposition's wrath as the Congress had registered a case against him for violating the Model Code of Conduct in Madhya Pradesh ahead of the assembly elections.
On social media, Patra recently became a subject of ridicule when BJP national president Amit Shah mistakenly referred to him as "Sandip Patra" during a press conference.