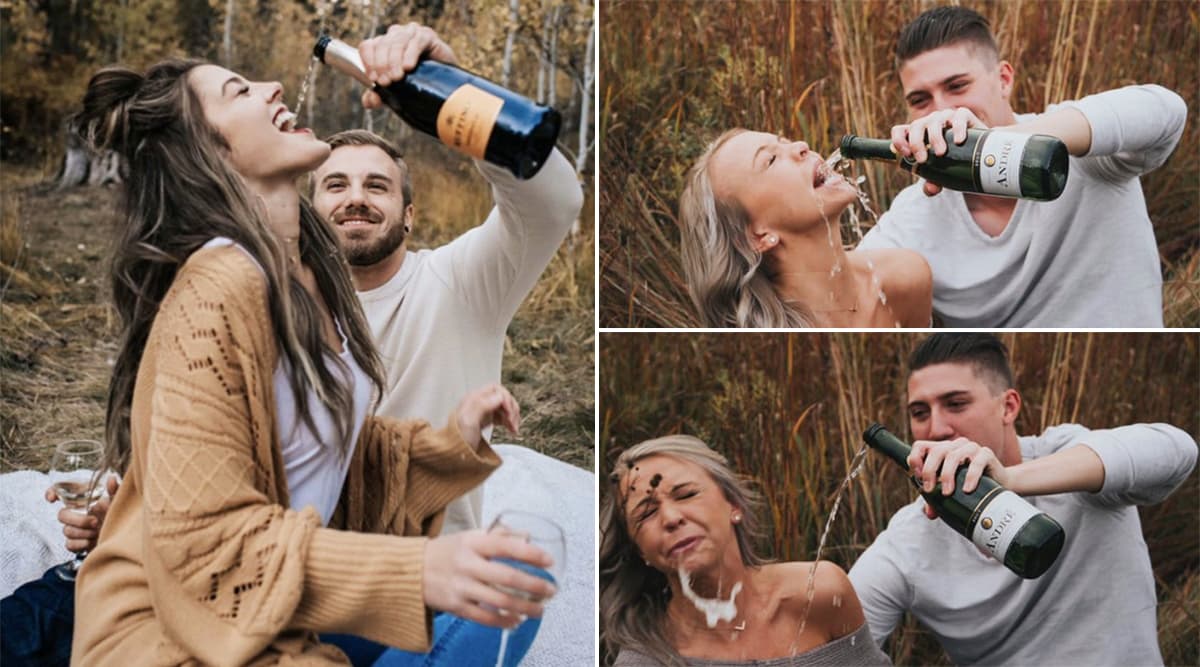 They say, you marry only once, so why not make it memorable? Getting that perfectly-clicked pre-wedding shoots are extremely important today. You scroll down many Instagram and Pinterest photos to try and recreate similar moments on the shoot. But what if the outcome is not even close to what you expect? For a couple at Illinois, their well-intentioned engagement photoshoot resulted in some hilarious pics. The pair tried and failed to recreate the idea they found on Pinterest—champagne pour. However, accepting the comical fact, they shared their "perfect shot" with people online. Their funny pics have created an instant photo gold, with netizens sharing similar instances. Naked Elderly Man Photobombs Couple's Pre-Wedding Photoshoot at San Deigo Beach, Hilarious Moment Goes Viral. 
The viral pics of Collin Hewett celebrating his commitment to Alyssa Snodsmith began with everything of an idyllic picnic for two. They had their photographer friend to capture it all! As per the viral tweet, the bride-to-be Alyssa Snodsmith wanted to recreate a romantic picture she found on Pinterest. The original image featured a gentleman heroically pouring champagne into his bae's mouth. But things didn't go as per plan! Well, Hewett seemed to over pour the bubbly, and it exploded right in her face, leaving her covered. Sharing the light-hearted moment with the Twitter world, Hewett readily admitted that he "botched it." Bridesmaid Fainted the Moment Married Couple Leans to Kiss! Twitterati Calls It the Best Wedding Throwback Ever. 
Here's the Viral Pic:
So me and Alyssa took our engagements pictures yesterday. She found a Pinterest picture that she wanted to try and recreate

.

.

.

I botched it pic.twitter.com/oSSUCB4o6A

— Big Stack Dibbles Jr (@collinhewett17) October 20, 2019
The viral tweet has got thousands of reactions online. Many suggested the love birds keep the photos on their wedding cards. And others shared their failed moments too.
Relatable!
#relatable pic.twitter.com/vH5mZ71vRk

— Sydney Brown (@Syd_tha_kidd) October 20, 2019
Oh Sure He Did:
My fiancé nailed it pic.twitter.com/fSe3CgIA0T

— Jessica DiPalma🦋 (@Jess_DiPalma) October 21, 2019
They Should:
Adorable. You should put those on the wedding invites.

— Jack the Woodman (@atchjs) October 21, 2019
Bride-To-Be is Fine BTW!
I'm fine btw pic.twitter.com/e85iFXDVcR

— alyssa snodsmith (@AlyssaSnods) October 21, 2019
To make once in a lifetime wedding more memorable, couples get the best pre-marriage photoshoot done to become the ultimate goals everyone looks up to. But it is not necessary that the photos will have to come as per the planning. The mishap did not stop the happy couple. The most adorable part of the engagement shoot is how effortlessly comfortable the pair seem together, even after the lady drenched in champagne. And that is what is essential! It was a fun shoot, and we all love it, wishing the lovebirds a happy wedding.