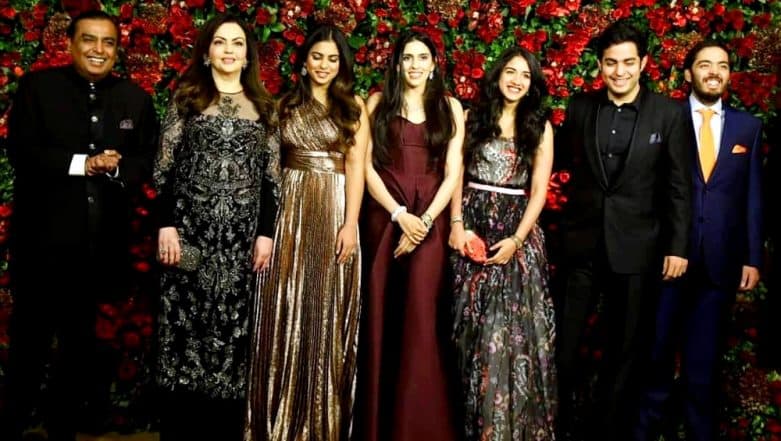 The Ambanis are among the richest families in the world and it will be rare if someone doesn't know of them. Owners of Reliance Industries, the Ambanis have an influential legacy. Started by Dhirubhai Ambani, who came from an impoverished background, he set off a business to improve the family conditions. Today, Reliance Industries is at a top-notch level and each member of the family is working towards only growing it further. Mukesh Ambani is currently owning the company Reliance Industries Limited (RIL). Mukesh Ambani's real net worth is 4,340 crores USD- 31,25,45,10,00,000.00 according to latest data from Forbes. His daughter Isha Ambani is all set to marry Anand Piramal today in Mumbai. As it is another addition to the family, let us look in detail at the Ambani family tree.
Dhirubhai Ambani is the backbone of setting up the business which is today among the top 3 profitable companies in the country. The main man behind the Ambani legacy, started working as a clerk in Aden. After returning to India he began an export business of spices and fabric. Dhirubhai Ambani got married to Kokilaben in the year 1955 and became a father to four children. He had two sons- Mukesh Ambani, Anil Ambani and two daughters- Nina Ambani and Dipti Ambani.
Dhirubhai Ambani started the Reliance Commercial Corporation was set up in Mumbai. In the year 1986, when Dhirubhai Ambani's health started falling he handed over the control to his sons Mukesh and Anil. Mukesh Ambani and Anil Ambani were managing the company until 2005, when they separated over ownership issues. Isha Ambani-Anand Piramal Wedding: Bride-to-Be & Her Mother Nita Look Gorgeous in Manish Malhotra Lehengas During the Sangeet Ceremony (See Pics).
Here Is The Entire Family Tree of Ambanis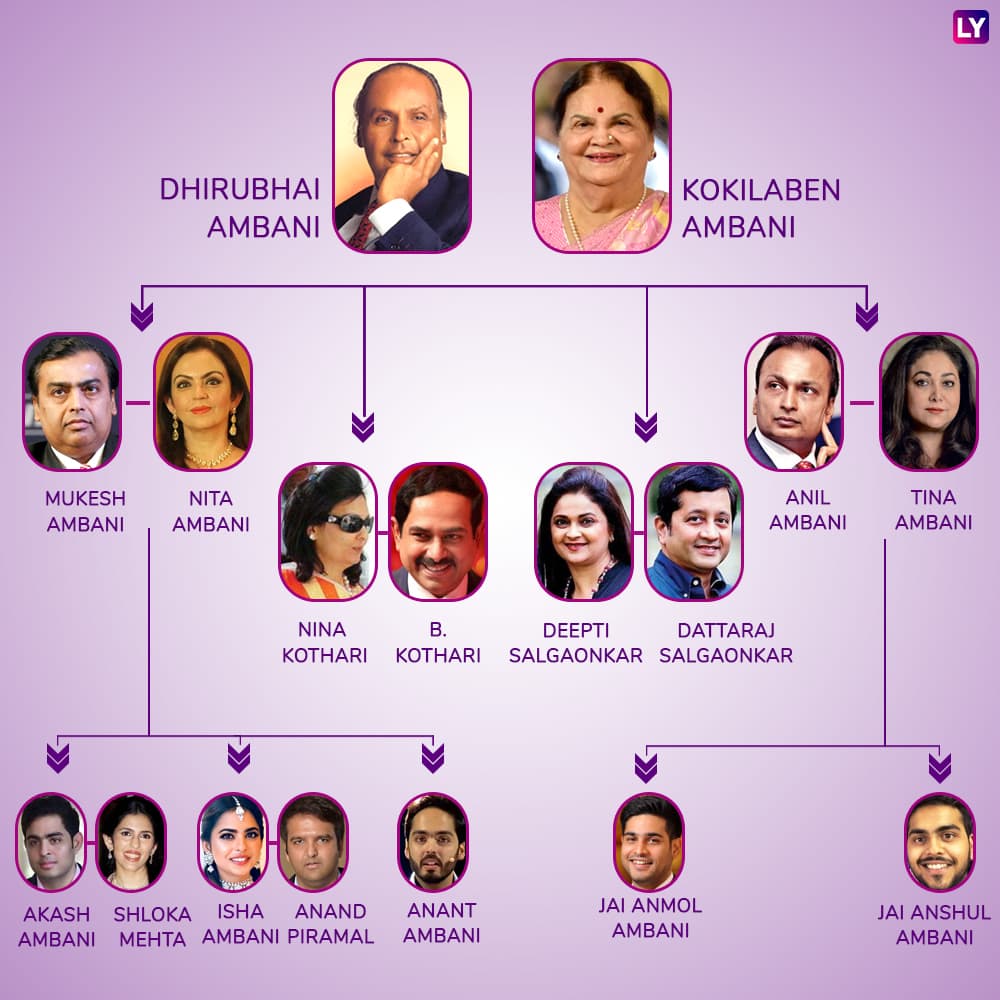 Mukesh Ambani got married to Nita Dalal in the year 1985 and has two sons- Akash Ambani, Anant Ambani and one daughter Isha Ambani. Nita Ambani is today the chairperson and founder of the Reliance Foundation and a non-executive director of Reliance Industries. Younger son Anil Ambani married Bollywood actress Tina Munim and has two children- Jai Anmol Ambani and Jai Anshul Ambani. Coming to Dhirubhai's daughters, elder daughter Nina Ambani got married to Bhadrashyam Kothari. Dipti Mabani got married to Raj Salgaocar, son of another influential businessman Vasudev Salgaocar.
The third generation is also set to marry as Isha Ambani will tie the knot to Anand Piramal, founder of Piramal Realty, one of India's favoured real estate companies. Akash Ambani is already engaged to Shloka Mehta daughter of diamantaire Arun Russell Mehta, MD of Rosy Blue. Anant Ambani is reportedly dating Radhika Merchant, the daughter of Viren Merchant, CEO and vice chairman of Anchor Healthcare.
All the members of the Ambani family are involved in the family business, appointed responsibilities of different divisions to make to it grow further. The marriage ceremony of Isha and Anand will take place at the Antilla bungalow in Mumbai and all the updates have already caused a buzz. Stay tuned to LatestLY for more updates about the big fat wedding.