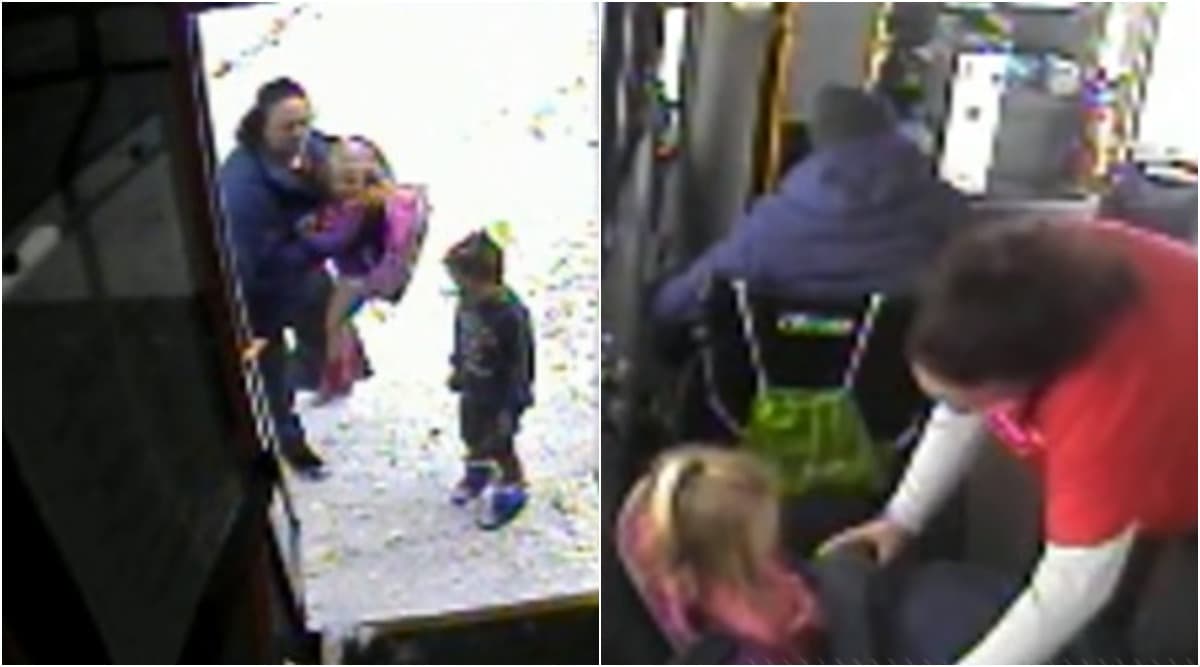 An incredible moment of a bus driver saving two children from freezing temperatures has gone viral on social media platforms. The CCTV footage shows the driver pulling over on seeing a boy and girl talking barefoot in the snow by the side of the road. The driver then gets out of the bus and carries the children to the bus. Nicole Camberlain was on her daily route when she saw the kids. The incident happened at around 8 am on Monday in Waukesha, Wisconsin. While the two-year-old girl was only wearing a top and nappy, the brother was wearing only a hoodie and trousers. Two-year-old Falls From Second Floor in Turkey, 'Alert' Teenager Catches Her (Watch Chilling Video)
CCTV footage shows Nicole covering the two-year-old girl with the jacket who has been walking with limited clothes in the cold weather. The region was witnessing around -16 degrees Celsius on that day. FOX6 quoted Nicole as saying, "No one had a coat on. It was snowing and it was windy and these were tiny little kids. It's OK, honey – we're gonna figure it out. You're nice and warm on the bus." Speaking to Good Morning America, Nicole said, "They were headed toward a busy intersection and I knew there was no school bus stop down there, or school, so I knew right away I had to pull over and help them."
Bus Driver Saves Children From Freezing Temperatures:
The children told Nicole that they were looking for their grandmother. She informed the police who found the kids' grandmom in 10 minutes. The cops said they won't be pressing any charges on the woman.
Nicole said, "If that were to happen to my children, I would hope that there would be somebody – a decent human being – that would stop and help my kids. I'm just thrilled I was in the right place and right time, but even more thrilled the situation turned out to be even better than what you hear sometimes. They went back, there were with a happy family. They were safe. That was most important to me."