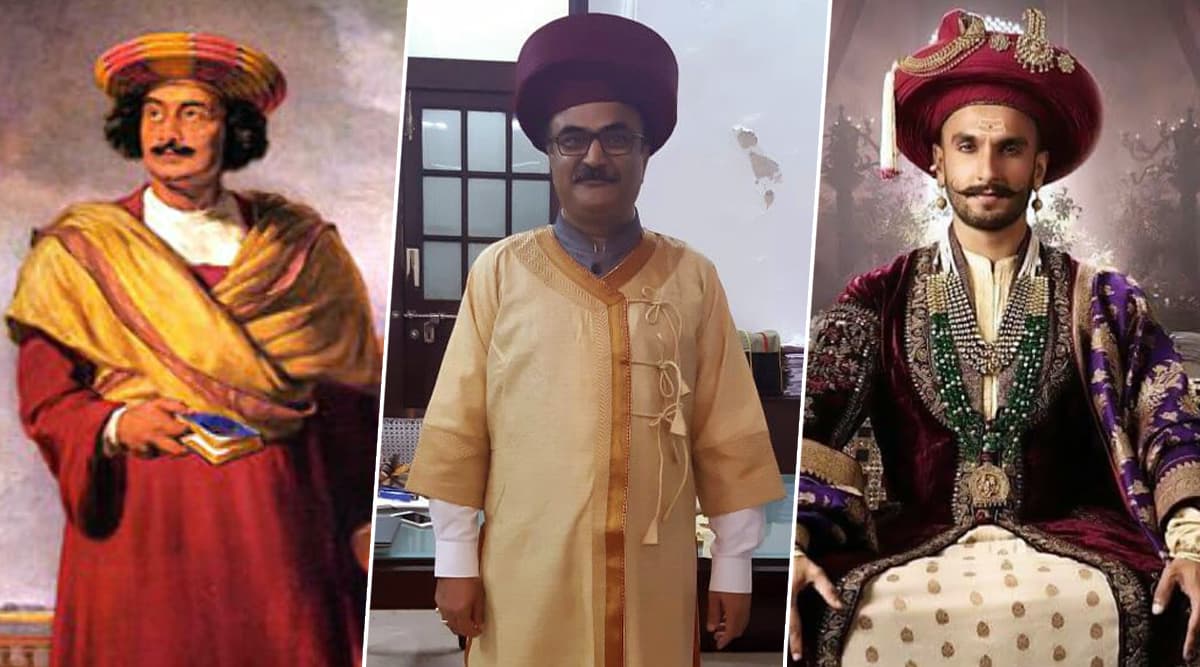 One of the most anticipated events of college life is the graduation ceremony. Every student is excited about wearing the graduation robe, the hat and then tossing these hats cheering collectively. Unfortunately, Mumbai University students may not get to experience the same as they've decided to replace the colonial robe with a traditional angarkha and red headgear. The official dress code is said to be introduced from the next batch in the month of November. But people are not impressed, or rather have their funny reactions to this traditional attire. Funny memes and jokes some even comparing the attire to Ranveer Singh in Bajirao Mastani are surfacing on social media. Mexican Law Student Dresses Up As Spider-Man for Graduation Ceremony: Watch Viral Video.
The shivkalin angarkha was an outfit donned by great Maratha warrior Shivaji Bhonsle. This outfit also has a Paithani border which represents valour, commitment and good governance, as per the university officials. The maroon headgear was recommended by the university-appointed committee. This move is made particularly in an effort to embrace Indian traditions instead of the  British culture. The desi Twitterati, however, was not too welcoming of the idea. Funny memes and comparisons to pop culture characters were drawn on social media.
Here's a picture of the New Graduation Dress Code by Mumbai University:
Here's a glimpse of #MumbaiUniversity news convocation dress. Black robes will now be replaced by this Indian attire. pic.twitter.com/9EM8p6USDK

— educlash (@educlashco) October 24, 2019
Check some of the funny reactions on the newest graduation dress code by Mumbai University.
Is Dress Pe Sandeh Nahi Karte?
Here's a glimpse of Mumbai University's new convocation dress. pic.twitter.com/TCBMBkRCY5

— Husband of Coleen Rooney (@TheChaoticNinja) October 23, 2019
Are We in Hogwarts Yet?
new mumbai university convocation dress pic.twitter.com/9cRiKKnXRL

— cynical guruji (@krazyfrog) October 23, 2019
Or Back to Raja Ram Mohan Roy?
Oh! So Gotta dress up as Raja Ram Mohan Roy🤔for convocation. interesting pic.twitter.com/b0V0xj4mSG

— Partly-employed Grad (@UnemployedGrad7) October 23, 2019
Oops!
This is the new convocation outfit for Mumbai University graduates. For the first time students who failed the exams would be happier than the ones who topped it. pic.twitter.com/rMX8jduRVx

— Bollywood Gandu (@BollywoodGandu) October 24, 2019
Is There Thaali Coming Our Way?
He looks ready to serve a Rajdhani thaali

— Kajol Srinivasan (@LOLrakshak) October 23, 2019
Too Far?
Please give the degrees that are engraved on Banana leaves..

— Soul of India (@iamtssh) October 23, 2019
What's With His Expression?
uncle with his "every parent in India" expression is making the dress more ugly.

— whisky lactone (@Whisky_Lactone) October 23, 2019
Make Sure You Twirl!
After dressing pic.twitter.com/Yp82Kdv5Kn

— Vijayment ツ (@vijayment) October 24, 2019
But there were also some who were quite impressed with the idea and said it has a Maharashtrian appeal. Well, maybe we are too used to the black coloured graduation robes and this might seem like a culture shock. It remains to be seen how the first batch to graduate in this attire feels about it. What do you think about the newest dress code?