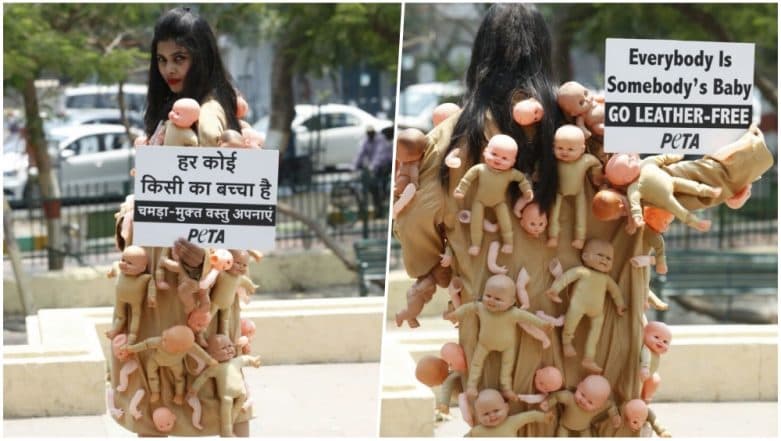 In an attempt to object animal hunting, once again a PETA (People for the Ethical Treatment of Animals) activist was spotted protesting against the use of leather on the streets of Lucknow's Hazratganj, Uttar Pradesh. Wearing a brown dress with toy babies hanging all over it, the female activist was holding a placard that read, "Everybody is Somebody's Baby. GO LEATHER-FREE," with PETA's logo on it. Well, the idea is appreciative but the Twitterati are not happy. The woman was spotted and tweeted by ANI News UP on Twitter and in no time, it went viral, as users trolled PETA stating it 'All drama to get footage in media!'
Over the time, people discovered the ground reality of the pseudo pro-animal organisation, PETA. They want to save animal lives, but they have a history of lying about it, which makes anything they do very, very suspicious. In a press release by the Centre for Consumer Freedom in March 2017 proved that in 2016 at Norfolk and Virginia alone PETA was accused of killing over 1,411 cats and dogs. In a recent incident, the brand ambassador of PETA, Shilpa Shetty Kundra received backlash on social media after she posted a video of fishing during her holidays at Maldives. People trolled her calling "hypocrite" and "cruel".
The moment ANI tweeted about PETA's recent protest, Twitterati started trolling the activist and hilariously accusing PETA hypocrisy, apart from other allegations that the organisation has faced over the years for being animal-lover wannabes.
Seen in Lucknow's Hazratganj: A PETA (People for the Ethical Treatment of Animals) activist protests against the use of leather. pic.twitter.com/nzu9CTSO6Z

— ANI UP (@ANINewsUP) May 11, 2018
Here are the replies with some massacre history!
All drama to get footage in media!

As if we don't know PETA's reality @PetaIndia https://t.co/HYm9ji08Om

— Manna Kushwaha (@manna_kushwaha) May 11, 2018
Posing in leather boots!
Their chief in leather boots! pic.twitter.com/CESqFyh1Hq

— Manna Kushwaha (@manna_kushwaha) May 11, 2018
Shocking truth!
You mean this PETA pic.twitter.com/Igr9IP6HeV

— Mr Devilliers (@mr_devilliers) May 11, 2018
Backlash for Being Hypocrites...
Hypocrite want leather bags but will protest

— SAQUIB (@iamsaq3193) May 11, 2018
And Some More...
@peta @PetaIndia please protest against killing of all animals and not specific according to your convenience as lakhs of goats bufallo and hens are butcherd daily , please stop your hypocrisy

— hitesh (@hitesh_cj) May 11, 2018
Yup, They are Seeking Media Attention!
@PetaIndia @peta Hello?? Hypocrites you don't like to speak on slaughter of cows? But suddenly you start doing drama to get media attention.

— 🚩🇮🇳Govind Kumar🇮🇳🚩 (@govindkumarch) May 11, 2018
Sadly, this is where PETA enters the frame. The tweets do not signify that Twitterati are against protecting animals. But they clearly don't want to get fooled or advised by the pseudo animal lovers. What do you think? Is it a publicity stunt or a peaceful protest against leathers?