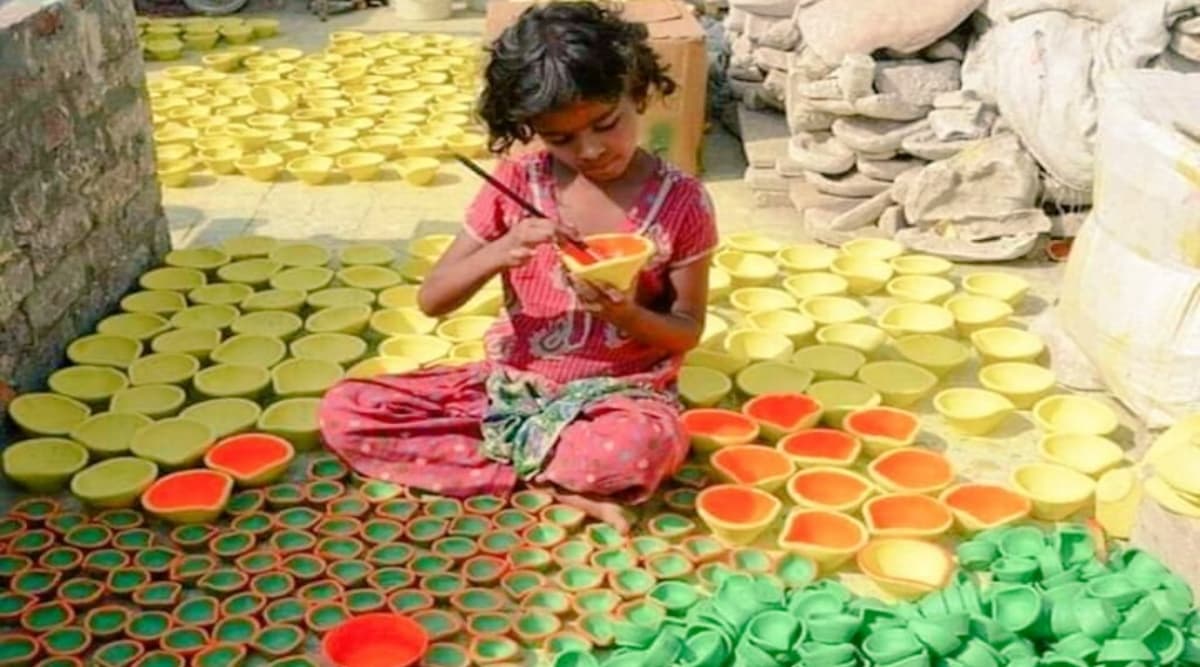 The festival of Diwali is a few days away and people have started prepping to ring in the celebrations. Cleaning of houses, preparing the Diwali Faral has already started along with the shopping for lights and lanterns. The festival of lights as we rightly call it, each evening we light up diyas in our homes and it is a way of decorating, welcoming the Goddess and eliminating darkness. And to make it a brighter Diwali for the underprivileged potters and artisans, a good initiative of#PottersKiDiwali has started trending on social media. Social media is talking about buying local and without any bargain as this is the season they earn the most. Diwali 2019 Calendar: Know Dates of Dhanteras, Lakshmi Puja, Bhai Dooj and Other Important Days of The Festival of Lights.
The maiden post of #PottersKiDiwali was started by Twitter user Anshul Saxena. He mentioned that its an awareness mission asking more and more people to buy from local potters. With the ease of online shopping and free home delivery, Diwali shopping has already changed course over the years. With everything available on the online retail applications and the heavy discount offers, it is quite convenient to order everything with a few clicks. But the local potters really strive and make their best to make the simple diyas year after year. Diwali being a peak season for sale, the mission of Potters ki Diwali is all about preferring to buy from them over the fancy and decorated items available elsewhere in shops or online. Netizens also joined in to spread awareness about this mission.
Check The Viral Post About #PottersKiDiwali Mission:
Mission PKD stands for Potters Ki Diwali

This mission is being carried out on 20-21 October by common People who've contacted potters & talked to people too

This is a purely self funded awareness Mission. I tried my best to cover all Indian states

Can we trend #PottersKiDiwali

— Anshul Saxena (@AskAnshul) October 21, 2019
In a series of tweets, he told everyone how he has tried to reach across the states to encourage his self-funded mission via different people. The tweet has got 10,000 likes and 4,000 plus retweets. Many netizens soon joined in and #PottersKiDiwali became a rising trend. Check some of the tweets on the same.
Don't Bargain
Do not bargain with them.

Instead of buying sweets that every home anyways overflows with, think of giving diyas as gifts.

Spend some time with them and wish them a happy Diwali

Make them smile after they sweat to brighten our festival#PottersKiDiwali pic.twitter.com/P5EuGzEXl0

— मनीष (@Manish_Verma12) October 21, 2019
Make Theirs a Happy Diwali too
This diwali lets sprinkle happiness in potter's life.

Buy from our potters so that their diwali can also become happy. This is the spirit of Indian festivals💫#PottersKiDiwali

Try not to bargain...just like we don't bargain at malls.

They'll be happieee❤ pic.twitter.com/DALt6Tle3C

— Neeral Tiwari (@NeeralTiwari) October 21, 2019
Say No to LEDs
ये दीवाली अपने देश की मिटटी के नाम।।

This Diwali say 'No' to LEDs and brighten up your home with lots and lots of Diya's...

A small contribution for Potters Ki Diwali 😊#PottersKiDiwali #Diwali2019 #pollution #Diwali #Diwaliwishes #GodMorningTuesday #TuesdayThoughts pic.twitter.com/Wv4lmCwgUp

— Akhil Jain (@untilwelearn) October 22, 2019
Support The Locals
#PottersKiDiwali Dear friends, please support the local vendors and shopkeepers along with the potters!

"Ek diya local business ke naam ka!"

Please make their Deepawali a brighter one!

This Deepawali, support the local business!

Thanks!

— Sharad Gupta (@SharadGuptaI1) October 22, 2019
Say No to Electric Lights!
Please Say No to Electric light for #Diwali Buy as much as from Potters which will be helpful for them and Their family.#PottersKiDiwali pic.twitter.com/EctVgbKXya

— Juhi Rajput (@Juhi_rajput98) October 21, 2019
It is indeed a brilliant initiative and especially in the time where we all are hooked to online shopping. While we all celebrate the festival with joy and happiness, it will be an even better experience when we share the same joy with others, the less privileged ones. Spend some time with them while you go shopping and spread smiles.