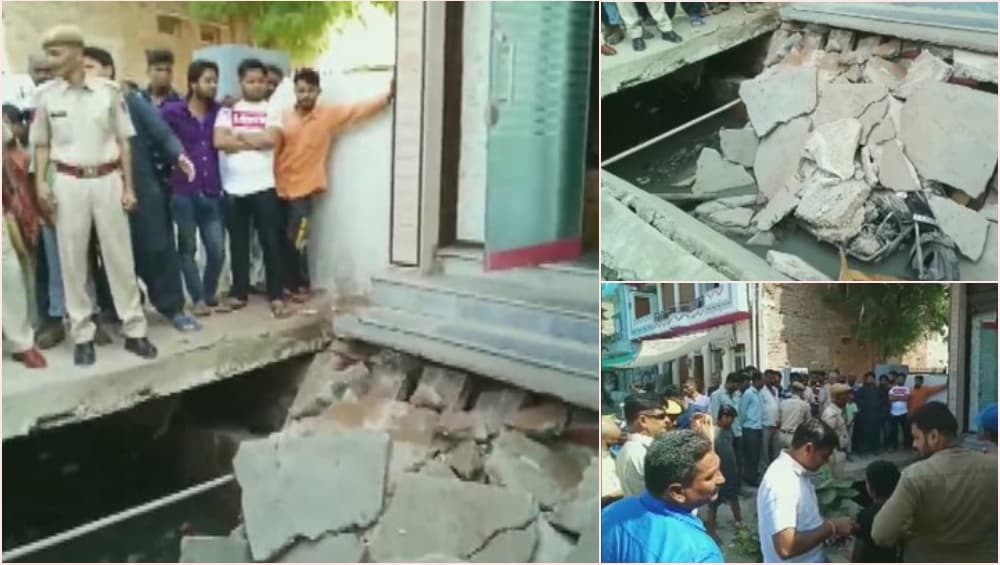 Sirohi, October 26: In a tragic incident, a portion of a footpath built over a drain, collapsed in Rajasthan's Sirohi district on Friday. Two people, including an old man, were injured in the incident. Two bikes parked there also fell into the drain. According to reports, both men sustained minor injuries. The incident took place at around 11:30 am on Friday. The terrifying video of the incident has surfaced on social media. Odisha: 4 Dead, 5 Injured After Wall of Rice Mill Collapses in Dhenkanal Near Alasua Market.
In the video, it can be seen that after the tragic incident took place, people immediately rushed to help the victims. They rescued both the injured men from the drain. The injured were identified as Nazir Mohammed and Parvez Khan. Government officials and councillor of the area also reached the spot after receiving the information. Mumbai: 2 Dead After Wall Collapses in Kalwa Due to Landslide, Several Evacuated.
Video of the Incident:
#WATCH: Portion of a footpath built over a drain, collapsed yesterday in Sirohi; 2 injured. #Rajasthan pic.twitter.com/4Ja6pgEt94

— ANI (@ANI) October 26, 2019
Both the injured were going to the electrical shop when the incident took place. The shop is located in front of the accident site. The owner of the shop also claimed that he also suffered a loss due to the incident. He said that people had to cross the footpath to reach his shop. One bike was damaged in the collapse.