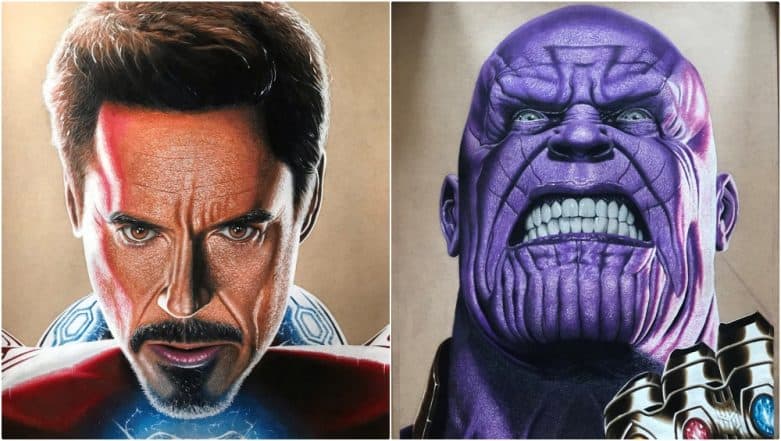 Robert Downey Jr. and his Marvel superhero avatar of Iron Man boasts of millions of fans worldwide. His on-screen nemesis, Thanos played by Josh Brolin are also not far behind in terms of popularity. And with few days to go for much-hyped Iron Man vs Thanos (technically, Avengers vs the Mad Titan, but Iron Man has a lot more personal scores to settle) in Avengers: Endgame, the excitement among fans is palpable. One such fan, a self-taught artist named Gurekbal Singh Bhachu draws hyper-realistic portraits of the duo that you can zoom right down to the pores. Robert Downey Jr: 5 Reasons Why It Is Impossible to Recast the Iron Man of Our Generation Any Time Soon!
On April 20, the London-based artist shared a sketch of Robert Downey Jr's Iron Man aka Tony Stark. He writes, "Here's my completed drawing of Iron Man that I've been working on for almost 4 months." RDJ who loves sharing fan-art on his social media platforms, be it Facebook, Twitter or Instagram will be mighty pleased seeing this amazingly realistic sketch. $275,000 Avengers Themed 1967 Chevrolet Camaro Customised Car is Captain America's New Ride; Courtesy Robert Downey Jr. - View Pics.
In a thread, Gurekbal explained how he began working on the Iron Man portrait at the start of this year. He says, "I've literally been working on this since the beginning of the year so having your support through the progress of this piece has been extremely appreciated. Thank you all so much for the kind words and support!" Yes, this piece of beauty took about four months to complete, and the end result is all worth it. Avengers Endgame Star Robert Downey Jr Has a Very Adorable Way to Wish Happy Easter - View Pic.
Check Out Sketch of Robert Downey Jr.'s Iron Man aka Tony Stark
To all the budding artists and art enthusiasts out there, the 24-year-old artist mentioned the tools used to make this fantastically detailed drawing. He writes, "As always, here is the list of tools I used for this piece: Paper: Strathmore Toned Tan, Pencils: Prismacolor Premier and Highlights: Uni Posca Paint Pen."
Check Out The Sketch of Thanos' Sketch
Earlier in August 2018, he had painted the portrait of Thanos, the purple space alien and supervillain of Marvel Cinematic Universe (MCU). Gurekbal took about two and a half months for this drawing of Thanos in evil mode. While Thanos' portrait is amazing, it is Robert Downey Jr's sketch that blows our mind away. No wonder the netizens are going gaga over this particular work.
SO TRUEEE!!!
Here's my completed drawing of Iron Man that I've been working on for almost 4 months. pic.twitter.com/zSYxzhere1

— Gurekbal Bhachu (@G_Singh_B) April 19, 2019
Y U SO TALENTED?
You drew this in HD https://t.co/0qcrgHqCaQ

— Alonza Mitchell (@OfficialLonzo) April 19, 2019
Netizens, Help Gurekbal Singh Bhachu Connect To Robert Downey Jr
Hey @RobertDowneyJr, how can I get this drawing to you? 🙂 https://t.co/RzbclmZeh5

— Gurekbal Bhachu (@G_Singh_B) April 20, 2019
Among other celebrity drawings, Gurekbal has made sketches of Samuel L Jackson aka Marvel's Nick Fury, Rihanna, Drake, Morgan Freeman, Muhammad Ali, Bruce Lee, and more. We hope this talented artist somehow gets in touch with Robert Downey Jr. because this is an incredible sketch even RDJ will fall in love with. Especially, with speculations rife over Robert making his final appearance as Iron Man in Marvel films with Avengers: Endgame, fans are getting more emotional about the Hollywood heartthrob.