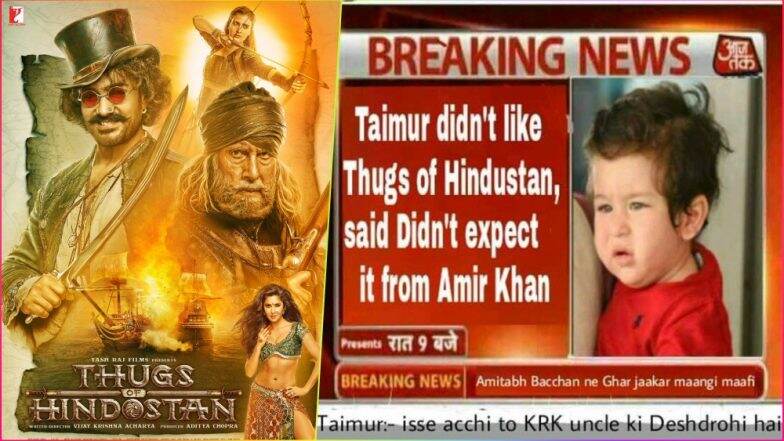 Thugs of Hindostan starring Aamir Khan, Amitabh Bachchan, Katrina Kaif and Fatima Sana Shaikh has recorded a bumper opening at the domestic box office. The Vijay Krishna Acharya-directed period epic-action drama, which released on November 8 has earned Rs 52.25 crore on its first day. Trade analyst, Taran Adarsh tweeted Thugs of Hindostan first day box office collection to be 50-crore plus figures combining Hindi, Telugu and Tamil languages. With these box office figures, TOH has broken several records such as highest day one collection for a Hindi film, for a Diwali release and for a YRF film. Despite such amazing feats, the film that has received poor movie reviews continues to be rubbished by audiences who have watched the film. Surprising, no?! Thugs of Hindostan Movie Review: Aamir Khan and Katrina Kaif's Pirate Saga Needed Less of Jack Sparrow Buffoonery and More of Amitabh Bachchan Badassery.
Taran tweeted about the historic box office record of Thugs of Hindostan, writing, "#ThugsOfHindostan Thu biz...Hindi: ₹ 50.75 cr. Tamil + Telugu: ₹ 1.50 cr Total: ₹ 52.25 cr [5000 screens] India biz. Highest Day 1 for a #Diwali release Highest Day 1 for YRF film Highest Day 1 for a Hindi film." Aamir-Amitabh's film takes the top spot in the list of 2018's movies with highest first-day collection ahead of Sanju with 34.75 crores, Race3 with 29.17 crores, Gold with 25.25 crores and Baaghi2 with 25.10 crores. Thugs of Hindostan Box Office Report Day 1: Aamir Khan's Film Collects Rs 52.25 Crore, Beats SRK's Happy New Year to Become Highest Opener.
However, such a box office performance was expected from Thugs of Hindostan considering the mammoth advance bookings, expensive tickets and holiday release. Pointing about the real challenge ahead, Taran tweets, "H-I-S-T-O-R-I-C *Day 1 biz* was expected, but the real test for #ThugsOfHindostan begins from *today onwards*... Will have to maintain the pace over the weekend [Fri to Sun] and *also on weekdays* to put up a MASSIVE TOTAL... Wait and watch situation right now!"
In the meantime, fans continue to make a mockery of the film by posting most hilarious memes and jokes. We had earlier clubbed the funniest ones as a part of viewers' review and this time around, and netizens are taking potshot on the fact that how a 'brainless' film like Thugs of Hindostan has managed to break the box office records. Take a look at some of the craziest, funny and absolute mad memes and jokes on Thugs of Hindostan.
1. BREAKING NEWS: Taimur is Not Happy With Thugs of Hindostan
2. The mystery of November 8 Deepens 
#Demonetisation was the brain child of #ThugsOfHindostan?

— #ChanakyaFollower (@ChanakyaNiti1) November 9, 2018
3. TOH Kaise Banaye TOH Ne 50 Crore 🤔
Blockbuster #ThugsOfHindostan

first day 50cr

proof 👇👇👇👇

explanation in comments pic.twitter.com/Yfa7vV79QC

— ΛSΉISΉ🚬 (@ASRanjan007) November 9, 2018
4. Bigg Boss 12 or Thugs of Hindostan? What Will You Choose?
Friend 1 : Chal bhai Big Boss dekhte h

Friend 2 : Chutiyaap show h , #ThugsOfHindostan dekhne chalte h

Me : pic.twitter.com/utZpenVRqZ

— !! Vipul Garg 🇮🇳 !! (@tweet0logy) November 9, 2018
5. Mummy Ke Paas Jaana Hai!!
#ThugsOfHindostan Audiences after watching Thugs of Hindostan first half. pic.twitter.com/mBEeKIOK6C

— Ricky Batra (@rics9999) November 9, 2018
6. Sparrow to Firangi After Watching Him TOH
@Humorousunny @iamsrk_brk @SRKsSoul_ 😂😂 #ThugsOfHindostan pic.twitter.com/BHOA7If4mM

— Zayn's Warrior (@ZquadWarrior) November 9, 2018
7. You Will Get A Roadies Saltue As Well
That public reaction when you come out from theatre after watching #ThugsOfHindostan 😂😂 pic.twitter.com/ejsshvSKGL

— Deep Valesha (@Deepvalesha1) November 8, 2018
8. Lena Hai Hume, REFUND!!
People asking for Refund from the theatre owners after the initial reviews : #ThugsOfHindostan pic.twitter.com/uvczU7WN8a

— Abhishek kumar (@mpbsvs) November 8, 2018
Our in-house movie reviewer, Sreeju Sudhakaran writes, "Like the Thugs in the film, the lack of a good, engaging story loots whatever little novelty the movie has, when it comes to its genre and its set-pieces. Borrowing liberally from a lot of movies, Kranti and Avatar included, and devoid of any kind of originality, the 'inspiration' bogs down Thugs of Hindostan heavily to the point of that it becomes a chore to watch the rest of the film, when we know exactly how it will end." Ouch!!