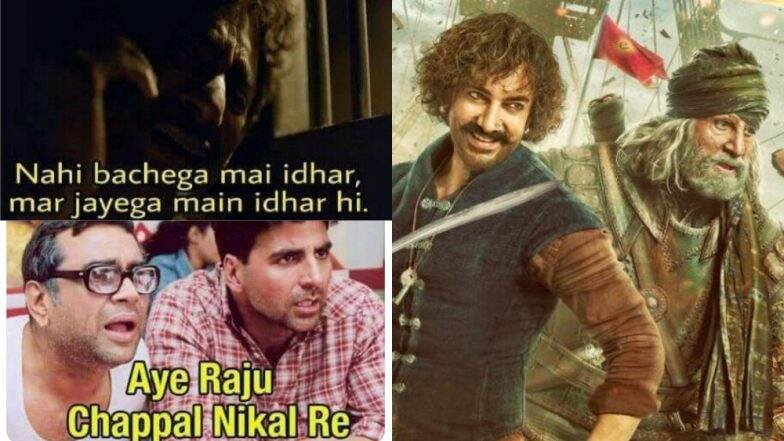 They say never judge a book by its cover. But in case of a Bollywood movie, quite a lot is revealed by its trailer. Thugs of Hindostan is one such example. The film starring Amitabh Bachchan, Aamir Khan, Katrina Kaif and Fatima Sana Shaikh in the lead roles was canned by the movie buffs at the time of its trailer release. Many found the desi pirate saga to be a bad rip-off of Disney's Pirates of the Caribbean. Well, upon its worldwide release on November 8th, the feeling continues and, in fact, has grown worse. Panned by critics, Thugs of Hindostan receives no support from the ardent fans of the film's stellar cast. While movie reviews have been poor, it is the viewers' review that will give makers some serious burns. These Thugs of Hindostan memes and jokes flooding on Twitter are by those movie buffs who bought expensive tickets to the show and are regretting it. They are warning others to stay away from Thugs of Hindostan, which is both so mean and so, so, hilarious. Read what our movie reviewer, Sreeju Sudhakaran says about TOH - Thugs of Hindostan Movie Review: Aamir Khan and Katrina Kaif's Pirate Saga Needed Less of Jack Sparrow Buffoonery and More of Amitabh Bachchan Badassery.
The much-awaited film of the year, Thugs of Hindostan featuring Amitabh Bachchan and Aamir Khan for the first time in a movie hit theatres on November 8. But the way the TOH is drawing sharp negative first reactions from all quarters speaks a lot about today's cinema audiences who prefer content over star power. Thugs of Hindostan movie reviews are poor with critics pointing out serious sloppiness in writing and other major flaws. And in such cases, films rely on viewers to save their day, which unfortunately is not happening in Thugs of Hindostan's case! Rs 2400! Ticket Price of Aamir Khan's Thugs of Hindostan Will Give the Monisha Sarabhai in You a Mini Heart Attack.
Twitter users who have seen the film are trashing it and how. They are tearing apart everyone related to the latest box office release staring with Yash Raj Films. The production house who got a chance to bring Aamir Khan and Amitabh Bachchan together for the first time on the silver screen has ruined the opportunity completely. These Thugs of Hindostan memes are created by using famous dialogues such as Gaitonde of Sacred Games saying, "Main Nahi Bachega Idhar Mar Jayega Main," or Hera Pheri's Baburao's "Aye Raju Chappal Nikal Re." Ironically, most memes are made from Aamir Khan's dialogue from his several movies including Thugs of Hindostan. Check them all out and decide for yourself if the film is worth going or not.
Main Nahi Bachega Idhar Mar Jayega Main
Meanwhile audiance in theatres watching #Toh#ThugsOfHindostan #ThugsOfHindostanReview pic.twitter.com/49KzXernJg

— Wasar Ali (@SdAli78675) November 8, 2018
Audiences Watching Thugs Of Hindostan in Theatres
Audience reaction while watching #ThugsOfHindostan in theatres😁 #ThugsOfHindustan pic.twitter.com/794Vq8kOKu

— Deep Valesha (@Deepvalesha1) November 8, 2018
Bhaagoo!!!!!
People coming out of movie theater after watching #ThugsOfHindostan pic.twitter.com/AOEvL0qyY2

— PhD in Bakchodi (@Atheist_Krishna) November 8, 2018
Yash Raj Films, Yeh Kya Kiya Tumne?!!
Yashraj casting Aamir and Amitabh in a movie and yet making crap. #ThugsOfHindostan pic.twitter.com/DFjiyQo6p0

— SAGAR (@sagarcasm) November 8, 2018
Distressed Movie Buffs Watching TOH Be Like...
* Audience in theatres after watching first 15 mins of #ThugsofHindostan * pic.twitter.com/WQEvvWGa8q

— R A T N I $ H (@LoyalSachinFan) November 8, 2018
Aamir Khan On Finding Out About Thugs of Hindostan's Morning Occupancy
Morning occupancy of thugs on biggest holiday - 40-45%

Aamir RN #ThugsOfHindostan pic.twitter.com/yL1AaHk8Oe

— ᎻᏌNᎢᎬᎡ ᏚᏆNᏩᎻ ᶻᵉʳᵒ ᶜʰʳᶦˢᵗᵐᵃˢ ²⁰¹⁸ (@SRKsCombat1) November 8, 2018
Warning TOH Di This Trailer Mein
#ThugsOfHindostan Review. pic.twitter.com/xliGFvKK9w

— East India Comedy (@EastIndiaComedy) November 8, 2018
OUCH!!!
Pic 1 - Aamir khan in action Scene

Pic2 - Audience reaction #ThugsOfHindostan pic.twitter.com/DaJaoaXDBu

— ᎻᏌNᎢᎬᎡ ᏚᏆNᏩᎻ ᶻᵉʳᵒ ᶜʰʳᶦˢᵗᵐᵃˢ ²⁰¹⁸ (@SRKsCombat1) November 8, 2018
Real Footage - Thugs of Hindostan During Interval
Exclusive footage. #ThugsOfHindostan pic.twitter.com/JhwBSb1gJP

— East India Comedy (@EastIndiaComedy) November 8, 2018
After Watching TOH, Audiences Be Like...
#ThugsOfHindostan Dekhne Ke Baad Audience Ka Reaction Kuch Aisa 😂😅😆 pic.twitter.com/lc1wMlyGtU

— Faizan Khan (@FaizanK62964417) November 8, 2018
Are You One of These Lucky Ones?
Saved Rs. 1200/- (Was booking 4 tickets) #thugsofhindostan pic.twitter.com/r4jegjrJvx

— Vinit Tibrewal (@vinittibrewal) November 8, 2018
And Those Who Are Reading All The Tweets But Have Already Booked TOH Tweets!
When you book tickets of #ThugsOfHindostan for evening Show ! 😐 pic.twitter.com/Rjstx7nWny

— Name cannot be blank (@LadkaSarcastic) November 8, 2018
Aren't they super hilarious? Sad to say, but Aamir Khan's Thugs of Hindostan is having a Shah Rukh Khan's Jab Harry Met Sejal moment. Remember, how SRK's last big release was trolled a big time on social media and eventually turned out to be one of the biggest flops of his career. Well, if that happens with Thugs, it will bring an end to Aamir Khan's winning run at the box office. His last flicks with him in the lead were Dhoom 3 (2013), PK (2014), Dangal (2016) and all have been big blockbusters. Thugs of Hindostan's box office fate will be clear very shortly!