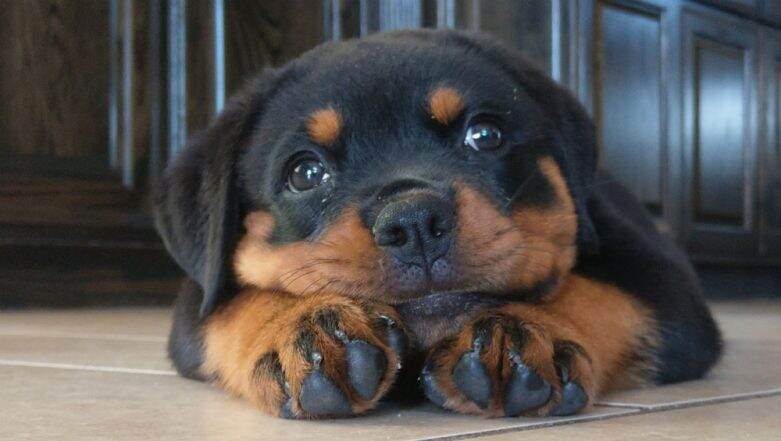 Just when they realise human beings were not enough, they started to whitewash dogs. The owner of a popular Twitter account—WeRateDogs known for showering the canines with compliments changed the name of a pet, Kanan to George as apparently, "the name plays a massive role in how well the post does." @dog_rates, which has about 7 million followers, posts pictures of dogs with as much adorable captions giving generous ratings like '14/10 would pet well'. It is run by an adult in his early 20's named Matt Nelson who completely relies on photo submitted by the pet owners. As the accuse went viral, the owner took a vow to never rename a pet again.
On June 25, WeRateDogs posted an image of a cute little pet named Kanan but renamed the good boy as George. Yes, it was changed from something Arabic to completely white. As soon as Twitter user, Mary Wagner noticed she pointed out the name change and eventually they blocked her.
It's a good day to get blocked by @dog_rates for calling out when they changed a dog's Arabic-origin name to something extremely white. pic.twitter.com/vefrTZQ2hQ

— Mary Wagner (@marybwagner) June 25, 2018
On his personal account, Nelson continued defending the act of changing the dog's name and claimed that he always asks the pet owners for permission and that "there's no rhyme or reason" to the changes.
He's absolutely a good boy. And there's definitely nothing wrong with the name. I've been changing them since I started the account. One of our most popular posts is of a dog named Pablo that i changed to Pipsy. There's no rhyme or reason and I always check with the owner

— Corgis Saved: 1 (@matt___nelson) June 25, 2018
Later, Nelson spoke to CNET explaining the reason behind the name changed. He was quoted in the report saying, "That post worked better with a simple name, more specifically something monosyllabic. The "This is ____" introduction had to be as blunt as possible for the remainder of the tweet to work. This is just something I've learned over the years running the account. George seemed like a good name, and I've learned that people really enjoy common "old man" names that contrast a pic of an adorable puppy."
As he was overwhelmed by the backlash, Nelson twitted and promised that he would stop changing dog's name on the account.
I WON'T CHANGE ANY MORE OF THE DOG NAMES HOLY FUCK

— Corgis Saved: 1 (@matt___nelson) June 25, 2018
He went on apologising and said that "white-washing" dog's name was not intentional, and it will never happen again.
I don't even know how to apologize for this one. I always enjoyed changing names. It helped me figure out what people liked. As long as the owner approved, I thought it was fine. "White-washing" the names was obviously not my intention and it will never happen again

— Corgis Saved: 1 (@matt___nelson) June 25, 2018
As per Nelson, engagement with the socialites in his account's posts is what encourages him to change the dog names. Putting an end to all the bizarre controversy, it is definite that Nelson in his early life has learnt a good lesson and go back to rating loveable pets with their actual names.