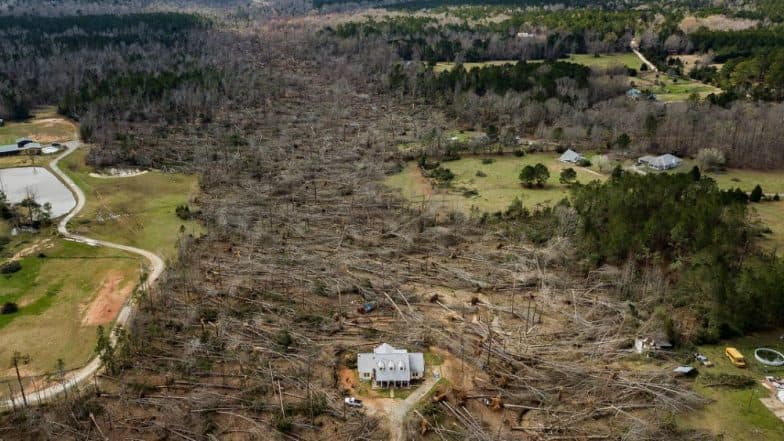 A deadly string of tornadoes touched down in Alabama and Georgia more than a week ago confirming 23 deaths so far. Besides, ninety were injured, and a few others remained in critical condition. After the monstrous storm that destructed several communities, visuals show a house standing still surrounded by complete devastation, and miraculous survival is going viral now. In the video, trees surrounding the two-storey home are uprooted. The house in Georgia did appear to have minor damage on the roof, but it is awestruck how miraculously the line survived with destruction all around. Leopard Cubs Reunited With Mothers After Being Rescued by Forest Department & Wildlife SOS in Maharashtra. 
Photographer Matt Gillespie uploaded the picture on Facebook, writing, "Insane that this house is still standing and thank God these residents are ok!" The viral visuals was first covered by UK's The Daily Mail. In the post, Gillespie said that he was at his parents' home when he captured the drone footage.
Pic of Alabama House Surrounded by Total Devastation
Watch Video of Tornado Damage In Ellerslie & Waverly Hall, Georgia
The tornadoes barrelled through Alabama on March 3, 2019, was the deadliest in the United States since May 2013 when an EF5 tornado killed 24 people in Moore, Oklahoma. With winds reportedly reaching up to 170 mph, the horrific tornado became the deadliest in the United States for six years. Last week, US President Donald Trump paid respects to the 23 people killed by the strong wind. Six states reportedly were affected by the severe weather that spawned the tornadoes—Alabama, Florida, Georgia, Louisiana, Mississippi and South Carolina.