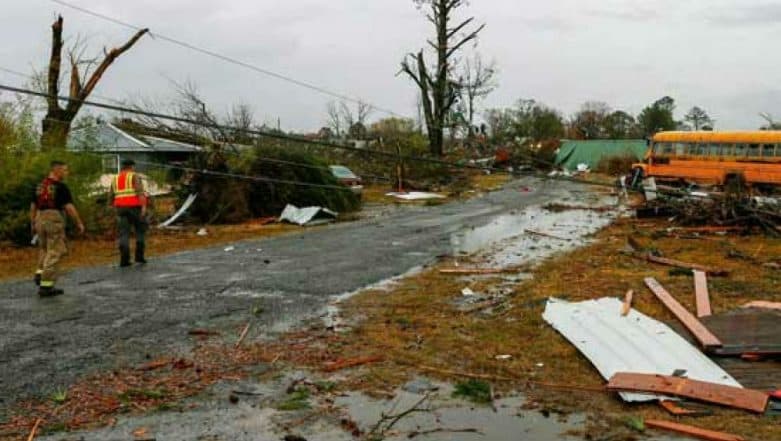 Washington, March 4: At least 14 people have been killed and several others have been injured after a  series of tornadoes struck several eastern states of the United States of America. The tornadoes, which were part of a series of storms that moved east through Alabama, Georgia and Florida, caused "catastrophic" damage in several parts of the state. Many homes were severely damanged, buildings were destroyed while trees were uprooted across the state. In a video posted on Facebook by a journalist from a local CBS affiliate,  Lee County Sheriff Jay Jones said that at this time, there are 14 confirmed fatalities.
Sheriff said the injured ones were rushed to the hospital, some with "very serious injuries", while the search is still continuing for more who are missing. He added saying that the destruction caused by the storm was a quarter mile (0.4 kilometres) wide and stretched for the "several miles that it travelled on the ground. According to reports, over 42,000 homes and businesses have lost electricity in Georgia and Alabama. Giant Water Tornado Spotted at Nazare Dam in Pune; Watch Video. 
Here's the tweet:
⚠TORNADO EMERGENCY for southern Lee & northern Russell Counties! Large & EXTREMELY DANGEROUS TORNADO ON THE GROUND near Dupree, moving East. PLEASE TAKE SHELTER NOW if you live between Dupree & Smiths Station!! #alwx pic.twitter.com/QbmyUNlogN

— NWS Birmingham (@NWSBirmingham) March 3, 2019
Sunday was believed to be the deadliest day for tornadoes in the US since January 22, 2017, when 16 people died in South Georgia. According to reports, a series of tornadoes touched down in Alabama and Georgia on Sunday afternoon. The sudden change in weather with possibility of numerous possible tornadoes that threatened the Southern United States on Sunday afternoon. Reports inform that Alabama Governor Kay Ivey warned residents on Twitter that more severe weather might be on the way.
Ivy ensured that the state was working to help families who had been impacted. "Our hearts go out to those who lost their lives in the storms that hit Lee County today," Ivey wrote on Twitter. "Praying for their families & everyone whose homes or businesses were affected."
Meanwhile, reports quoted Meredith Wyatt, a meteorologist with the National Weather Service in Birmingham, Ala., saying that the strong line of storms moved quickly across the area on Sunday afternoon and it was unclear how many tornadoes touched down. Wyatt added saying that the service had issued at least six warnings on Sunday afternoon.