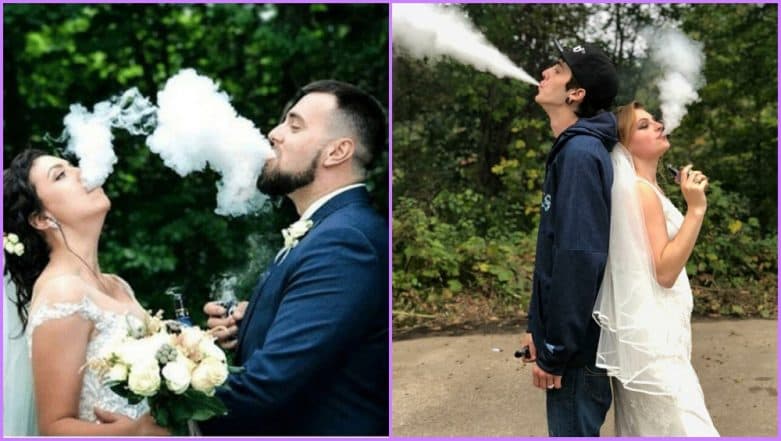 Weddings are a big deal for most of us. It's not just the celebration of love, but also the ever-increasing trends that are here to stay for a very long time. Every year, couples seek out new and unique details to include in their wedding ceremony. With so much hype, there have never been more options for planning your own, to make your big day that extra bit special. To those of you, who claims to have witnessed some beautiful and promising wedding trend so far, here we unveil another new trend. People are now apparently taking wedding vaping photos to celebrate their special day. Perhaps the most dangerous trend, the pictures going viral shows how newly-wedded couples are capturing themselves on their wedding day vaping. Bridesmaids Wear Their Old Bridal Gowns at This 'Unusual' Wedding. 
Yes, it is exactly, like it sounds. A recent tweet which is going viral commenting on the emerging trend, subsequently confirmed our fears. Vaping is the legit trend that is gradually taking over the wedding industry. Wedding Albums of Russian Couples with Photoshopped Pictures Are Not Real but Funny. 
View Pictures of Couples Vaping on Their Wedding Day
Did you know vaping wedding photos were a real thing? Lmao. Now, you do. pic.twitter.com/4JBAJCKRjo

— ubaba omncane aka small father👴🏾 (@sputla_da_deeja) February 18, 2019
While this thing may seem new to many of us, Reddit page r/trashy claims that the trend has been around for a while now. In fact, a quick Google photo search of vaping wedding photos also shows a plethora of newly-wedded couples lighting up on their big day. People have been posting pictures, documenting the various couples who are so passionate about their vaping habit, that they want to commemorate their big day by being captured with a vape in hand or mouth. Some of the pictures even show their entire family vaping, while posing for a wedding photo. Couple's Congo Civil War-Themed Wedding Photoshoots Are Labelled As 'Insensitive'. 
Newly-Wedded Couples Vaping With Their Families on Their Wedding Day
vaping in wedding photos is apparently a thing now. in case anyone was wondering pic.twitter.com/onpoq61j7b

— Nick Minieri (@nickdawg) February 19, 2019
Why Is It a Dangerous Trend?
Vapes are e-cigarettes that heat nicotine which is extracted from tobacco, flavourings and other miscellaneous chemicals to create a water vapour that you inhale. Vaping is said to be better as compared to smoking because it allegedly exposes to fewer toxic chemicals than traditional cigarettes. But it is still not healthy. Florida Records First Death Due to An E-Cigarette. 
Apart from wedding vaping photos, Elle.com noted that soon-to-be-wedded couples could also refer to vaping wedding planners, a vaping wedding etiquette guide and a personal guide to vaping at the wedding ceremonies. All of them are readily available. There are even various ways to decorate your wedding, keeping vaping in mind.