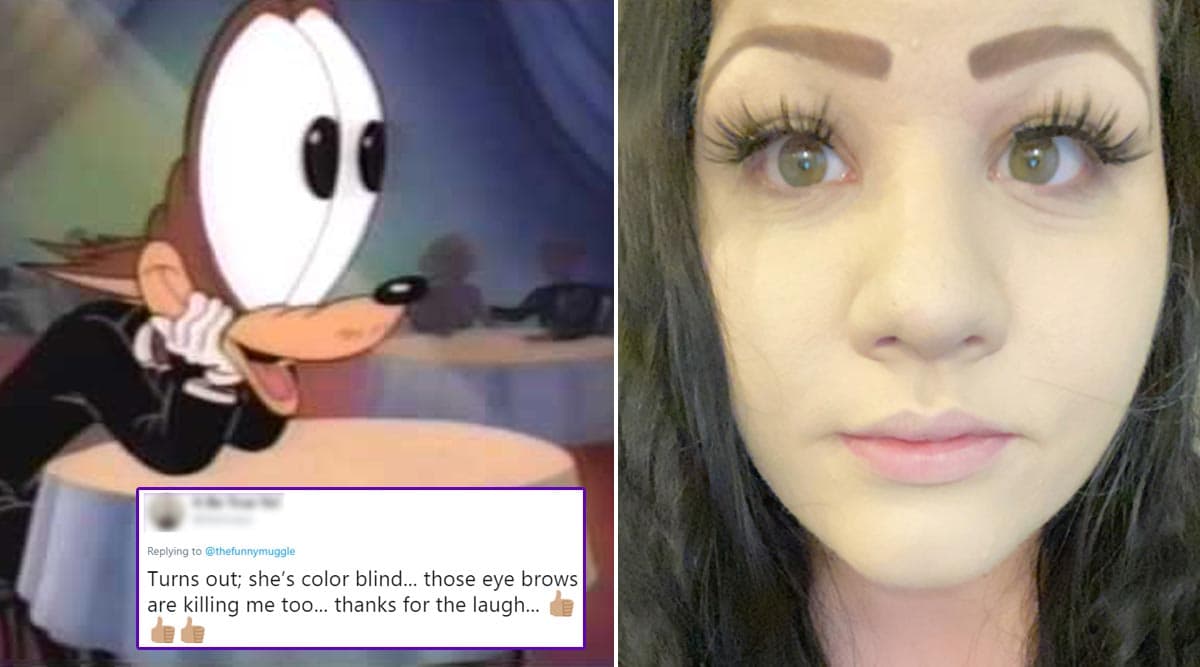 Foundation is that makeup product; many women cannot live without. It covers redness, blurs out imperfections, gives an even skin tone and overall makes us feel like a million-dollar. There is no bad skin day, if you wear the right shade of foundation. But finding one, is a real task. People have often called out brands, for not having a wide foundation shade. Everyone deserves the foundation that matches their skin! One woman seems to have faced the same. Twitter user, @thefunnymuggle, took to the social media platform, complaining about the Ulta beauty store, from where she bought her new foundation. It doesn't match with her skin tone, at all. But what people were more interested was her extra-long perfectly curled eyelashes. No, they are not natural, but netizens seem to unable to take off their eyes from her falsies. Here begins, the race of hilarious memes and jokes because Twitterati is having fun reacting to her lashes. Nose Hair Extensions Is the New Beauty Trend & Women Are Slaying the Look on Instagram. 
"GUYS IM DEAD. I went to ulta to buy new foundation and the girl that helped me said "oh yeah, it matches your skin PERFECTLY," but PLEASE look at this. Lmaoooooo," she captions her uneven skin tone selfie on Twitter. She is right; it does not match her skin tone at all and even accentuates the wrinkles under her eyes. The tweet was intended to be funny, but netizens are not seeing it through her eyes, but just her eyes! Ranu Mondal Pics in 'Heavy Golden Makeup' Goes Viral and Twitter Is Making Funny Memes and Jokes. 
Here's Her Tweet:
GUYS IM DEAD. I went to ulta to buy new foundation and the girl that helped me said "oh yeah, it matches your skin PERFECTLY," but PLEASE look at this.

Lmaoooooo pic.twitter.com/mYkgwSp09R

— chels (@thefunnymuggle) January 10, 2020
While a section of Twitter was on, agreeing with her and even sharing similar experiences, others simply ROFLs about her eyelashes. What's with that! They are extraordinarily giant, and you cannot blame the Tweeple for noticing it. It's right there!
Check Out the Reactions:
Turns out; she's color blind... those eye brows are killing me too... thanks for the laugh... 👍🏽👍🏽👍🏽 pic.twitter.com/MYXlfJF359

— It Be True Yo! (@itbetrueyo) January 11, 2020
LOL!
Holy crap, that girl stole your eyebrows! And then, adding insult to injury, used a paintbrush to draw some on. It's like we are looking at the face of one of the Muppets after an untimely demise.

— Will Smith (@wdsmith93) January 11, 2020
Smokin'
— Leethal (@Mister_Leethal) January 10, 2020
Some Loved Them!
Those LASHES though 😍

— Betti Linert (@xoxo_bethh) January 10, 2020
Perfect Balance?
The bad news is you literally look dead but the good news is your lashes are perfection. Balance? 😂

— Jessica (@TravelingJess) January 11, 2020
Similar Experience!
They did me this dirty once!!! I was like "uhhh, are you sure this is the right shade?" And the girl helping me said "yeah the lighting in here makes it look a lil different but when you go outside it'll look right" and my uneducated-about-make-up ass believed her 🙃

— ashley (@yung_ashleyy) January 11, 2020
The prime job of foundations is to make you look younger. Hide your uneven tones and wrinkles. But the Twitter user, @thefunnymuggle faced it all. Keeping the jokes aside, we hope that she gets it fixed and find a better foundation, matching her skin tone. But those eyelashes, though!