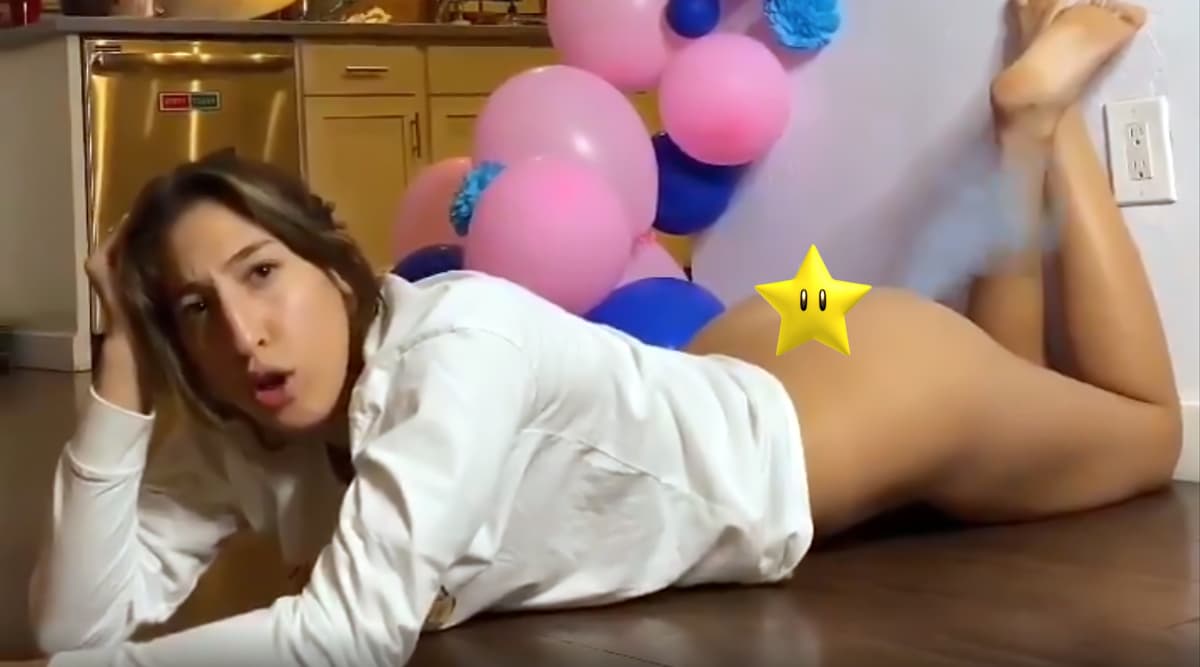 This gender reveal is probably the funniest and the most NSFW gender reveal in the history of gender reveals. I mean you must have heard blowing out blue or pink colours out of helicopters, may pe water spray hose pipes, but out of a person's butt-crack? Boy! that's just another level. So this video of a woman farting out gender reveal colours is going viral and for all the right reasons. This video that has seemingly been shot at a private gender reveal party wherein a few women can be seen in absolute party mode. One of the women can be seen lying upside down facing her butt upwards.
As soon as the video begins you see the woman forcing a fart and boom a blue colour cloud comes out of the woman's butt. Like, seriously who could've even conceived of this idea?  Well, whoever did, at least it made us have an amazing viral video.  The video has been watched over a million times and why not it does crack you up every time you see it. You have to check out the video to believe it:
Gender reveal 👶🏻🍼 pic.twitter.com/1QlHjrjDLY

— Paige Ginn (@PAIGE__master) November 12, 2019
Isn't It Hilarious? Check out Some of the Funniest Reactions, This Video Received:
YT ppl doing YT ppl shit pic.twitter.com/Pyz9llEcnK

— loosing_my-will2live (@I_hate_sum_mer) November 12, 2019
LOL
— Le Perle (@perleanodelsur) November 12, 2019
ROFL
— CompleteCasual MMA (@MboroMma6) November 12, 2019
I Can't Even
— Aquarius King ♒🌊💦 (@D_jones82) November 12, 2019
Alright
— Vinny Miuccio (@Vin_cenzo_) November 12, 2019
Can't Stop Laughing
— hockey watcher Chris Long (@JOEL9ONE) November 12, 2019
Well, while this might be a funny way to carry put gender-reveals, we have no idea how she made it possible. We would like to request you to not get inspired by this video and insert or consume any kind of colour or something similar to what is shown it the video. There have been times when gender reveal parties have gone completely wrong. Just last week. A plane containing about 350 gallons of pink water crashed leaving the whole gender-reveal party a big fail.
The main reason behind the crash was that the pilot decided to unload the 350 gallons of pink water at the party and the plane slowed down and got "aerodynamically stalled". Last year, a gender reveal party witnessed death in Iowa. In an attempt at a gender reveal party, a homemade device that was meant to discharge coloured powder exploded like a bomb. It killed a 56-year-old woman.