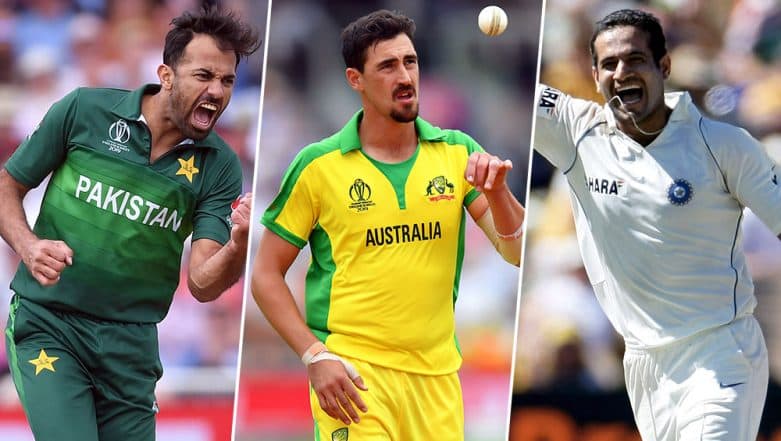 Mitchell  Starc on Tuesday demolished Ben Stokes's stumps as defending champions Australia defeated hosts England at Lord's and became the first team to qualify for the semi-finals of the ICC Cricket World Cup 2019. While chasing the target set by Australia, the England all-rounder was well set on 89  and was looking to take his team over the line but on the last ball of the 37th over, he faced a Jaffer of delivery from Mitchell Starc, and lost his wicket. The incredible inswinging yorker from the left arm pacer is being called one of the best deliveries ever bowled, by several cricket experts and pundits all over the world. Twitterati Praise Mitchell Starc and His 'Yorker' That Dismissed Ben Stokes As Australia Defeat England by 64 Runs at Lord's in ICC CWC 2019 Match
A yorker is certainly one of the most difficult deliveries in cricket and delivering them isn't easy too. The number one ODI bowler Jasprit Bumrah and Aussie spearhead Mitchell Starc are known to be two bowlers in the modern era who can bowl the yorker at will.
Mitchell Starc's Unplayable Delivery to Remove Ben Stokes!
Starc gets Stokes with a 😍 yorker!#CmonAussie | #CWC19 pic.twitter.com/9BRwsv4YpW

— ICC (@ICC) June 25, 2019
The game of cricket has witnessed some great bowlers in the past who can fox any batsman with their bamboozling yorker. Here is a flashback of some amazing yorkers delivered in the history of cricket.
Irfan Pathan bowls a ripper to Adam Gilchrist!!!
@IrfanPathan to @gilly381 in January 2004. pic.twitter.com/WO4IXLkP1j

— ZAKIR🕊️ذاکر🕊️ज़ाकिर (@iZakirHussain) June 26, 201
Waqar Younis shatters Brian Lara's stumps!!!!
@waqyounis99 to @BrianLara 👍 pic.twitter.com/u7iy5TI6rq

— AM (@mutakabir) June 25, 2019
Shoaib Akhtar rattling the stumps of Master Blaster!!!
My IDOL @shoaib100mph 🔥💪 pic.twitter.com/4DbCmBpZRF

— Imran Ullah🇵🇰 (@ImranChels) June 25, 2019
Wahab Riaz bowled a jaffer to James Franklin!!!
@WahabViki in swinging Yorker to James Franklin of New Zealand. pic.twitter.com/pCoBseJigk

— Sadaf Raza (@Sadaf_Raza1) June 25, 2019
Lasith Malinga castled Hamid Hassan's stumps!!!
@Lasith99Malinga#KingYorker#CWC19#lionsroarpic.twitter.com/3Esq6cYwt5

— Manoj Roshantha (@cri_manoj) June 26, 2019
As the game progresses, many variations are being discovered, but the effectiveness of a perfect yorker is unmatchable. Players like Dale Steyn and Lasith Malinga were known as the best exponents of the yorker. In modern day cricket where the pitches are made batting friendly and there's hardly any help for the bowler, the yorker is something which takes the pitch out of the equation. With lots of cricket still remaining this ICC CWC, it will be interesting to see if fans get to see more such yorkers.