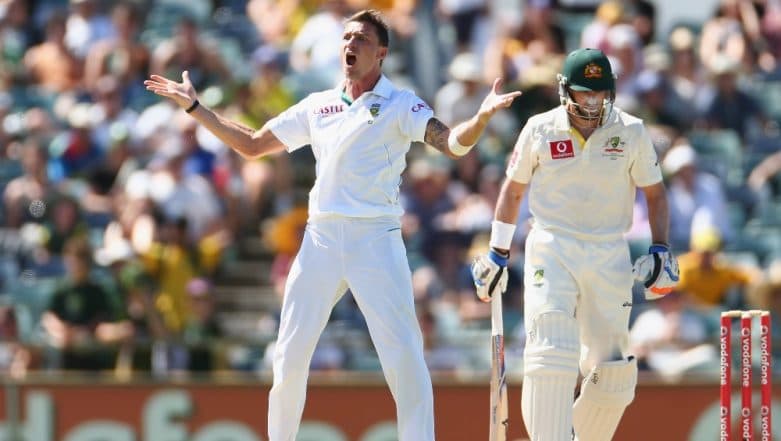 Dale Steyn announced his retirement from Test cricket. The 36-year-old said that he took the decision to prolong his career. Steyn, who finished with a South African record of 439 Test wickets in just 93 matches, will, however, continue to serve South Africa in white-ball cricket. Twitter flooded with tributes to Steyn as soon as he made the announcement with many international cricketers, including Steyn's national teammates Faf du Plessis, AB de Villiers and his IPL captain Virat Kohli, lauding the 'pace machine' for his contribution to red-ball cricket. Dale Steyn Retires from Test Cricket: South Africa Fast Bowler Announces Immediate Retirement from the Longest Format of the Game.
Test match is still the "best version of the game" said Steyn in his retirement speech. "Today I walk away from a format of the game I love so much. It's terrible to consider never playing another Test again but what's more terrifying is the thought of never playing again at all. So I will be focusing on ODIs and T20s for the rest of my career to maximise my full potential and ensure my longevity in this sport."
The Goodbye of a Great
#CSAnews #BreakingNews @DaleSteyn62 has brought down the curtain on one of the great fast bowling Test careers of the modern era when he announced his retirement from red-ball cricket with immediate effect. pic.twitter.com/L3HmWXKRwV

— Cricket South Africa (@OfficialCSA) August 5, 2019
Plagued by recurring injuries in the latter part of his career, Steyn made several attempts to fight his way back into the Test arena. But an ailing body coupled with his growing age saw the 36-year-old spent more time on the side-lines than the cricket field. Steyn still finishes as South Africa's highest wicket-taker in Test cricket. He is also the fifth-highest wicket-taker among fast bowlers in Tests and eighth fastest overall. Take a look at various ways Twitter thanked Steyn Gun.
Greatest of His Generation!!
The greatest of his generation. Stats don't lie and @DaleSteyn62 test stats is the best . I know how much test cricket means to you bud and how badly you still wanted to achieve more . Hopefully we will still see a lot of this action. #🐐 pic.twitter.com/qMglFgfZ9U

— Faf Du Plessis (@faf1307) August 5, 2019
We Enjoyed the Contests in Whites
After 93 Tests and 439 Test wickets, the Proteas speedster today bids adieu to Test cricket. We enjoyed the contest in whites with you.

Go well, #DaleSteyn pic.twitter.com/NXUjBT4wuQ

— BCCI (@BCCI) August 5, 2019
A True Pace Machine!!
A true champion of the game.

Happy retirement to the pace machine @DaleSteyn62 🙏🏼💯

— Virat Kohli (@imVkohli) August 5, 2019
The Greatest And Even Better
Too many memories to mention! We started together many years back and I had the privilege and front row seats of watching @DaleSteyn62 turn into the best bowler of his time. You are the greatest, an even better… https://t.co/Ujgv54bKTI

— AB de Villiers (@ABdeVilliers17) August 5, 2019
A Place in History
One of the greatest of all time @DaleSteyn62 says goodbye to test cricket, a form of the game he adorned and enriched. He was one of the great sights of our game, gliding in, swinging the ball at speed. He has a place in history.

— Harsha Bhogle (@bhogleharsha) August 5, 2019
Finest Ever
Dale Steyn...The Best Test Fast Bowler Of His Era. One of the finest ever. You'll be missed. #dalesteyn #retirement

— Aakash Chopra (@cricketaakash) August 5, 2019
A Class
Dale Steyn was a class himself. The immense destructive and toe crushing bowling was his significant feature. He was my favourite test bowler. Can't accept the fact that we will no longer see him bowling in test formats. Farewell Legend 🙌#DaleSteyn

— Areeba Chaudhry (@areeba_chaudhry) August 5, 2019
Steyn Gun
Steyn gun you will be missed #DaleSteyn pic.twitter.com/pMaXXLtyVB

— Yash parmar (@yashparj) August 5, 2019
Favourite! Then, Now, Forever
Favourite.

Then. Now. Forever ♥️#DaleSteyn | @DaleSteyn62 pic.twitter.com/v5L0TWHOeE

— Rupin Kale (@Vegansportlover) August 5, 2019
"Dale is undoubtedly one of the all-time greats of cricket," Cricket South Africa Chief Executive Thabang Moroe said.  "From the time he made his Test debut against England in 2004 and dismissed their captain, Michael Vaughan, with a superb delivery, he has been one of the standout fast bowlers in world cricket.
"He has led the South African attack brilliantly and has set the standard for our future generations to follow. More than that he has been a wonderful mentor to our next generation of speedsters. we thank him for his significant contribution to the sport and to the nation and wish him everything of the very best for the future."
Steyn made his debut against England in 2004. In a 15-year illustrious year, he led South Africa to many triumphs including a historic Test series victory in Australia where he picked up a 10-wicket haul in the deciding game. He ends his Red-ball career with 26 five-wicket hauls and best figures of 11/60 that he achieved against Pakistan. Thank You Steyn!