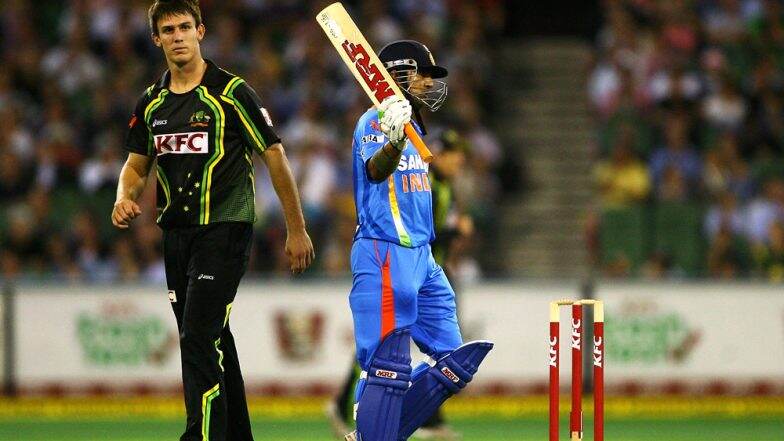 Known to speak his mind, Gautam Gambhir has criticised MS Dhoni's captaincy during the 2012 Commonwealth Bank ODI Tri-Series in Australia. Gambhir, who recently announced his retirement, said he was baffled when Dhoni had announced he would bench one among Sachin Tendulkar, Virender Sehwag and him to accommodate the juniors in the team.
Gautam Gambhir said, "In the 2012 Tri-series in Australia, Dhoni declared that he can't play all three (Gambhir, Sachin and Sehwag) of us together as he was looking ahead at the 2015 World Cup. It was a massive shock, I think it would have been a massive shock for any cricketer. I have not heard anyone is told in 2012 that they would never be a part of the 2015 World Cup. I always had the impression that if you keep scoring runs, age is a just a number," while speaking to India Today. Gautam Gambhir Retires! World Cup Winning Hero Hangs Boots on His Illustrious 15-Year Career: Watch Video.
India had three openers – Tendulkar, Sehwag, and Gambhir – in the ODI squad. However, the rotation policy adopted by Dhoni during the series saw one among the three on the bench in every other match, except for the Hobart ODI. This is was irked Gambhir about Dhoni's captaincy.
Gambhir further added, "When we were in a desperate need to win a game, I remember in Hobart, Viru and Sachin opened and I batted at three with Virat batted at four. India won that game and we had to chase in 37 over. At the start of the series, we didn't play together, it was a rotation thing. When it was a desperate moment, MS had to play three of us. If you take a decision, back your decision, stick to it. Don't back on something on which you have already decided." Sunil Gavaskar Questions BCCI, 'Why Are Shikhar Dhawan & MS Dhoni Not Playing Ranji Trophy?'
After a disastrous Test-leg, where India were outflanked 0-4, the failure to excel in the ODI-leg also saw MS Dhoni being severely grilled from all corners. India failed to qualify for the CB Series final after their inconsistent performances in the series.