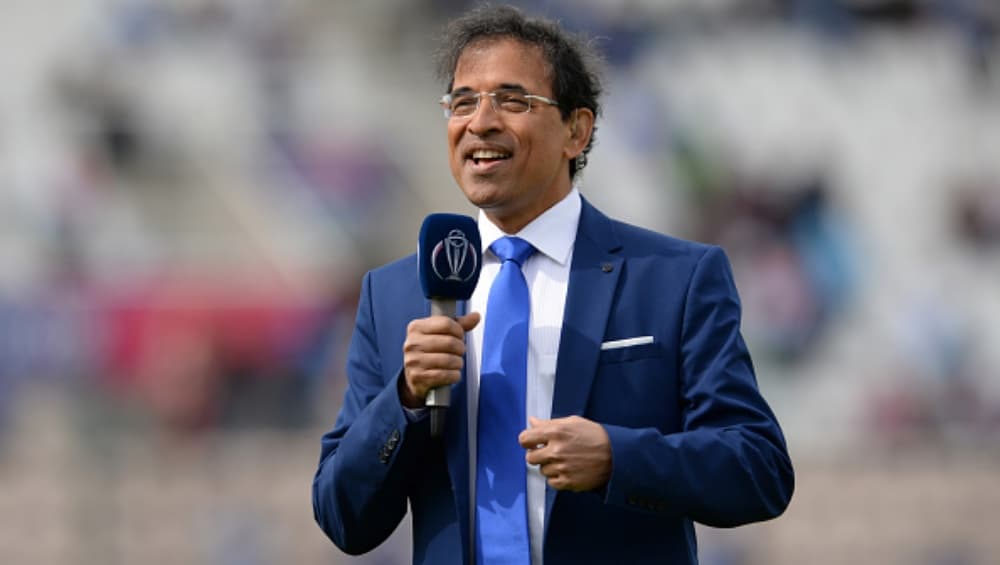 Harsha Bhogle and Sanjay Manjrekar's conversation on commentary has really stirred up social media with many bashing the former Indian cricketer for his 'insulting' jibe at Bhogle while on commentary duties during the first-ever day-night Test match between India and Bangladesh at the Eden Gardens stadium. The war of words between Harsha and Bhogle is already the top trending topic on Twitter and to add substance to it, fans have now dig up a 14-year-old video of Bhogle speaking at a convocation in which the veteran cricket commentator can be seen talking about the superiority complex cricketers and player-turned-commentators suffer from and how they often question others' knowledge of the game simply on the basis of how much cricket he/she has played. Sanjay Manjrekar 'Insults' Harsha Bhogle Over Pink-Ball Visibility during India vs Bangladesh Day-Night Test.
Manjrekar's comments about Harsha Bhogle's knowledge of cricket triggered the widespread backlash on him on social media with netizens supporting Bhogle. Although Bhogle himself said nothing to counter Manjrekar's jibe at him during commentary, an old video shows him speaking on a similar issue and tackling it during his speech at IIM Ahmedabad in 2005. In the video, which has since then gone viral, Bhogle can be seen speaking on the difficulties he faced during his initial years as a cricket broadcaster as a result of his non-cricketing background.
Harsha Bhogle Speaks on Cricketers' Arrogance
Harsha Bhogle's reply to Sanjay Manjrekarpic.twitter.com/cwe78oOtWy

— Cricketopia (@CricketopiaCom) November 25, 2019
"The one question that has prevented Indian cricket growing into human beings, and therefore into better cricketers, is how much cricket have you played. So everybody, even if you are a surgeon or a lawyer, you are always judged on the scales of just how much cricket have you played," Bhogle, who was India's first cricket commentator to be invited by the Australian Broadcasting Corporation (ABC Radio) to commentate during India's Tour of Australia in 1992, said.
"Earlier, it used to bother me a great deal. But after a while I said, hang on, because anybody who says how much cricket have you played, believes that that's the only thing that counts in the world. So I have got a great chance here," he added.
The 58-year-old also spoke on how he used the arrogance of those cricketers to inspire himself. "I was able to succeed initially in my profession because I was willing to do what it took. And a lot of people weren't, because they were cricketers," Bhogle said. "It's like bit actresses in serials and movies who have got to carry on this pretence of being stars, and actually can't afford to be stars. And it's a bit like that with the cricketers as well, they have got to be seen as cricketers. And so, it helped me enormously," he had added.
"My first three-four years (in the industry) were entirely because of the arrogance of Indian cricket. So, I keep hoping that Indian cricket stays arrogant because it allows me to do well," he concluded.
Sanjay Manjrekar stirred controversy when he taunted Bhogle by saying that since the latter was from a non-cricketing background, he might need to ask the players about the visibility of the pink ball. We (cricketers) can see it and have knowledge about it. This was after Bhogle had suggested that there should be post-mortem done on the match – India first day-night Test match and players of both teams should be questioned about the pink ball visibility during the twilight hours.
"Don't think so," Manjrekar said. "Because when you see the slip catchers the way they have taken catches, I don't think visibility is an issue at all. The texture of the ball is the issue." But when Bhogle continued the topic by saying that "We just need to ask the players what they think," Manjrekar took an unexpected jibe at Bhogle's international cricket experience and said: "You need to ask, for those who have played cricket, it's evident it can be seen well."