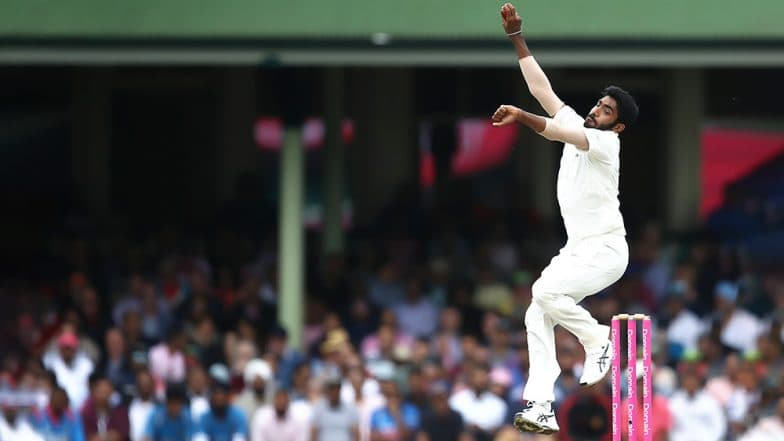 Jasprit Bumrah proved his spot as the number one Test bowler with yet another achievement in Test cricket. The right-arm bowler became the fastest Indian pacer to bag 50 wickets in Tests during India vs West Indies 1st Test match at Sir Vivian Richards Stadium in Antigua. The Mumbai Indians' bowler removed Darren Bravo through LBW to clinch his 50th wicket in 11 Tests, thereby surpassing Indian fast bowlers Venkatesh Prasad and Mohammed Shami. Both these bowlers took their 50th Test wicket in 13 matches. WI 189/8 (59.0) | India vs West Indies Live Cricket Score 1st Test Match. 
It is to be noted that Bumrah is the fastest Indian bowler to take 50 Test wickets if the number of deliveries are taken into account. Bumrah delivered 2465 deliveries to reach the milestone while Ashwin had taken 2597 balls. Some other Indian bowlers like Mohammed Shami took 2753 balls to reach the milestone while Umesh Yadav took 2694 balls to reach 50 Test wickets. India vs West Indies 1st Test 2019: We Gave Our Wickets Too Easily, Says Roston Chase on WI Batting Collapse. 
Among overall Indian bowlers, Bumrah is also joint third-fastest to reach the milestone, sharing the record with Narendra Hirwani and Harbhajan Singh. Indian spinner Ravichandran Ashwin is the fastest Indian bowler to take 50 Test wickets, bagging the triumph in his 9th Test match. Former Indian coach and spinner Anil Kumble is the second-fastest in the list with 50 wickets in 10 matches.
Overall, there are 20 international bowlers who bagged their 50 Test wickets in 10 matches. The list includes G Palmer (AUS), J Saunders (AUS), C Grimmett (AUS), H Ironmonger (AUS), W O'Reilly (AUS), W Johnston (AUS), D Lillee (AUS), W Rhodes (ENG), AP Freeman (ENG), FS Trueman (ENG)WW Hall (WI)K Higgs (ENG) DK Lillee (AUS)IT Botham (ENG)J Garner (WI) Waqar Younis (PAK) Shabbir Ahmed (PAK) Mohammad Asif (PAK)SR Clark (AUS) Mohammad Abbas (PAK). Former Australian cricketer Charles Thomas is the fastest player to take 50 Test wickets in just 6 matches.
Meanwhile, India managed to dominate West Indies in the Tests as well after leading by 108 runs on the end of day 3. In response to India's 297-10 in first innings, West Indies reached 189-8 at the stumps of day 3 with Ishant Sharma delivering a spectacular five-wicket haul. Roston Chase is the leading scorer in West Indies team so far with his 48 run-knock.