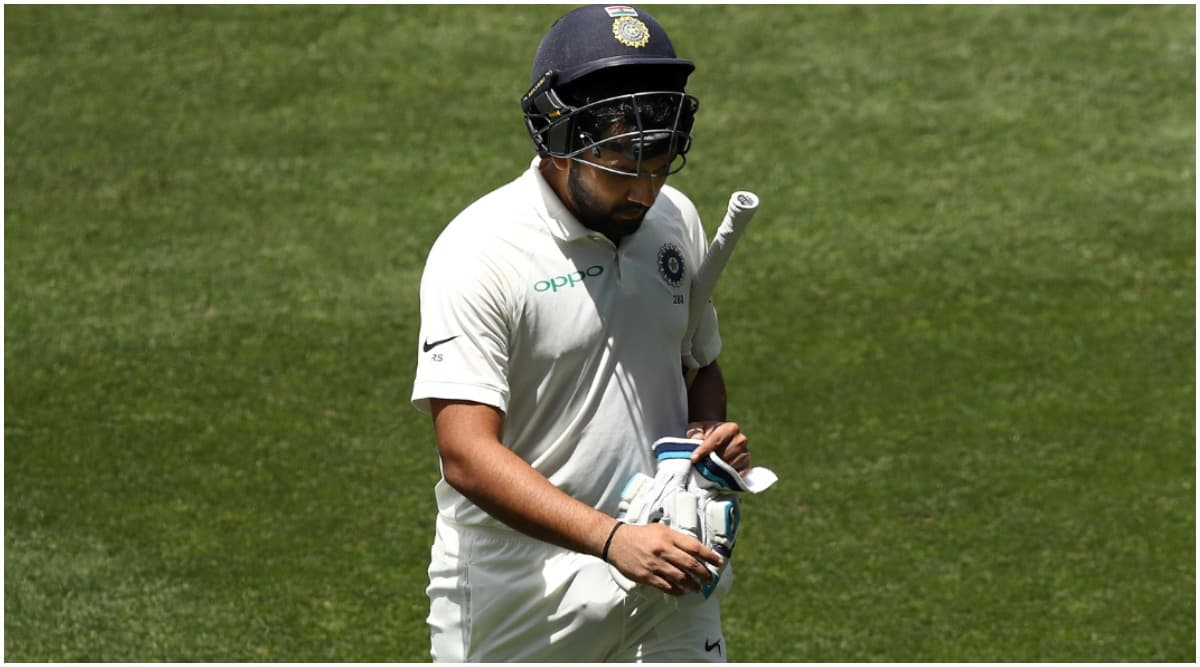 Rohit Sharma's remarkable run as an opener in Tests drew to an end following his dismissal to Abu Jayed for just six runs on Day 1 of the India vs Bangladesh 1st Test match at Indore. Rohit, who hit two centuries and a double hundred in his first four innings, since making his opening debut in the first of a three-Test match against South Africa was caught by wicket-keeper Liton Das while trying to drive an off-stump delivery early into his innings. Disappointed fans soon started trolling the Hitman for his disappointing outing against Bengal Tigers.
Rohit's dismissal also meant that India's opening duo of Rohit and Mayank Agarwal have now failed to stitch even a fifty runs opening stand since the record-breaking 317-run they stitched in their first ever outing together as an opening pair. Rohit, 32, started slowly and was cautious. The right-handed opener struggled to settle down especially with his opening partner Mayank facing more of the deliveries. During his 14-ball stay at the crease, Rohit hit one boundary which was also from an edge with the ball flying above the slip cordon.
Abu Jayed Finds Rohit Sharma's Outside Edge
Rohit goes!

Abu Jayed finds his outside edge and Liton Das takes a regulation catch behind the stumps.#INDvBAN pic.twitter.com/myh28V3DR3

— ICC (@ICC) November 14, 2019
Massive Disappointing Record
109th International Single Digit Score For Rohit Sharma

Couldn't Find Rohitians And Neutrals now🤣🤣😂

— Pranjal (@Pranjal_one8) November 14, 2019
Meanwhile Rohit Fans
A nick behind and Rohit departs for 6 ☹️

🇮🇳 - 14/1#OneFamily #CricketMeriJaan #INDvBAN#MumbaiIndians pic.twitter.com/eBBR0zOwt7

— 😍 sagar mamidwar (@sagar_mamidwar) November 14, 2019
Rohit Sharma After Five Innings As an Opener
Rohit Sharma opening slot in Test.#INDvBAN pic.twitter.com/3Ssp7vljGC

— Manish Waghela® (@manishnwaghela) November 14, 2019
Well That's the Best Excuse Available
Rohit sharma today got out early because -#INDvBAN pic.twitter.com/4WG1LO1F6m

— Subham (@subhsays) November 14, 2019
When Rohit Bats on Seaming Tracks
#INDvsBAN #IndvBan @troll_ro_haters

@AvengerReturns When Rohit goes to bat in seaming tracks

He to his teammates :- https://t.co/rmeb1k5Cxw

— RIP KOHLI HATERS (@RipKohliHaters) November 14, 2019
Earlier, Bangladesh failed to make most of their decision to bat first bundling for only 150 runs and under two and a half-session. Mushfiqur Rahim was the top-scorer for Bangladesh with 43 runs, while captain Mominul Haque was the next best scorer with 37 runs.
The duo also stitched an 88-run partnership for the fourth-wicket to somewhat halt a Bangladesh collapse but Ravichandran Ashwin cleaned-up Mominul to break the stand and become the fastest Indian to complete 250 wickets at home. Mohammed Shami then breathed fire to take a three-wicket haul and send Bangladesh packing for just 150 runs under the belt.