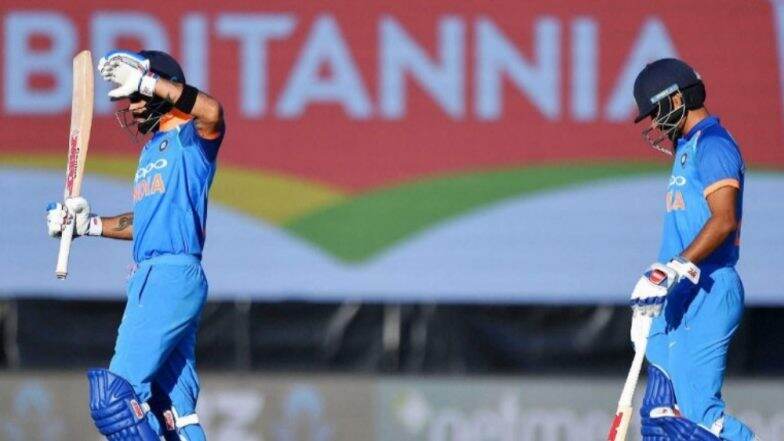 It was during the 1st ODI between India and New Zealand that the game was stopped due to excessive sunlight flashing down at Napier. Shikhar Dhawan walked up to the umpire and complained that he could not see the ball. The umpires seconded with the left-hander's thoughts and actually asked the players to walk off from the field. India was on the score of 44 for the loss of one wicket when the play was stopped. Needless to say that the netizens found it funny when the game was stopped due to excessive sunlight. Chennai Super Kings had a hilarious reaction to excessive sunlight. MS Dhoni Helps Kuldeep Yadav to Dismiss Trent Boult During Ind vs NZ 1st ODI 2019; Heard Saying, 'Ankh Band Karke Rokega' On Stump Mic (Watch Video). 
They took to social media and posted hilarious reactions on social media under the trending top 'Sun stops play'. However, this is not the first time that the game was stopped due to excessive sunlight. During a Super Smash match between Central Stags and Canterbury Kings last week, the play was stopped due to excessive sunlight. Last year in the UK, the match between Kent Spitfires and Essex Eagles was halted due to excessive sunlight. Shikhar Dhawan Becomes Second Fastest Indian to Score 5000 ODI Runs, Virat Kohli Still at Number One.
Here's CSK's tweet.
NuiSUNce! Why should rain have all the fun? Power of #Yellove! #NZvIND 🦁😋💛

— Chennai Super Kings (@ChennaiIPL) January 23, 2019
A few other reactions.
Life in Cricket is complete now. Seen headlines with, rain stopped play, bad light stopped play and now Finally this. Sun Stops Play. Wow#Napier

— Karthik YbK (@KarthikScorpy) January 23, 2019
Here's a funny post.
Only happy face when

"Sun stops play" 👇#INDvNZ pic.twitter.com/CQ5gTEP1ls

— Aalok (@Chuckle_Some) January 23, 2019
Another reaction.
Bad light often stops play. But ever heard 'SUN stops play'...??? Well, there's always a first for everything 😁 #NZvIND #SunStopsPlay

— Ashok (@AshokNannuri) January 23, 2019
Here's how Kane Williamson tried using excessive sunlight to his advantage.
@SunRisers captain Williamson tried to use The Sun to his advantage in Napier 😉#NZvIND #NZvsIND Sun Stops Play

— Gurpreet Singh Ghai (@GSGhai) January 23, 2019
The play has resumed and the visitors are chasing a target of 158 runs. India lost the wicket of Rohit Sharma on the score of 11 runs after he faced 24 balls. Talking about the Indian bowling, Mohammad Shami snapped three wickets, Kuldeep Yadav clinched four.