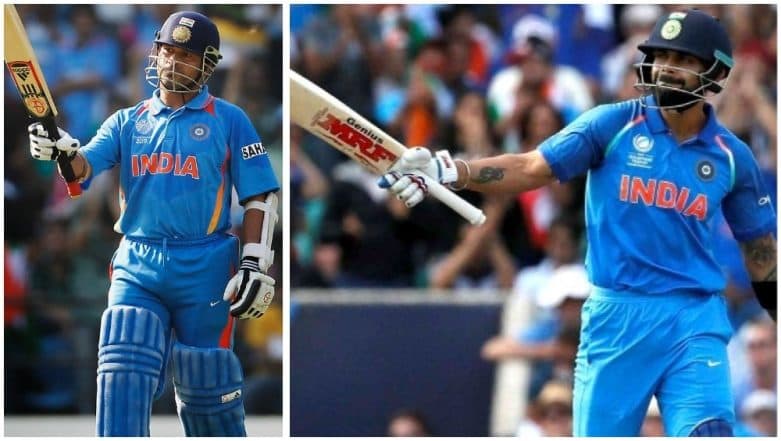 There are no doubts that Virat Kohli is the modern day great batsman. The Indian captain is known for his gutsy approach whenever he comes to bat. Kohli has scored runs not only at home but on away tours as well, something that was missing from his CV. Cricket experts have already started comparing him with batting great Sachin Tendulkar. And even tipped that Kohli will surpass him.
Latest to join the Kohli vs Tendulkar bandwagon is former Australian captain Ian Chappell. The former Australian cricketer feels Kohli will go past Tendulkar if he continues to score at the current rate. Chappell also said that Kohli reminded him of another great batsman Viv Richards. Virat Kohli or Sachin Tendulkar, Who is Better Batsman? Sreesanth Says There is No Comparison; Watch Exclusive Video
"Kohli reminds me of Richards in his approach to ODI batting; he eschews fancy shots and relies on a wide range of traditional strokes ... As the only one of this quartet still playing ODIs, Kohli already heads some important statistical categories," Chappell wrote in his column in ESPNCricinfo.
"If he were to continue at his current rate - an unlikely outcome as he ages - he would pass Tendulkar's aggregate with more than one hundred innings to spare and nearly 20 centuries in advance of the Little Master. If he even came close to achieving these amazing feats, there could be no argument: Kohli would be the Sir Donald Bradman of ODI batsmen," he added.
Kohli is now 10 centuries away to equal Tendulkar's record of most ODI centuries. Tendulkar during his career scored 49 ODI centuries while Kohli is moving fast with 39 in his kitty. Kohli has already broken some of Tendulkar's records like the most centuries in a chase and is very much on course to break few more.