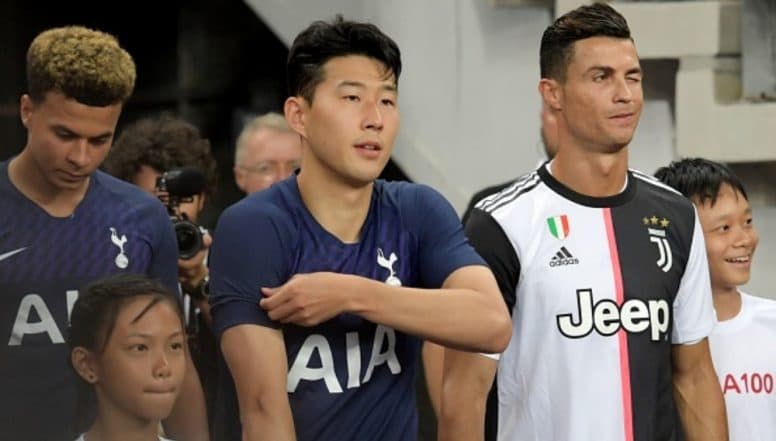 Cristiano Ronaldo has earned many fans not only because of his blistering performances but also due to his small gestures. Whether it was helping Edinson Cavani walk off the ground after his injury during the FIFA World Cup 2018 tournament or getting off the bus to meet a little fan during the same tournament, CR7 has always impressed us with his gestures. Today was no different, as CR7 was seen exchanging jersey with Son Heung Min at the Singapore International Stadium after Juventus vs Tottenham Hotspurs, International Champions Cup 2019. Cristiano Ronaldo Scores a Running Goal During Juventus Practice Session for International Champions Cup 2019, Watch Video.
So here's what happened exactly. Just after the final whistle, Tottenham walked away with a 3-2 win in their kitty. The players were walking back to the dressing room and Tottenham Hotspurs' Son Heung Min walked up to CR7 and hugged him. CR7 reciprocated and the next moment the two were seen exchanging their jerseys. The moment was captured by many fans present at the stadium and was shared online.
It's no secret that Son Heung Min idolises the Portuguese star. This obviously was the right opportunity for the South Korean star to not only meet his idol but also get his jersey. Talking about the game, it was Harry Kane's stunning goal at the 93rd minute that helped the team clinch the 3-2 victory. Harry Kane scored the goal from the half-way line and garnered a lot of praises for the same. Juventus will next play against InterMilan in China and Tottenham Hotspurs will lock horns with Manchester United in Shanghai.