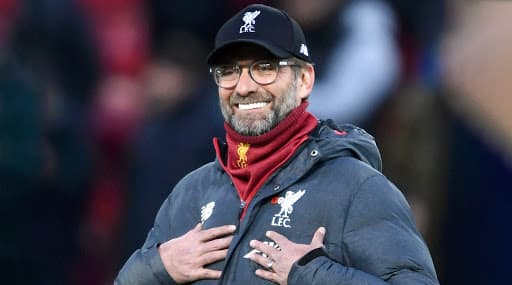 Liverpool manager Jurgen Klopp was at his humorous best during a recent press conference as he made the journalists present in the room, google at which position current Spurs boss Jose Mourinho played in. The Reds will take on Tottenham Hotspur on January 11, 2020 (Saturday) as Mourinho will meet Jurgen Klopp for the first time as a Spurs Boss. Liverpool are the runaway leaders in the Premier League while Tottenham are seventh on the points table and are looking to cut the gap between them and the teams in the Champions League places. Photo of Sadio Mane Carrying Broken iPhone Screen Guard Goes Viral, but It's Liverpool Footballer's Modest Reason for Not Repairing Will Leave You Amazed!
Liverpool boss genuinely seemed interested as to which position his counterpart Jose Mourinho used to occupy during his playing days. The Reds manager gave a hilarious response when a reporter asked that if he was a better footballer than the Portuguese manager. 'Does anyone know what position Mourinho played? Don't blame me if you don't know it,' Klopp replied. 'Does anybody know? I think he was a goalkeeper' the Reds boss added. A Press officer was seemingly not happy with Klopp and told him that they haven't got time to which the former Dortmund boss replied 'I've got time, google it.' Mourinho turned out to be a midfielder during his playing days, to which Klopp modestly said 'Sorry Jose'. Harry Kane Injury Update: England Captain Sidelined Till April Due to Rupture in Left Hamstring.
Watch Video
🗣 Reporter: "Were you a better footballer than Jose Mourinho?"

🧤 "Didn't Jose play as a goalkeeper...?"

💻 "I want to know now, @Google it!"

😂 Jurgen Klopp desperately wanted to know the answer! pic.twitter.com/mjJyvdRrB2

— SPORF (@Sporf) January 11, 2020
Jose Mourinho played a few matches with the likes of Rio Ave and Belenenses in Portugal while Klopp turned out over 300 times for Mainz in an 11-year career, the same team with whom he started his managerial journey. Both of them have excelled as managers with Mourinho winning the Champions League with Porto and Inter Milan while Kloop doing the same with Liverpool last year.