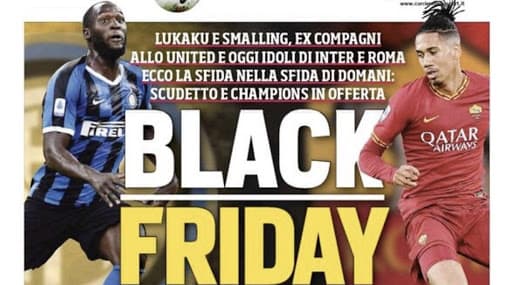 Italian newspaper Corriere dello Sport sparked outrage in the footballing world on Thursday, over a 'Black Friday' headline which featured Inter Milan's Romelu Lukakau and AS Roma's Chris Smalling on its cover. The local paper ran photos of the two former Manchester United players as a preview ahead of Friday's Serie A clash between the teams in Milan. This incident came two weeks after all the 20 clubs in Italy's Serie A put out a joint statement to acknowledge the serious problem of racism in Italian football. Both clubs and the players were furious over this headline by the local sports newspaper and thrashed them for this major blunder. Zlatan Ibrahimovic Confirms Joining AC Milan? Says, 'See You Soon in Italy'.
Both teams were quick to put out statements criticizing this error by the newspaper and banned the paper for an entire year. Along with it, the clubs decided that the players will not take part in any media activities with the paper during that period. Lukaku and Smalling also took to social media to express their thoughts over this incident. The Belgium forward said the headline was 'one of the dumbest' he has ever seen while the Roma defender called it 'wrong and insensitive'. The subheading of the article read: "Lukaku and Smalling, former team-mates at United and today idols and Inter and Roma, this is the battle within the battle tomorrow with Scudetto and Champions League place at stake."
AS Roma's Reaction
No one:

Absolutely nobody:

Not a single soul:

Corriere dello Sport headline writer: pic.twitter.com/u2xpMLV5IH

— AS Roma English (@ASRomaEN) December 5, 2019
Inter Milan's Reaction
Football is passion, culture and brotherhood.

We are and always will be opposed to any form of discrimination.

#BUU #BrothersUniversallyUnited #NoToDiscrimination #FCIM

— Inter (@Inter_en) December 5, 2019
Dumbest Headline!
— R.Lukaku Bolingoli9 (@RomeluLukaku9) December 5, 2019
Wrong and Insensitive!
— Chris Smalling (@ChrisSmalling) December 5, 2019
Statement From AS Roma
Following the publication today of the front page headline 'BLACK FRIDAY' accompanied by a picture of Chris Smalling and Romelu Lukaku, #ASRoma and @acmilan have issued an immediate ban to Corriere dello Sport.

Full statement: https://t.co/8CrreRu2UJ pic.twitter.com/2iPymcH7MD

— AS Roma English (@ASRomaEN) December 5, 2019
Ivan Zazzaroni, editor of the newspaper defended the headline by saying it was 'innocent'. 'It was only a way to celebrate diversity' he added. Roma's CEO Francesco Calvo also weighed in on this issue and said that he did not think that the headline was a clear case of racism but has urged the people in higher positions to be more careful with the words they use.