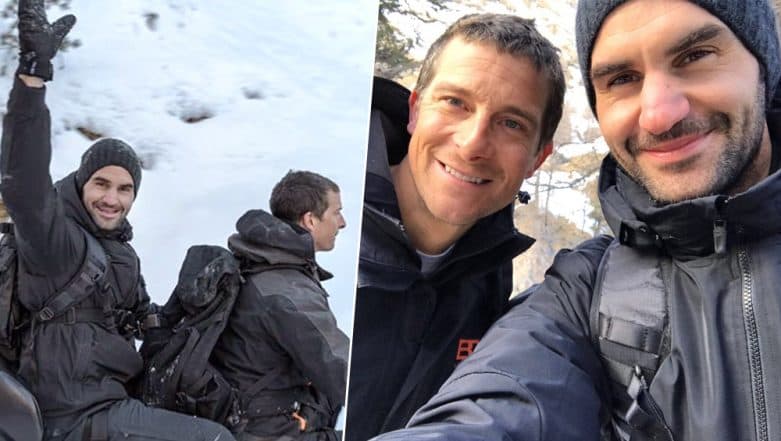 Tennis player Roger Federer aces when it comes to his sport, but people will soon see his wilder side and too away from a court. Federer is a part of a new adventure series on Discovery Channel- Running Wild with Bear Grylls. Testing his endurance in the wild, Grylls has made Federer do some things which fans must have been thought of. So Roger Federer will climb the Alps and gorge on fish eyeballs because he needs to buck up on his skills to survive in the absolute wilderness. The show will air from September 20, 2018 on Discovery. Roger Federer Meets Andy Roddick Off the Court, Shares Picture With a Special Caption Making Fans Nostalgic.
Roger Federer is the first guest on the show and although his surroundings totally changed, his game accompanied him. He also played a game of tennis with Grylls in the snow-capped Swiss mountains. Grylls being someone who is more comfortable in the wild taught Federer with survival skills, which essentially includes eating raw food. So Federer had to eat fish eyeballs as they are a rich source of protein. It's an experience that he would never forget he says.
Take a look at Roger Federer playing tennis with Bear Grylls in Swiss Alps:
Running wild with @BearGrylls pic.twitter.com/RG3pRquOuu

— Roger Federer (@rogerfederer) February 19, 2017
Take a look at the preview of the show in which Roger Federer is eating the fish eyeballs:
Federer was brimming with excitement when he started with his new adventure. "I'm most excited to go into the wild with Bear because he knows what he is doing, I'm just gonna follow his lead, and then maybe eat something crazy, maybe do something I would never think I would do," he was quoted in an interview. Swapping a luxury lifestyle in return for a wilder environment is not easy, but Federer was up for the game.
It will be interesting how Federer adapted with Grylls to living in the wild. Along with him, the other guests that will appear are Game of Thrones' Leana Heady, the Marvel Cinematic Universe's Don Cheadle and Orange is the New Black's Uzo Aduba. So don't forget to tune in to Discovery Channel at 9 pm on September 20.