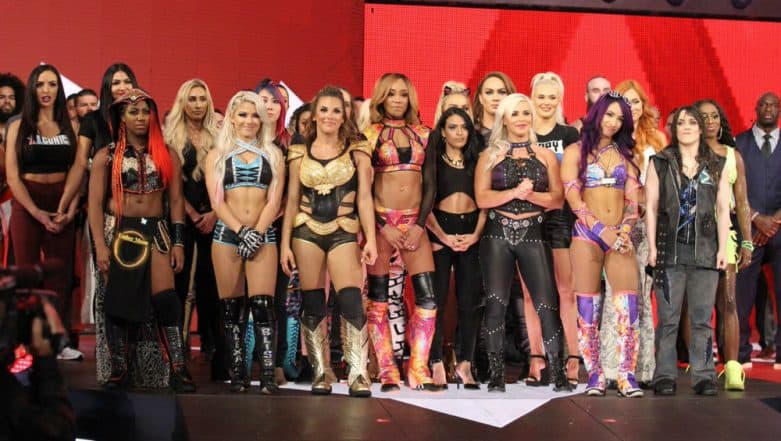 The latest episode of Monday Night RAW, on July 23, saw Stephanie McMahon – World Wrestling Entertainment's (WWE) Chief Brand Officer – make a historic announcement. Stephanie announced the formation of an all-women's exclusive pay-per-view (PPV) event, Evolution. It is for the first time in WWE history that a PPV event will feature only women wrestlers!
Praising the grit and determination of WWE women wrestlers, Stephanie said, "Because of all of you, men and women using your voices for change, we are able to provide the platform to show the world that women can do anything and be anything they want to be."
Shedding more light on her ground-breaking announcement, Stephanie said, "Because of all of you, we are able to stand here and make another first-ever announcement. On October 28, over 50 women, then, now and forever, will participate in an event called Evolution, and that event — I am privileged to announce — will be the first-ever all-women's pay-per-view."
The women wrestlers, be it from RAW, Smackdown or even NXT were present on the stage during the time of the announcement. The women wrestlers went all euphoric and were seen hugging out with each other, as Stephanie informed the WWE universe about Evolution.
Watch Stephanie McMahon Announce About 'Evolution' as WWE Universe Applauds:
Alexa Bliss, who is currently the RAW Women's Champion, said that she was very much excited and happy with the formation of Evolution. On being asked of having a dream match at Evolution, who would her dream opponent be, Bliss said, "Trish Stratus, 100 per cent."
Watch RAW Champion Alexa Bliss as She Talks About WWE PPV Evolution:
Carmella, who is currently the SmackDown Women's Champion, said that she was excited about the announcement, but not surprised with it. She said that it was long coming in the manner of matches the women wrestlers were participating in recent years.
Watch SmackDown Champion Carmella as She Talks About WWE PPV Evolution:
Talking backstage about the announcement of Evolution PPV, Raw General Manager Kurt Angle said that the women wrestlers deserve it. Angle said, "They have been main-eventing over the past few years and the manner of matches they are having are amazing, and the PPV is going to be 5-star."
Watch WWE RAW General Manager Kurt Angle as He Talks About WWE PPV Evolution:
The show began with WWE Chairman Vince McMahon standing in the ring, and all the RAW superstars gathered on the stage. McMahon invited Stephanie, who is also the RAW Commissioner, and WWE COO Triple H amidst equal cheers and boos from the crowd. The night was a memorable one for all the women wrestlers and fans alike. This was long coming, and after the Divas revolution three years back in WWE, this move is only the step in the right direction!