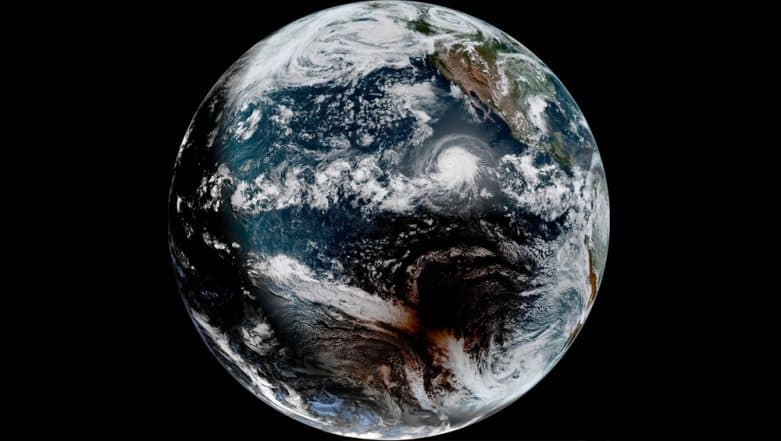 The Earth is beautiful would be an understatement. In its planetary universe, the earth looks even more stunning. Two major phenomenon took place on July 2, the Total Solar Eclipse and the Pacific Ocean had a terrific hurricane. A satellite image has managed to capture both these spectacles within one frame and the result is stunning! As the hurricane winds churned clouds on the earth's surface, the shadow of the moon photo-bombed it. The spectacular result will make you wonder at beauty of the Earth. The picture was captured by a weather satellite project, GOES-17 of the National Oceanic and Atmospheric Administration (NOAA) and NASA. A timelapse of the same was shared online and the video is going viral. Total Solar Eclipse 2019 Photos: Stunning Captures of Surya Grahan From Around the World (See Pictures).
The Total Solar Eclipse of July 2 was not visible to many parts of the world except Chile and Argentina. It was the only total solar eclipse of 2019. The Hurricane Barbara in the Pacific Ocean is a major hurricane with winds of 155 mph. Although it is not a threat to any landmass, it is a Category 4 in terms of the strength. The GOES-West satellite was able to capture the speedy winds, along with the shadow of the moon on the surface of the earth. Total Solar Eclipse Stuns Chileans and Argentines as the Day Turned into Night in South America.
Watch Timelapse Video of Hurricane and Total Solar Eclipse:
Meteorologist Dakota Smith also shared another angle of the two phenomenon caught in one frame on Twitter.
Total Solar Eclipse ft. Major Hurricane might be Earth's best album yet.

Another view. pic.twitter.com/960WmKECxN

— Dakota Smith (@weatherdak) July 2, 2019
Isn't it breathtaking? The images and videos are a proof of the wonders science and technology can pull off together. Space enthusiasts were overwhelmed to see this beautiful spectacle caught on camera. It is really sad, how we tend to underestimate the beauty of the universe at other times.