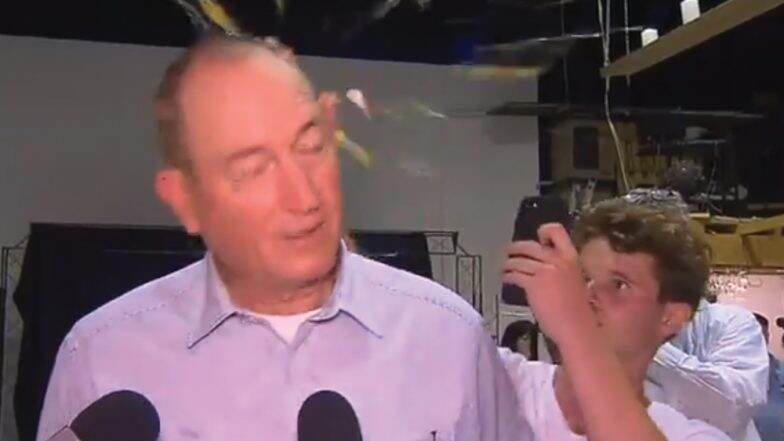 The recent New Zealand terror attack has left the world stunned but Australian senator Fraser Anning made some shocking comments. While talking to the media, Anning blamed Muslim immigration for these dastardly attacks. He justified the Christchurch terror attack that left 49 people dead. While Anning was having a press conference in Melbourne, an unidentified youth threw an egg at him. Anning turned around and slapped the young man hard before he had to be stopped by a security guard. The video of the same is going viral on social media. Christchurch Terror Attack on Mosques Live Streaming Done on Facebook: Youtube, Twitter and Other Social Media Sites Struggle to Stop New Zealand Shooting Video From Going Viral.
Anning has drawn international condemn for his offensive comments on the serious issue. Australian Prime Minister Scott Morrison also called Anning's comments as 'appalling' and 'ugly' with 'no place in Australia.' His offensive remarks probably fuelled the youth behind him with anger that he could not resist his actions. Anning in a spur of action turned around and hit him back. New Zealand Terror Attack Suspect Appears in Court With Broad Smile on Face, Flashes 'White Power Sign'.
Watch Video of Fraser Anning Egged by Youth During Press Conference
Someone has just slapped an egg on the back of Australian Senator Fraser Anning's head, who immediately turned around and punched him in the face. @politicsabc @abcnews pic.twitter.com/HkDZe2rn0X

— Henry Belot (@Henry_Belot) March 16, 2019
The video has been viewed over 1.4 million times and retweeted more than 18,000. The boy was later pinned down by Anning's supporters. He was then handed over to the police. It was later reported that the 17-year-old boy was released without any charges after inquiries.
New Zealand saw a deadly mass shooting incident in two mosques in Christchurch city. Australian citizen Brenton Tarrant, inspired by an extremist right-wing ideology was one of the gunmen involved in terror attack. Tarrant also live-streamed the shooting at the mosque in Christchurch.