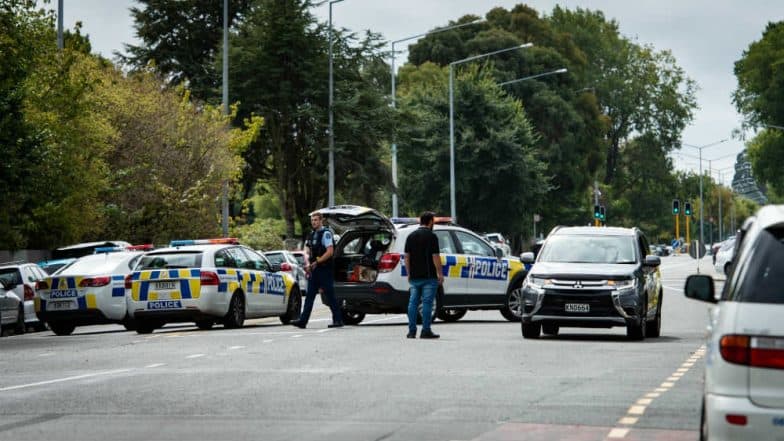 Christchurch, March 16: Brenton Harrison Tarrant, the suspect in terror attacks in New Zealand's Christchurch city, which left at least 49 people dead, appeared unrepentant in a Christchurch District Court and was charged with murder. Tarrant, who is an Australian, entered the courtroom with a smirk on his face. He also flashed an upside-down 'okay' hand gesture, a symbol often used for signalling support for the white supremacist ideology.
Tarrant, who live-streamed the shooting at a mosque in Christchurch on Facebook, appeared in the court in white prison clothing, barefoot and handcuffed. Flanked by two police officers, he smirked when media persons photographed him during the hearing and was seen making the white power gesture, New Zealand Herald reported. According to Al Jazeera's Andrew Thomas, who attended the hearing, said the suspect locked eyes intensely with journalists. Who Is Brenton Tarrant, The Australian 'Right-Wing Terrorist' Who Live Streamed Christchurch Mosque Shooting?
Tarrant, throughout the hearing, did not speak. His court-appointed lawyer made no application for bail or name suppression either. He was charged with one count of murder. "There is one charge of murder brought at the moment, it is reasonable to assume that there will be others," district court judge Paul Kellar was quoted as saying by The Guardian. He has been remanded in custody and is scheduled to appear in court on April 5. New Zealand Mosque Shooting Was Live Streamed on Facebook by Shooter, Graphic Video Goes Viral.
In the worst ever terror attack in New Zealand, multiple gunmen carried out indiscriminate shootings at two mosques in Christchurch during the Friday prayers, leaving 49 people dead and at least 48 wounded, besides giving a scare to the Bangladesh cricket team which had a narrow escape. Condemning the terror strike, New Zealand Prime Minister Jacinda Ardern had described it as a "terror attack" and said it "appears to have been well planned".
Australian Prime Minister Scott Morrison described Brenton Tarrant as "an extremist right-wing violent terrorist".