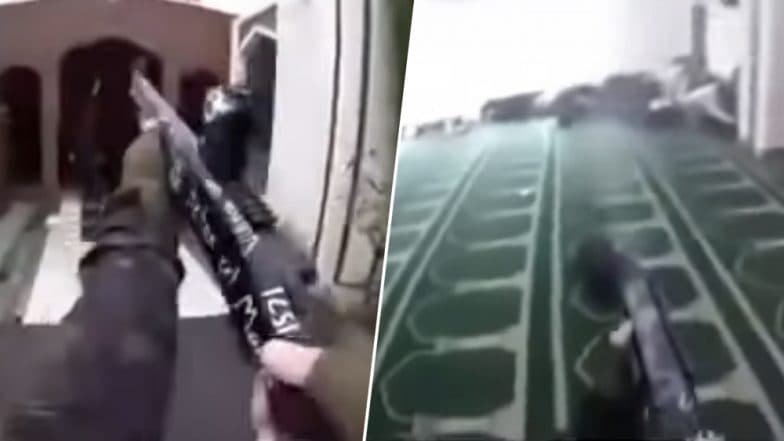 New Delhi, March 15: The horrific terror attack on the two Christchurch mosques in New Zealand on Friday, that left 49 people dead and over 20 injured, has another disturbing aspect to it. The gunman at one mosque is an Australian-born citizen named Brenton Tarrant who has been described as "an extremist, right-wing, violent terrorist", also live streamed the slaughter on Facebook Live. New Zealand Terror Attack: At least 6 Indians Among Those Killed, Says Reports.
Since then the video has been shared on Youtube, Facebook and Twitter, despite requests from authorities not to do so. New Zealand Mosque Shooting Was Live Streamed on Facebook by Shooter, Graphic Video Goes Viral.
Not just Facebook, even Twitter and Youtube has been trying hard to get rid of the disturbing video. Reports say that curiosity among users has only made the problem worse, with the hate crime spreading like wildfire through the web. Christchurch Mosque Attack: India PM Narendra Modi Writes to New Zealand Counterpart Jacinda Ardern, Condemns Killing of Innocent Lives.
"New Zealand Police alerted us to a video on Facebook shortly after the livestream commenced and we quickly removed both the shooter's Facebook and Instagram accounts and the video," Mia Garlick, Facebook's director of policy for Australia and New Zealand, said in a statement issued.
New Zealand Mosque Shootings: 49 Dead, Several Injured in Christchurch Terror Attack (Video):
Facebook said that the video has been deleted and even removed from the accused's Instagram account. However, Facebook acknowledged that it was late to learn about the video, which gave a chance to people to share the video.
Facebook is also eliminating content and comments showing supports to the terrorist shooting, said the social network giant in its statement. Twitter is also sanitising its platform of the heinous video and Google has blocked any kind of streaming or sharing of the shooting that was streamed live from inside the mosque. New Zealand Terror Attack: Who Is Brenton Tarrant, The Australian 'Right-Wing Terrorist' Who Live Streamed Christchurch Mosque Shooting?
Condemning the terror strike, New Zealand Prime Minister Jacinda Ardern noted, "I want to send a message to those directly affected… For many, this may have not been the place they were born."
"For many New Zealand was their choice, a place they actively came to and committed themselves to … it was a place where many came to for their safety. A place where it was safe to practice their culture and religion," said the New Zealand PM.